Who says you can't have your cake and eat it too? This easy strawberry shortcake recipe is not only delicious, but it's also a great way to sneak some extra nutrients into your diet. 
Packed with nutritious ingredients, these strawberry shortcakes will make your taste buds and your body happy! Plus, they are super easy to make. 
The history behind strawberry shortcakes
Strawberry shortcake has a long and delicious history. In fact, the first recorded recipe for strawberry shortcake dates back to 1847, when it was published in a cookbook called "The Lady's Receipt-Book" by Eliza Leslie. 
Today, strawberry shortcake remains a popular dessert across the country, with many variations and creative twists on the classic recipe. From the traditional biscuit-style shortcake to sponge cake, angel food cake, and gluten-free or vegan options, there's a strawberry shortcake for everyone to enjoy. 
Print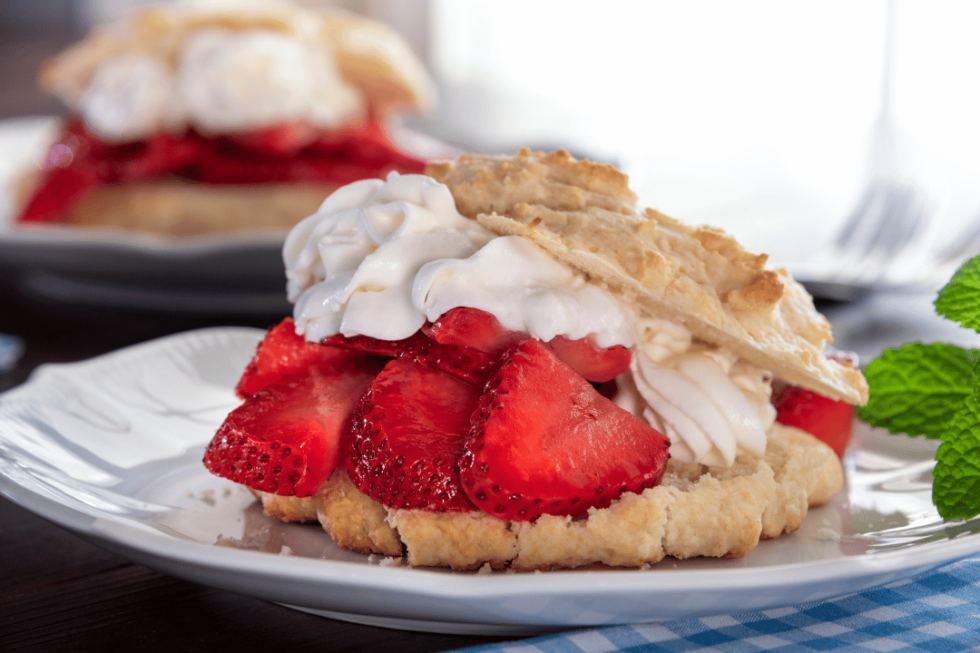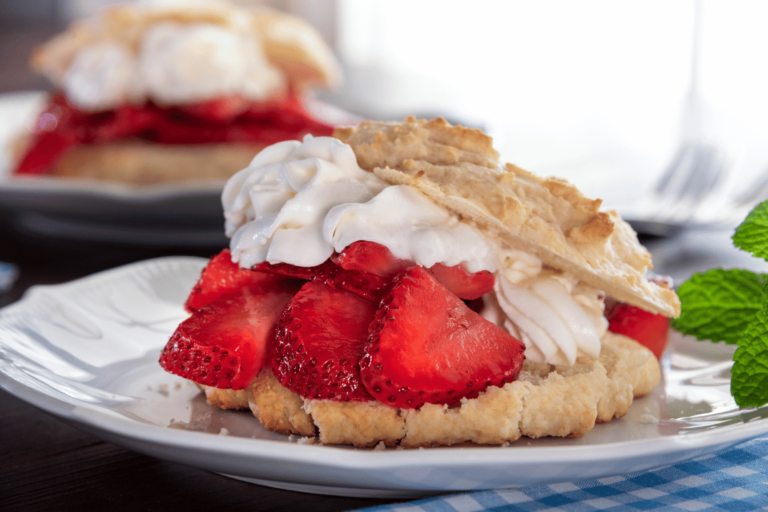 Easy Strawberry Shortcake
2 cups all-purpose flour
3 Tbsp granulated sugar
1 Tbsp baking powder
1/4 cup cold salted butter, cubed
1 cup cold milk
1 lb fresh strawberries, sliced
Whipped cream (optional)
Instructions
Preheat your oven to 425°F and line a baking sheet with parchment paper.
In a large mixing bowl, mix flour, sugar, and baking powder.
Cut in butter until the mixture appears like coarse crumbs.
Add in milk and stir until a dough forms.
Drop the dough into eight heaping mounds on a parchment-covered baking sheet.
Bake at 425°F for 12 – 15 minutes or until golden brown.
While the biscuits are cooking, slice strawberries into quarters. You can sprinkle them lightly with some sugar, drizzle honey over them, or simply enjoy the natural sweetness of the strawberries.
Once the biscuits have cooled, slice them in half and layer the strawberries and whipped cream (if using) on top.
Healthier strawberry shortcakes
Making the strawberry shortcake recipe healthier is easy with a few simple 1:1 ratio swaps! Here's what you can do:


Use coconut oil instead of butter.
Swap almond milk or another non-dairy milk in place of regular milk.
Sweeten with honey instead of sugar.
Try a non-dairy whipped cream alternative like coconut whipped cream for a topping.
Gluten-free strawberry shortcakes
To make this strawberry shortcake a gluten-free recipe, you'll need to substitute traditional flour with a gluten-free alternative. One option is to use a gluten-free all-purpose flour blend in place of regular flour. Alternatively, you can use almond flour or coconut flour to make the shortcakes. Just keep in mind that the texture may be slightly different than with traditional flour. 
You'll also want to ensure that any other ingredients you're using, such as baking powder, are also gluten-free. Be sure to read the labels carefully and check for any cross-contamination risks.
How to choose the best strawberries
Choosing the best strawberries can make all the difference in your strawberry shortcake recipe. When selecting strawberries, it's important to look for berries that are plump, firm, and brightly colored. Avoid berries that are mushy, have mold or bruises, or look dull in color. 
You should also take a sniff! A ripe strawberry should have a sweet and fragrant aroma. When possible, try to purchase strawberries that are locally grown and in season, as they will be the freshest and most flavorful. If you can't find locally grown strawberries, look for ones that have been recently harvested and haven't traveled too far. 
How to clean your strawberries
Cleaning strawberries is an essential step before using them in any recipe. To clean strawberries, first, rinse them gently under cool running water. You can also use a bowl of water to soak them for a few minutes to remove any dirt or debris. After rinsing or soaking, use a paper towel or a clean kitchen towel to pat the strawberries dry. 
It's important not to remove the stem until after you've washed the strawberries, as they can absorb too much water and become mushy. If you notice any bruises or soft spots on the strawberries, simply cut them out before eating them. 
Satisfy your sweet tooth and enjoy
Try out this delicious recipe and more from AlignLife! Browse our full recipe box or check out the menu at top for recipes by type and diet.