If you've ever traveled to the land of magical mouse ears, you know the frozen pineapple dole whip is a treat you don't want to miss.
 Lucky for you, a great deal on pineapples at the grocery store the other day left us with an extra pineapple just waiting to experiment with. So, we tried our hand at making a healthier version of this famous dole whip. We're happy to report this pineapple whip recipe is going in our keep file!
How is this pineapple dole whip recipe guilt-free?
Not all pineapple dole whips are healthy. But this frozen pineapple dole whip recipe checks all the boxes for those following gluten-free, dairy-free, and Paleo diets! It's made with real fruit, is sweet enough that it doesn't really require any added sugars, and packs a ton of health benefits just with its simple plant-based ingredients!
Pineapple is great for helping with digestion and gut health. It also is a natural anti-inflammatory thanks to an enzyme found in its juice called bromelain. This enzyme triggers your body's response to reduce pain and fight inflammation, so adding it to your diet can be a great way to get natural pain relief and help your body heal.
As desserts go, we have to rank it in the guilt-free column because it's one of those unicorns of the dessert world. It tastes good and is good for you, too!
Is pineapple dole whip dairy-free?
While some pineapple whips are made with milk, this healthier version swaps it out with coconut milk. You could also use almond milk or cashew milk if you prefer those dairy-free versions better. But for those with nut allergies, coconut milk pairs great with pineapple and also carries its own health benefits like being high in iron and antioxidants and helping with inflammation as well. Coconut milk also can help improve your good cholesterol (HDH) numbers and help you look younger by improving your hair and skin health.
How long does it take to make whipped pineapple?
If your pineapple is already frozen and you have a food processor or blender, all you need is about 5 minutes to "whip" this up! For a more ice cream-like consistency, you could freeze it for at least an hour before serving, but it doesn't affect the flavor! 
So, let's get started on how you can make this healthy frozen pineapple dole whip. Here's what you'll need to serve up this delicious, refreshing treat at your table!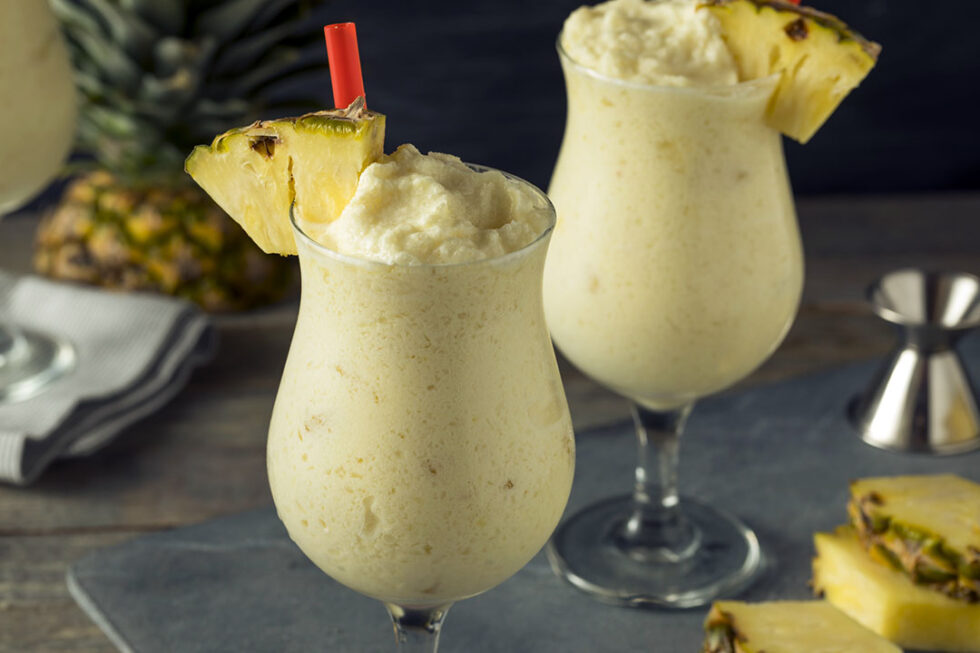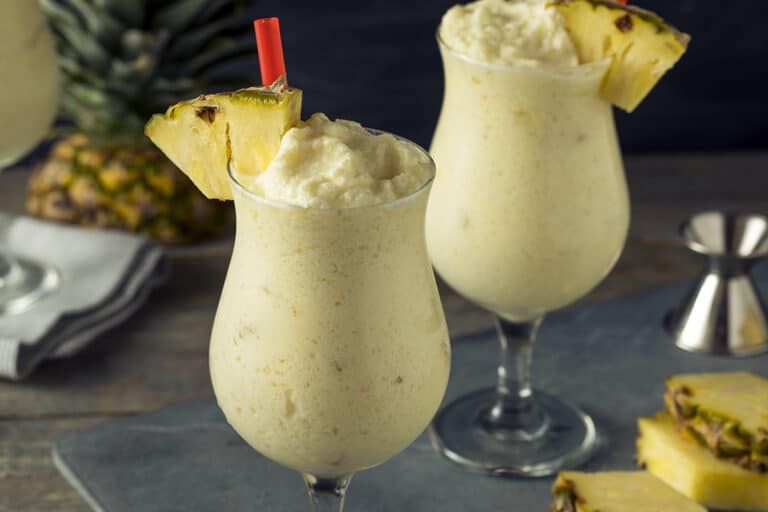 Frozen Pineapple Dole Whip
4 cups

of frozen pineapple

½ cup

cold coconut milk

A drop of raw honey to taste (optional)

1

scoop of

Peak Protein

or collagen peptides (optional)
Instructions
If using fresh pineapple, cut the pineapple into 1-inch cubes and freeze for an hour. If using frozen pineapple, thaw pineapple for a few minutes on the counter so it isn't solid. You still want it frozen, but it will blend better slightly thawed.

Place pineapple and coconut milk into a blender or food processor and mix for about 30 seconds until smooth.

Add in protein powder once you've reached your desired consistency and blend for a few more seconds until it is nice and creamy. You can also add a touch of honey if you need it sweeter, but many find it sweet enough without.

Serve immediately with a slice of fresh pineapple or freeze for 1-2 hours for a firmer scoop. A bread pan is great for this! You can also freeze it overnight, but you'll want to let it thaw for about 20 minutes before scooping.