Use these ergonomic tips and tricks to say goodbye to end-of-day aches and pains and hello to a productive, fun-filled school year!
If your kids and teens are like most, they probably spend a significant amount of time sitting at a desk, on their phone, or lounging at home. But did you know that the way they set up their study spaces or chill around the house can make a massive difference in their overall health and well-being? In this article, we'll explore why ergonomics matters at school, at home, and even during those epic gaming sessions. So, let's get ready to level up the comfort! Keep reading to learn how.
Why Posture and Ergonomic Spaces Matter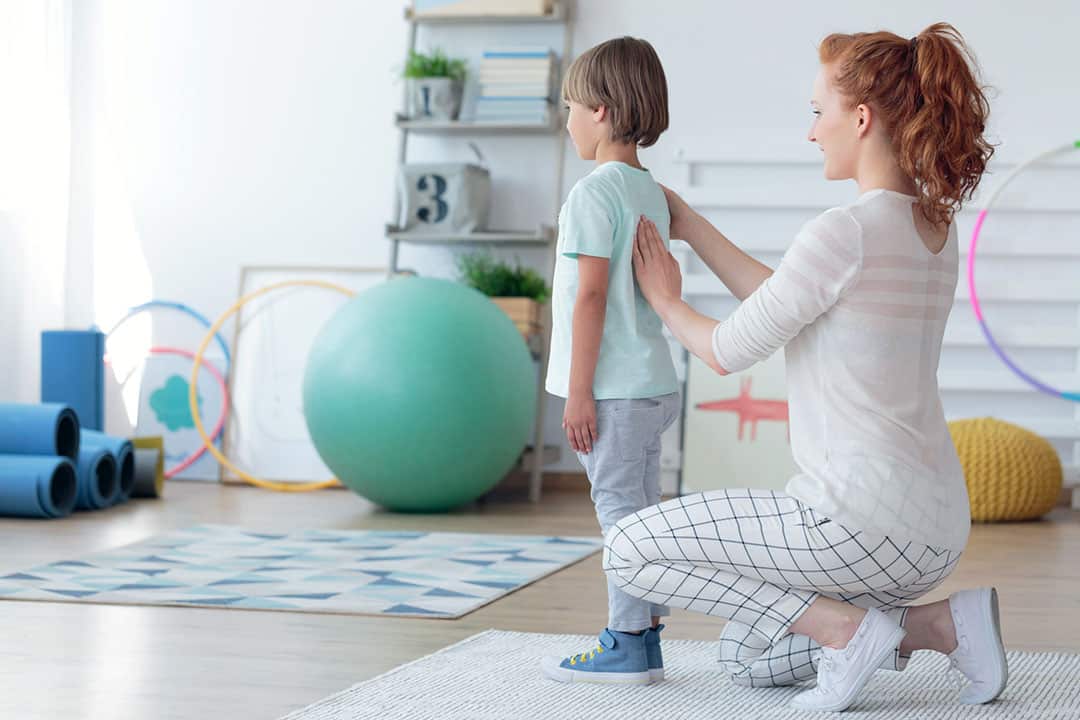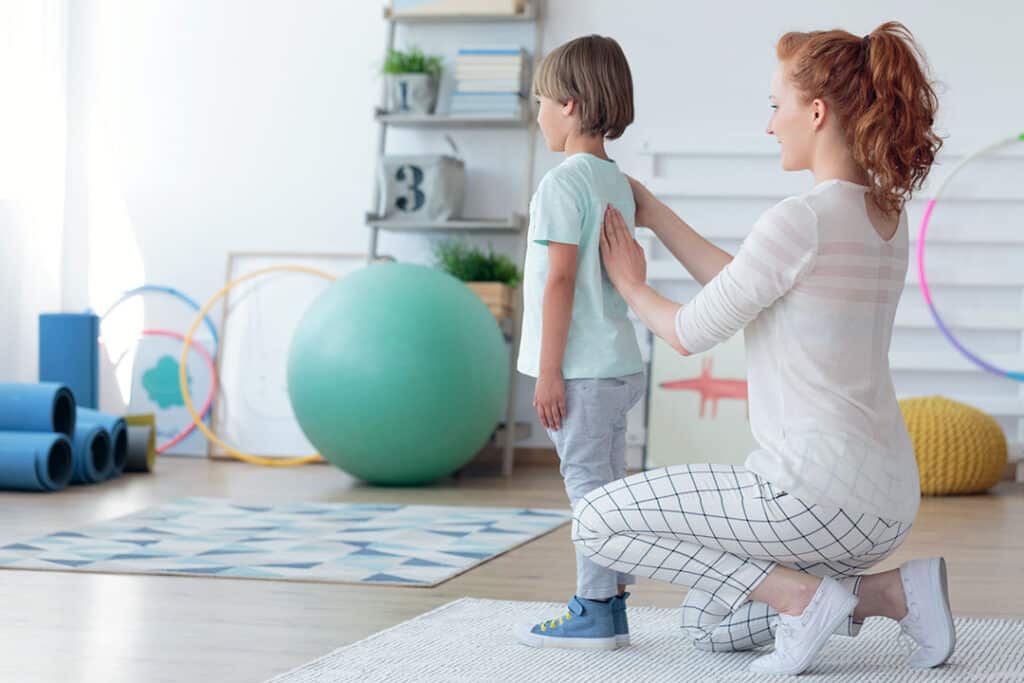 Maintaining good posture is not just a matter of appearance; it plays a significant role in supporting overall health and well-being, including concentration and academic performance. 
Here are some reasons why good posture is beneficial for kids, teens, and adults:
Proper posture allows for better blood circulation throughout the body, including the brain. Improved blood flow ensures that the brain receives a steady supply of oxygen and nutrients, which are essential for optimal cognitive function. When the brain is well-nourished, it can process information more efficiently, leading to improved concentration and focus.
> Reduced Strain on Muscles
Good posture involves aligning the spine correctly, which reduces strain on muscles and joints. When the muscles are relaxed and not overworked, it conserves energy and prevents discomfort and fatigue. Kids who sit with good posture are less likely to experience muscle aches and pains, allowing them to concentrate better on their studies without distractions from physical discomfort.
Sitting or standing with good posture promotes proper breathing patterns. When the lungs have enough space to expand, kids can take deep breaths, delivering more oxygen to their bodies. Deep breathing is associated with relaxation and stress reduction, making it easier for kids to stay calm and attentive during learning activities.
> Improved Confidence and Self-Esteem
Good posture can have a positive psychological impact on kids. When children maintain good posture, they exude confidence and self-assurance. This sense of confidence can positively influence their self-esteem and attitude towards learning. A child who feels good about themselves is more likely to actively participate in class, ask questions, and engage in discussions, which can lead to better academic performance.
> Better Executive Function
Executive function refers to a set of cognitive skills that help with planning, organization, attention, and impulse control. Maintaining good posture requires a certain level of cognitive awareness and self-regulation. When kids consciously sit or stand with good posture, it can spill over into other aspects of their behavior, leading to improved executive function. This, in turn, can positively impact their ability to stay on task, manage time effectively, and complete assignments with greater efficiency.
Developing good posture habits at a young age can have long-term benefits for kids as they grow older. Poor posture can lead to musculoskeletal issues, such as back and neck pain, which may persist into adulthood if not addressed. On the other hand, instilling good posture habits early on can help kids maintain a healthier and more comfortable body throughout their lives, contributing to better overall well-being.
Ergonomics at School: Cracking the Code to Concentration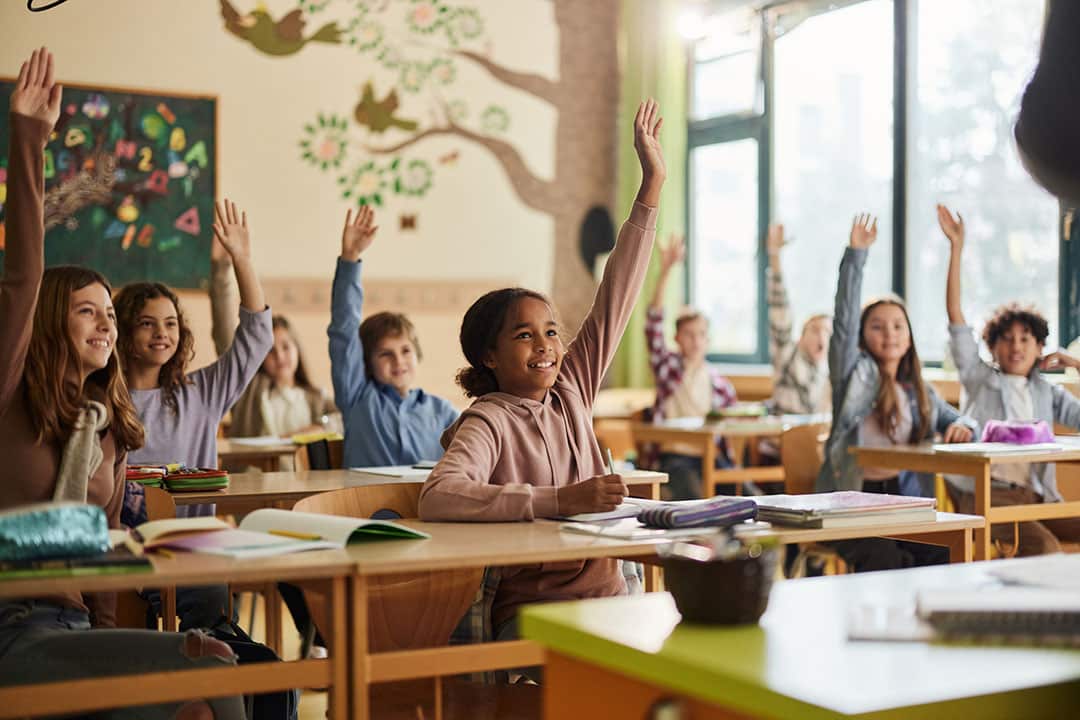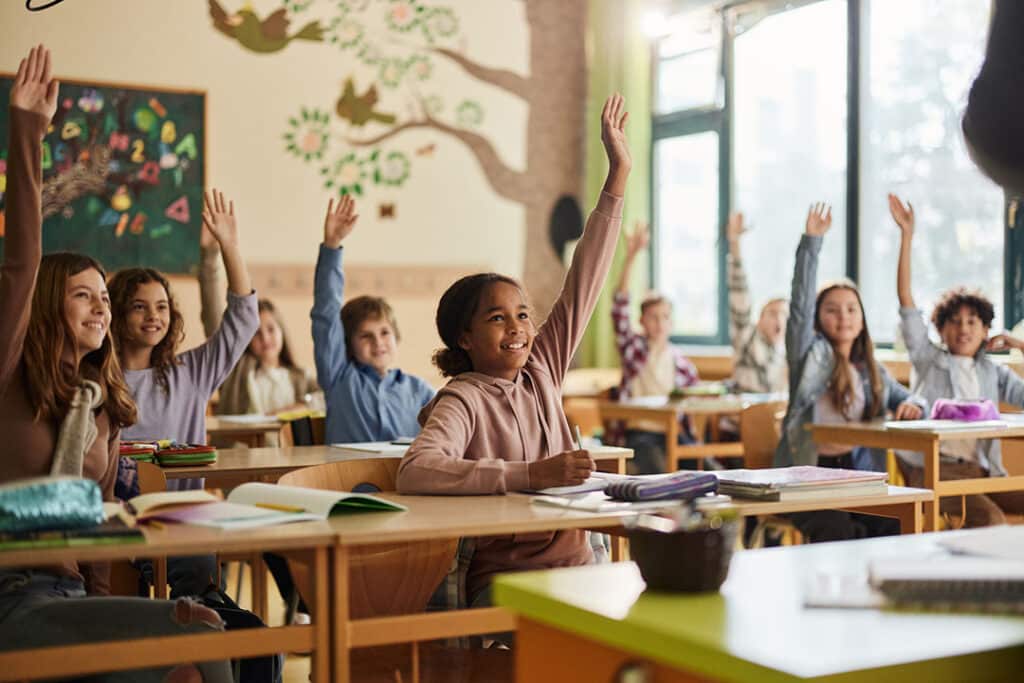 Believe it or not, the school desk is where it all begins! Think about the hours your kids spend sitting at those desks, trying to focus on class material. An ergonomically-friendly setup can make a world of difference when it comes to concentration and productivity. Here are a few things to keep in mind, even if your kids are moving from classroom to classroom throughout the day. 
Check the Chair and Desk Height: Encourage your child's school to offer chairs and desks that can be adjusted to various heights. ideally, students should be able to rest their feet flat on the floor, have their knees at a 90-degree angle, and place their arms comfortably on the desk without hunching over.


Use the Back Support: Encourage kids and teens to maintain good posture while sitting by using the backrest of the chair. Remind them to keep their backs straight against the chair and avoid slouching.


Adjust the Screen: For students using computers or tablets at school, the top of the screen should be at eye level to prevent neck strain. Adjusting the screen tilt and angle can help achieve this.


Take Breaks and Move: Encourage teachers to include regular breaks during the school day for stretching and movement. This helps prevent stiffness and encourages blood flow.
Ergonomics at Home: Creating a Comfortable Haven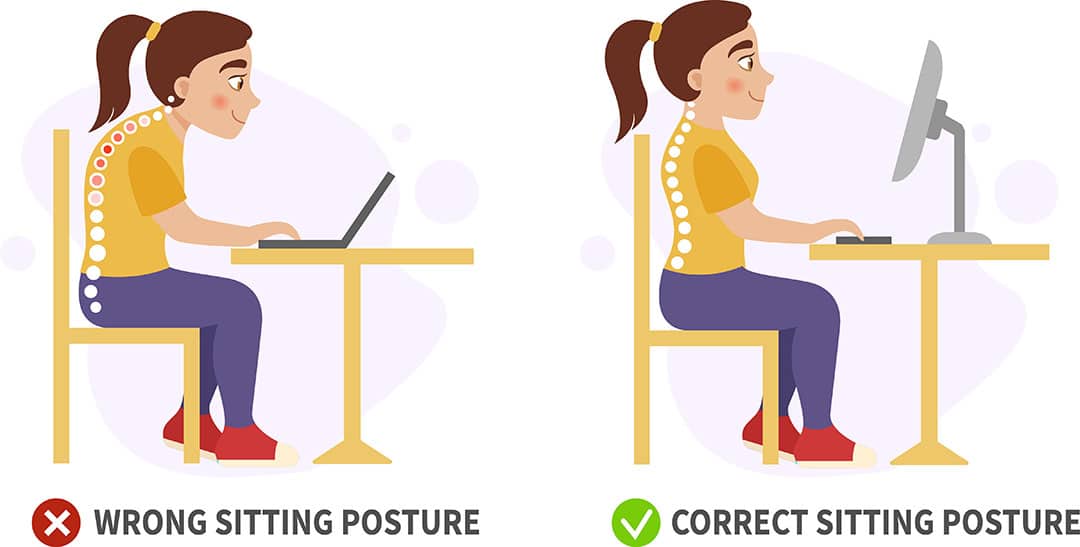 Designing a dedicated home study space – that is also ergonomic friedly – is another great way to ramp up your productivity during study sessions. Here are some essential tips for kids and teens to create an ergonomic and inviting workspace right at home:
Get the Right Desk and Chair Combo: Invest in a desk and chair that work together seamlessly. The desk should be at a height that allows elbows to rest comfortably at a 90-degree angle when writing or typing. Pair it with an adjustable and supportive chair that keeps the spine in a neutral position and provides proper lumbar support.


Adjust the Screen: If using a computer or tablet for studying, make sure that the screen is at eye level. Adjust the chair or use a monitor stand if needed to maintain a comfortable viewing angle.


Accessorize Smartly: Consider using ergonomic accessories like a keyboard tray, mouse pad with wrist support, or an adjustable monitor stand to optimize posture and reduce strain on the wrists and neck.


Work in Breaks: Create a study routine that includes breaks. Aim for short breaks every hour to stretch, walk around, or do some quick exercises to refresh the mind and body.
Ergonomics at Play: Avoiding Tech Neck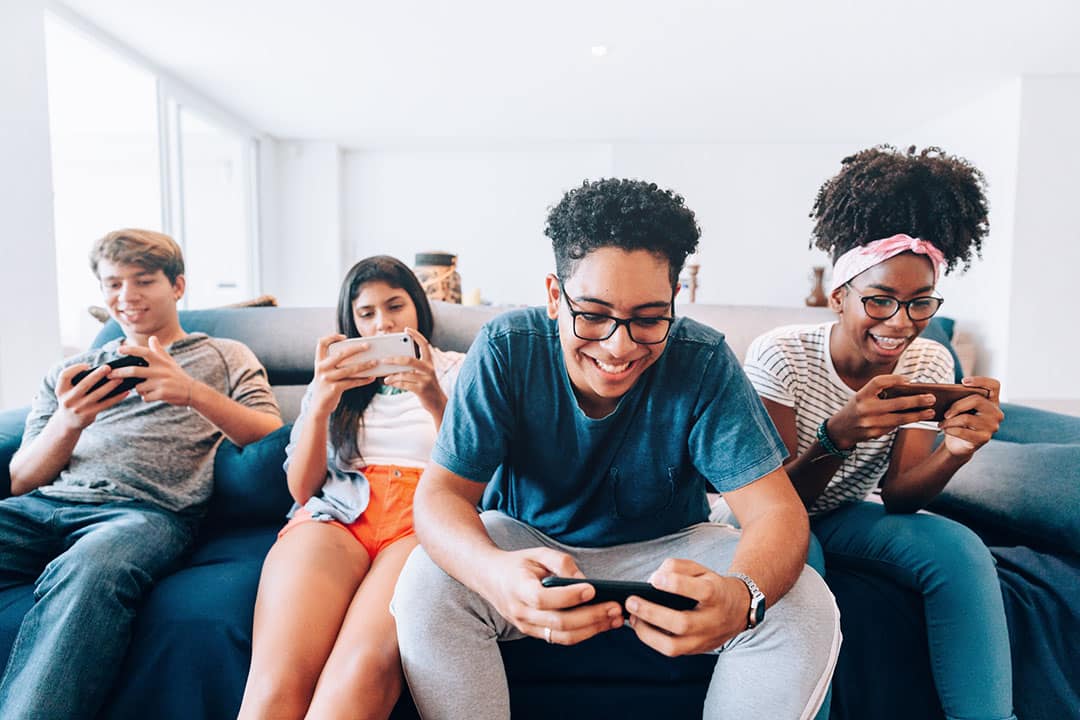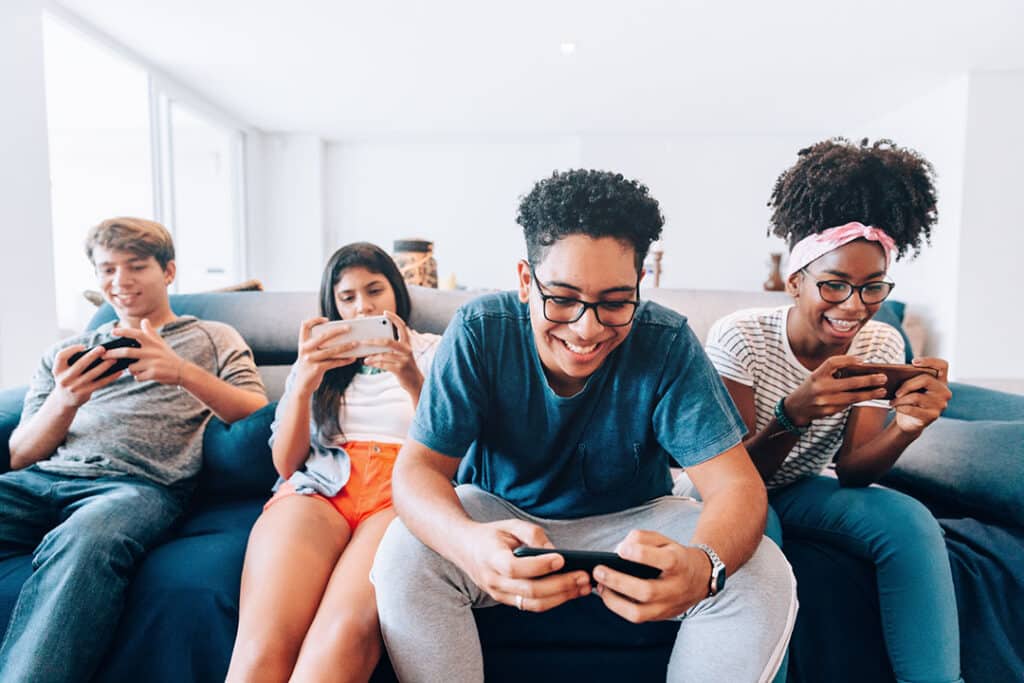 Now, let's dive into the realm of ergonomics during your precious downtime. Whether you're fully immersed in virtual worlds or glued to your smartphone, it's vital to ensure that your gaming and device habits also promote good posture. Here are some key areas to consider as you and your kids chill at home:
Gaming is epic, but don't let "tech neck" spoil the fun. Upgrade your gaming setup for a spine-friendly experience:
Choose a Comfy Chair with Back Support: Swap that bean bag or floor cushion for a comfortable chair that supports the back and encourages an upright posture. Proper lumbar support is a game-changer!


Set the Screen Height: Adjust your screen to eye level, so you don't have to tilt your head down. Maintaining eye contact with the screen reduces strain on your neck and keeps you fully immersed in the action.


Invest in Gaming Accessories: Gaming accessories like ergonomic keyboards and mice reduce wrist strain. Proper wrist alignment enhances your gaming performance and prevents discomfort during extended play sessions.
2. Phone Habits for Good Posture
Smartphones are our constant companions, but they can also wreak havoc on our neck and spine. Here's how to tame those "tech neck" demons:
Elevate Your Device: Hold your phone or tablet at eye level whenever possible. Whether you're texting, browsing, or watching videos, keeping your device at eye level reduces strain on your neck and prevents that dreaded "text neck" look.


Use a Phone Stand: For hands-free convenience, use a phone stand or prop your device against a stable surface. This way, you can maintain proper posture and still enjoy your favorite content.


Take Breaks: Avoid prolonged scrolling and texting marathons. Take short breaks every 15 to 20 minutes to stretch your neck and give your eyes a rest. Blink more often to prevent dry eyes caused by excessive screen time.
3. Screen Time Boundaries
It's easy to get lost in virtual worlds and social media feeds, but setting healthy screen time boundaries is crucial for overall well-being:
Limit Screen Time: Set a daily screen time limit for yourself and your kids. Use apps or device settings to enforce these limits and create a healthy balance between digital and offline activities.


Designate Device-Free Zones: Create designated areas in your home, like the dining table or bedrooms, where devices are not allowed. This encourages better posture during mealtimes and relaxation, reducing the temptation to slouch while using gadgets.
Remember, being sedentary for long periods isn't great for your posture or overall health. Here's how to keep your body active even during leisure time:
Try Out Active Games: Explore active gaming options like dance games or virtual reality experiences that get you moving. These games provide a fun workout while promoting better posture and physical activity.


Go Outside: Taking a 30-minute walk can be a game-changer for how your body moves and functions. It can also help you refocus and increase energy levels!


Stretch Out: Don't forget to incorporate regular stretch breaks. Stretch your neck, shoulders, and back to release tension and maintain flexibility.
Need more great tips on setting up ergonomic spaces?