Acupuncture for Better Results Faster
Clinic Locations Form - Schedule Now - acupunture care
"*" indicates required fields
The Benefits of Acupuncture Therapy
Acupuncture has been around for thousands of years to help with pain management and other health conditions. Now, thanks to numerous studies over the last 20 years, the many benefits of acupuncture are being recognized by healthcare professionals around the world – including AlignLife doctors of chiropractic!
Studies show that acupuncture is effective at helping with back pain, neck pain, sinus problems, headaches, arthritis, sports injuries, anxiety, depression, GI issues, blood pressure, pregnancy, and more! That makes this traditional Chinese medicine practice a powerful alternative to pain medicines and another proven natural health solution that helps the body heal from within.
The good news? We offer acupuncture therapy right here at your local AlignLife Chiropractic and Natural Health Center! So, the next time you come in for a spine check, pinpoint some time you can schedule a session with our on-site acupuncturist and experience the difference it can make in how you feel and function.
How Acupuncture Can Help You
Acupuncture is similar to chiropractic care in that every session builds on the progress made in the previous session. Many AlignLife doctors offer acupuncture in their clinics because it helps engage the central nervous system on a deeper level. It can touch hundreds of acupuncture points (acupoints) that help your body:
React to an illness or symptom that is causing you health issues
Reset systems that are off balance
Release natural chemicals that help control pain and nerve impulses
During your appointment, your certified acupuncturist will talk to you about your condition, highlight which areas on your body react best to acupuncture for that condition or symptom, then tap thin needles into targeted points in your skin. When you feel a deep heaviness or numbness, those sensations usually mean the treatment is working!
Ready to see how acupuncture can help you and your health goals? Let's chat! Simply call 877-254-4654, live chat with us, or fill out the form above to get started.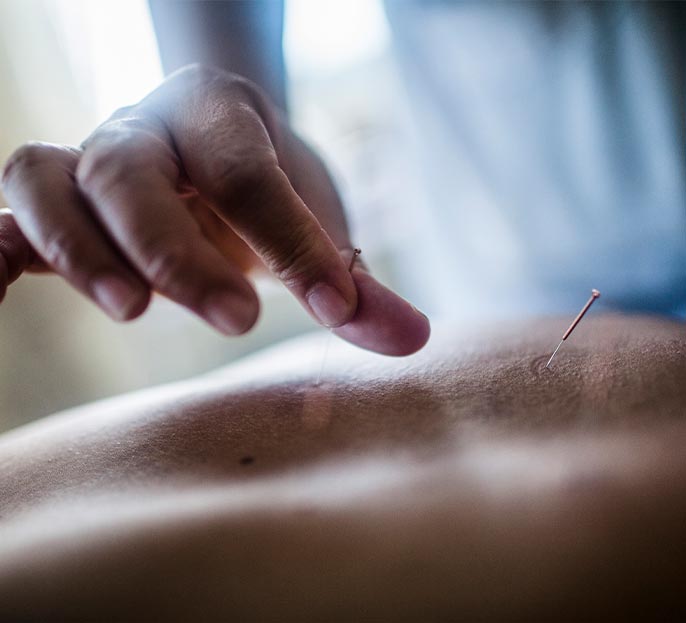 "Many think of acupuncture for soft tissue injuries, but there are a lot of research studies coming out showing it helps with clinical conditions as well!"
Does acupuncture hurt?
No, you shouldn't feel pain from acupuncture! The needles used are very thin – only a quarter millimeter in diameter or the thickness of a human hair. The needle is also only inserted to the point that produces a sensation of pressure or a slight ache, not pain. While some places on your body may be more sensitive than others, many acupuncture patients say they feel calmer and more relaxed after a session!
Is acupuncture safe?
AlignLife only uses certified acupuncturists. When a qualified professional performs acupuncture, it has very few complications or side effects. The U.S. Food and Drug Administration (FDA) also regulates all acupuncture needles. All needles must be steel, solid, sterile, nontoxic, and properly labeled. After one use, practitioners throw the needles away.
How long are acupuncture needles?
Acupuncture needles range in size from 0.5 inch to 2.5 inches. The size of the needle used depends on the area being targeted. All acupuncture needles are sterile and only used once.
How long does acupuncture take?
Acupuncture sessions typically last 30 minutes to an hour from start to finish. Again, how long the needles stay in place depends on the condition or symptom. Sometimes they stay in for a few minutes, or sometimes they stay in as long as 20 minutes. Feel free to ask questions about what you can expect at any time during your session.
What should I wear to my acupuncture session?
You should always wear loose-fitting clothing to acupuncture! If you're coming from work or an event that you have to be dressed up for, you will likely want to bring a change of clothes. Acupuncture points are located in many areas of the body, from the top of the head to your toes. The most commonly used acupoints are located on your hands and feet, but can also be on arms, legs, abdomen, back, or other areas. Loose-fitting clothes make it easier to access the acupoints we need.
How often should you get acupuncture?
The overall number of acupuncture sessions you'll need depends on the condition (and severity) the therapy is being used to help. While you may notice some results after the first or second visit, we typically recommend at least five sessions before deciding if acupuncture is helping.
Does insurance cover acupuncture?
Some insurance companies cover acupuncture, and some don't. Many times insurance companies will limit the number of acupuncture treatments they cover in your policy year. Check with your insurance company or talk to your AlignLife chiropractor about what your specific insurance plan will cover.
INTERESTING
CONTENT FOR YOU: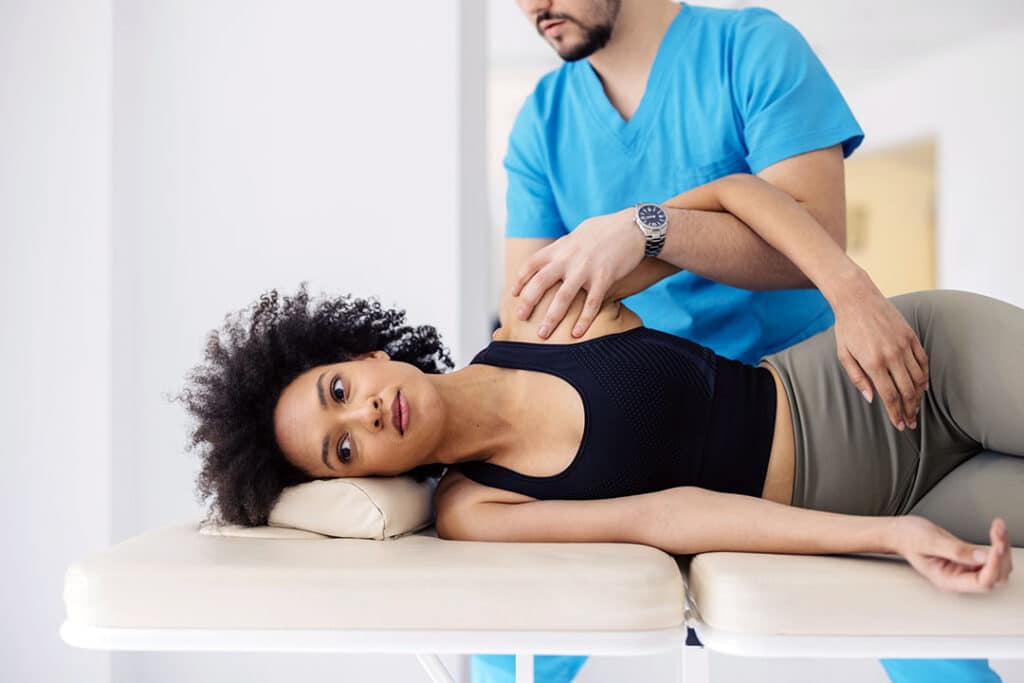 14 Chiropractic Adjustment Techniques and the Benefits of Each
A chiropractic adjustment, also known as a spinal manipulation, is one of the primary techniques used by AlignLife chiropractors to treat a variety of musculoskeletal conditions, including back pain, neck pain, headaches, and sciatica. Chiropractic care is a...