Studies show that sinus massage and acupuncture for allergies outperforms antihistamines for allergy relief (and carries none of the side effects). Plus, when you pair acupuncture with chiropractic care, the long-term outcomes are even better.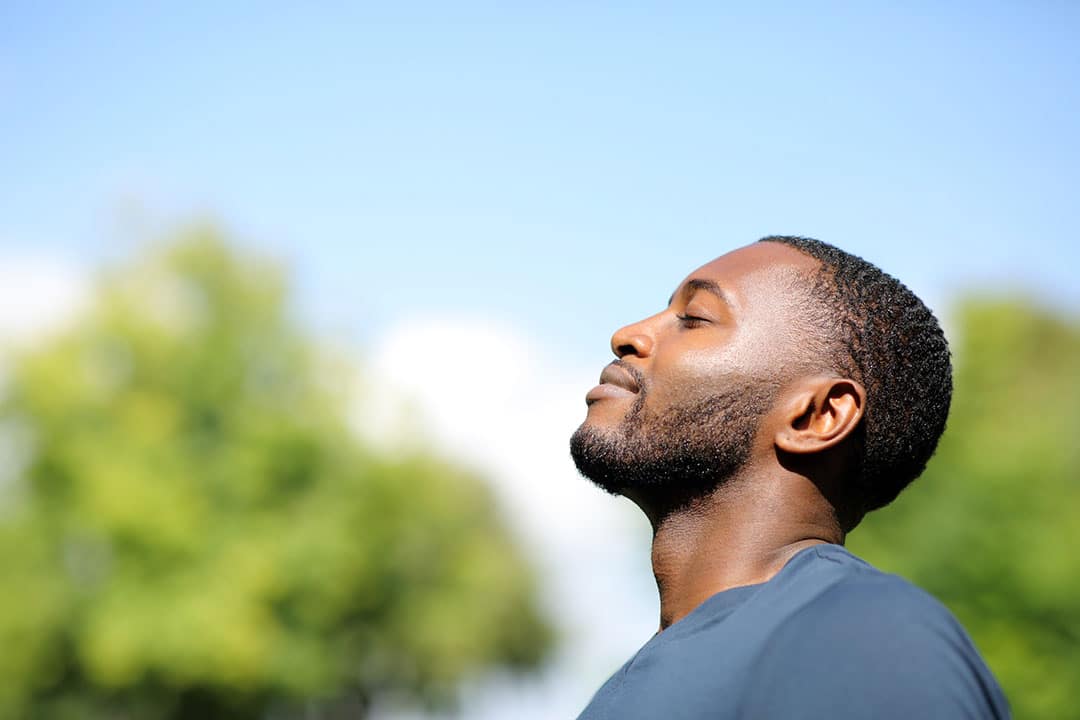 When you're battling with throbbing sinus pressure and your nose is running like a fountain, you need relief fast. If you're like most people, you probably reach for an allergy medication. That works for a while…but soon those symptoms start back up and you're left feeling drowsy and dry-mouthed. The good news is that allergy medications aren't the only tool you can use to find relief. For a natural way to beat seasonal or chronic sinus pressure, consider acupuncture for allergies.
Read on to learn how acupuncture can nip allergies in the bud. Then, learn how to use a few key acupressure points for allergies and sinus pressure to get a jumpstart on relieving your symptoms.
Why Try Acupuncture for Allergies?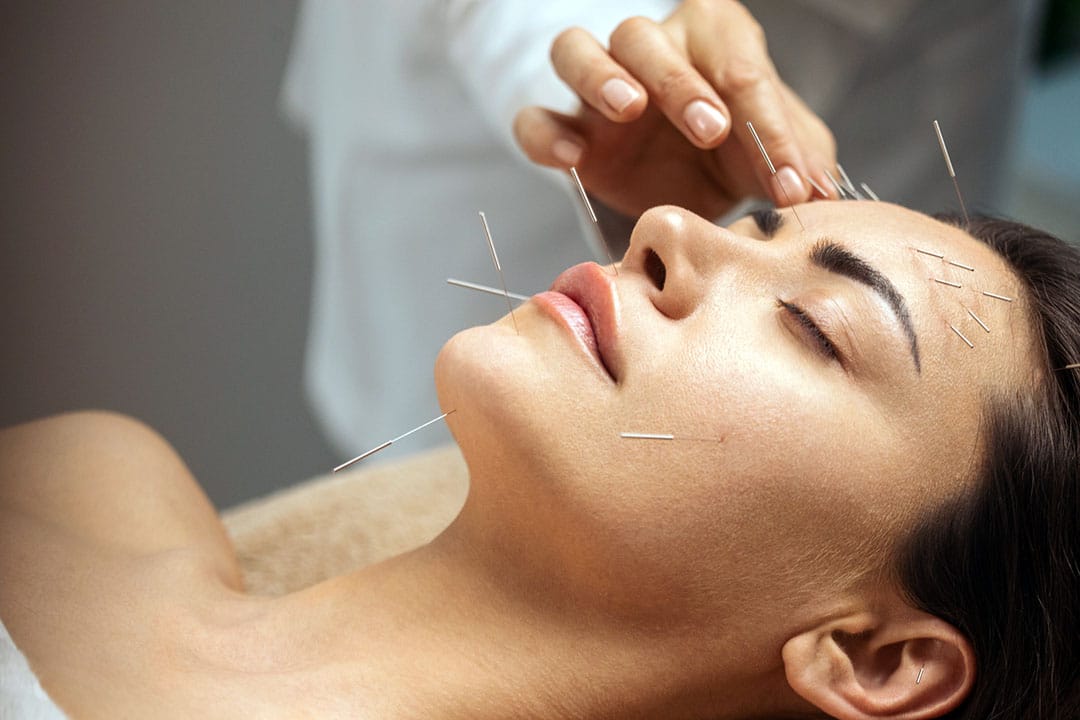 Acupuncture is one aspect of Traditional Chinese Medicine (TCM), a medical system that has been used for thousands of years to help people treat and prevent illnesses like allergies. 
Chiropractic doctors can help relieve allergies and sinus issues by addressing misalignments in the cervical spine (neck). Why? Because when the neck is tense, strained, or out of balance, this can lead to excess pressure in the head and sinuses. Imbalances in the spine can also lead to poor immune function and inflammation that lead to excessive allergic responses.
Acupuncturists also see allergies and sinus pain as signs that the body is imbalanced in some way. Like chiropractic, acupuncture targets key areas (acupoints) to realign the body energetically, so allergies resolve naturally. Here are a few of the ways that acupuncture could help you relieve allergies and sinus pressure: 
1) Dissipates pain and pressure.
If you've ever struggled with allergies, you know that sinus pain and pressure quickly follow those first few sneezes and watery eyes. Acupuncture has a natural analgesic effect that can help alleviate sinus pain, headaches, and pressure. It does so by first releasing endorphins that mute the pain signals going to your brain. Then, acupuncture's anti-inflammatory and circulation-boosting effects help reduce inflammation, swelling, mucus, and pressure in the sinus cavity for long-term relief.  
2) Helps your body clear out congestion and allergens.
Similar to chiropractic adjustments that release toxins, acupuncture may also have a clearing effect on the body. This is thanks to the increase in blood and Qi flow that occurs during an acupuncture treatment. As circulation increases, the body is able to clear away irritating allergens, excess mucus, and debris more completely. As the congestion clears, airflow increases for easier breathing. 
Acupuncture's clearing effect not only helps eliminate the pollen, mold, or other allergens you've come in contact with but also clears inflammation and its harmful effects. 
Inflammation is one of the most prevalent – and stubborn – factors when it comes to allergies and sinus pressure. When your body identifies an allergen, it goes into defense mode. Immune cells mount an inflammatory response in hopes to wipe out the invader. The trouble is, most allergens are not actually harmful, so this inflammation has nothing to attack but your own tissues. 
Acupuncture helps reduce inflammation for both quick relief and long-term immune health. Studies show that acupuncture may reduce inflammation by limiting the amount of circulating proinflammatory proteins. 
4) Moderates the immune system.
Allergies and chronic sinus pressure are often a sign that the immune system has fallen out of balance. It becomes hyperactive and over-responsive. As a result, the body mounts an immune attack on anything that seems unusual, including harmless particles like pollen – or even the body's own sinus tissue. 
Acupuncture helps by guiding the immune system back to a state of balance. Studies show that acupuncture has a moderating effect on the immune system; it both calms and strengthens the immune system to reduce harmful responses (like allergies) and improve helpful responses (fighting the common cold or other illnesses). 
Try It: 5 Massage Points for Sinus Pressure and Allergy Relief
Acupuncture uses tiny needles to stimulate specific acupoints on the body. These points have different effects on the body and are strategically combined to elicit a desired effect that will lead the body back to balance. 
At your acupuncture care visit, your acupuncturist may choose some of these points for your allergy relief treatment. In the meantime, you can try acupressure. Press gently yet firmly on these points for 10-30 seconds on each side to experience the benefits of acupressure for allergies and sinus pressure: 
#1: Welcome Fragrance (Large Intestine 20)
This point is located on the face, to the side of each nostril, in the tender depression. 
LI 20 is one of the most commonly used points to open the nasal passages and clear sinus congestion. Press with slight upward pressure and take deep breaths. Spray the room with an aromatherapy mist containing eucalyptus or tea tree oil for even better results. 
Use it for:
Nasal congestion and rhinitis 
Sinus pressure
Allergies
#2: Four Whites (Stomach 2)
This point is located on the face, directly below your eyes, in the depression on the cheekbone.
ST 2 is a go-to acupoint for allergy symptoms that affect the eyes. This point helps clear inflammation and stagnation in the sinus cavities, as well as the eyes themselves.
Use it for:
Sinus pain, pressure, and headaches
Itchy, watery eyes
Twitching eyelids
#3: Bamboo Gathering (Urinary Bladder 2)
This point is located on the face, just above the inner canthus of the eyes, in the small depression on the inside of the eyebrows.
UB 2 is an effective point for relieving sinus headaches and irritated eyes. It can also help reduce nasal congestion or that foggy-headed feeling that often comes with allergies. 
Use it for:
Sinus pain, pressure, and headaches
Nasal congestion
Eye irritation
Foggy, heavy head
#4: Broken Sequence (Lung 7)
This point is located on the arm, about 1.5 inches above the wrist crease in a small depression along the radius bone. 
LU 7 can be used for a wide range of symptoms, but in this case, it helps us clear the lungs of mucus, improve circulation through the lungs and nasal passages, and boosts overall lung health. This point also connects to the neck and can relieve neck tension (especially when it is related to allergies and sinus pressure). 
Use it for:
Nasal congestion 
Cough and common colds
Respiratory wellness 
Neck tension
#5: Leg Three Miles (Stomach 36)
This point is located on the leg, about 3 inches below the "eye" of the knee, on the lateral side just off the crest of the tibia. 
Stomach 36 is one of the most commonly used acupoints because it has wide-reaching positive effects on the body. It boosts energy, improves digestion, relieves pain, enhances circulation, and supports immunity to name a few. For allergies, this point can help improve your overall immune function to stop allergies at the root. It also reduces dampness and phlegm to eliminate lingering sinus pressure and congestion. 
Use it for:
Nasal congestion 
Allergies and sinus pressure 
Recurrent sinus infections
Overall immune function
Wellbeing and prevention
Stop Sinus Pressure and Allergies with Acupuncture and Chiropractic
If you're tired of struggling with seasonal allergies or chronic sinusitis, your AlignLife team can help you get to the root of your allergies (and ensure there's not something else going on). 
Schedule a visit with your local AlignLife chiropractor to learn how chiropractic and acupuncture can be paired together to help you get the relief you need from allergies and sinus pressure.