Finding lasting relief for back pain can be, well, a pain. Thankfully, an ancient practice with a modern evidence base could offer a new solution: acupuncture. Acupuncture uses tiny needles strategically placed along energetic meridians (similar to our circulatory and nerve pathways) to relieve pain and promote healing. Along with chiropractic care, acupuncture is one of the most sought-after natural pain relievers. From acute back pain to chronic spinal conditions, acupuncture can help turn down your pain levels for immediate and long-lasting relief. 
Acupuncture may be an age-old therapy, but it boasts a wide range of modern health benefits. Here are seven reasons why you should consider adding acupuncture for back pain relief. 
7 Reasons to Try Acupuncture for Back Pain
1) Acupuncture releases endorphins.
When you're in pain, you want relief fast. And while acupuncture does take a series of treatments to achieve long-lasting pain relief, there are some immediate benefits of this natural therapy.
An acupuncture session can leave you feeling better in a matter of minutes. This is in part due to the release of endorphins.
Have you ever gone for a long run or workout and felt a runner's high? That feeling is endorphins at work. Endorphins are pain-relieving chemicals that help to reduce pain signals and make you feel good. In fact, endorphins have been shown to work similar to opioid painkillers like morphine (without the side effects).
Studies show that as acupuncture releases endorphins, these chemicals calm the nervous system and inhibit your perception of pain. Without pain "alarms" going off, your body can relax and refocus on long-term healing.
2) Acupuncture reduces inflammation.
Inflammation is a factor in nearly every case of back pain. From burning sensations to sore muscles to arthritis, inflammation could be one of the reasons why your back pain simply won't go away. The good news is that acupuncture can help. 
Acupuncture has been known to help alleviate pain for centuries. Yet we are only now learning why it is such an effective natural method. Modern studies show that one key reason acupuncture can help with pain conditions like back pain is that it has anti-inflammatory effects. Acupuncture does this in a few ways, from moderating the levels of inflammation-producing hormones (like cortisol and glucocorticoids), to slow the release of pro-inflammatory cytokines, to activating neurotransmitters that moderate inflammation. 
With regular acupuncture treatment and other anti-inflammatory lifestyle habits, you could significantly reduce inflammation to improve back pain as well as enhance your overall health. . 
3) Acupuncture promotes back mobility and flexibility.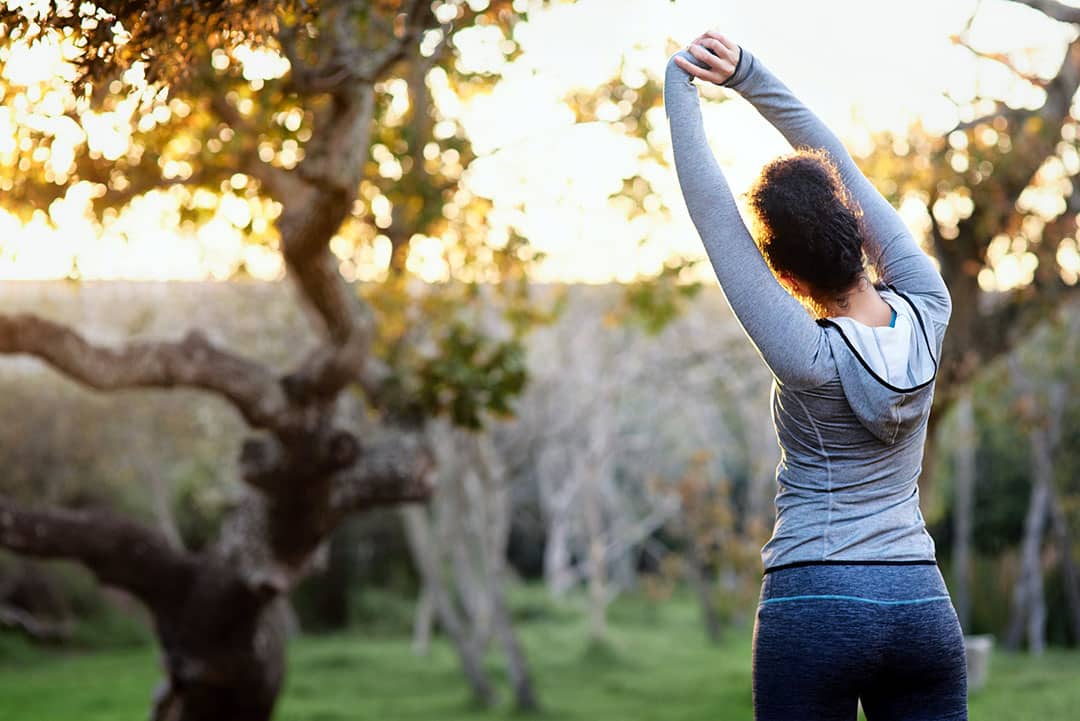 If you've struggled with back pain – either acute or chronic – you've probably noticed that it's not quite as easy to bend, twist, and move as it used to be. That's because back pain can quickly limit your range of motion and flexibility. 
Acupuncture can help you restore your ability to move freely in a few different ways. First, acupuncture can be used to release muscle tension, muscle spasms, and trigger points (knots). This relaxes the entire back, and alleviates painful pressure put on the spine and nerves by tense muscles. Second, acupuncture stimulates healing blood flow through the back. This enhanced circulation keeps your muscles and joints hydrated, warm, and flexible.
Pairing acupuncture with chiropractic care and exercises for posture and back flexibility is the best way to restore your full range of motion and prevent future injuries.
4) Acupuncture helps you get better sleep.
Getting eight hours of quality sleep per night can feel impossible when nagging back pain keeps waking you up. Not only does this leave you drained, but your body isn't getting the precious rest it needs to heal the muscle or joint tissues that are causing your back pain. As a result, the pain gets worse and you get more and more exhausted. 
With acupuncture, you can quiet nighttime back pain and improve your overall sleep quality for long-term healing. Acupuncture has been shown to improve sleep for a range of sleep disorders, including chronic pain-related insomnia. And unlike over-the-counter sleep aids, acupuncture is non-habit-forming and won't leave you feeling drowsy the next day. 
5) Acupuncture relieves stress.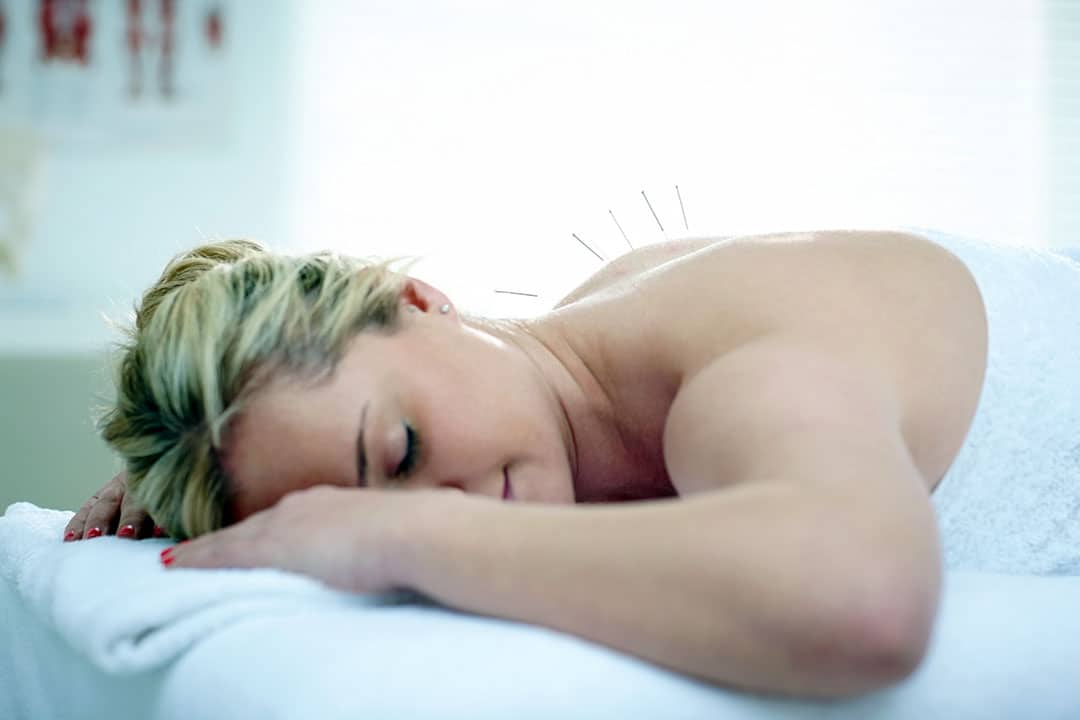 As if living with back pain wasn't stressful enough, unmanaged stress can actually make your pain levels rise. The rise of cortisol in your system leads to increased inflammation, and makes your brain more sensitive to pain signals. Plus, the more stressed we are, the more we tend to tense our muscles (even if we aren't aware of it). This is especially true in the upper and lower back. That extra tension can lead to an increased risk of muscle spasms and back pain. 
Thankfully, acupuncture is a proven natural stress reliever. Many people experience an immediate sense of relaxation during their acupuncture sessions that can last for hours. This shift is due to the release of "feel-good" hormones like serotonin and endorphins. 
Beyond the day of treatment, acupuncture helps you grow more resilient to stress as time goes on – both mentally and physically. Studies show that those who get regular acupuncture report feeling a reduction in overall stress, depression, and anxiety.
6) Acupuncture addresses the root causes of back pain.
Like chiropractic, acupuncture works to relieve back pain by getting to the root of the problem. With chiropractic adjustments, we help reverse misalignments in the spine that are causing pain, as well as the other factors that are causing that misalignment. 
Acupuncture takes a similar approach, but in a slightly different way. Rather than adjusting the spine, acupuncture needles adjust the flow of blood and Qi (energy) through the area of pain and the body as a whole. This not only helps the weakened or injured tissues of the back heal, but also supports whole-body balance to improve back health from the root.
7) Acupuncture works well with other back pain therapies.
Acupuncture is a safe and effective way to manage back pain naturally. But it works even better when combined with other therapies (like chiropractic, massage, and functional nutrition). And vice versa, these other therapies can offer greater benefits when combined with acupuncture. These integrative therapies work in harmony to give you the best chance of total back pain relief..
Acupuncture & Chiropractic for Effective Back Pain Relief
Ready to put back pain behind you? The best way to eliminate your pain for good is to take a well-rounded approach to healing. Along with lifestyle habits that support a healthy back, an integrative care plan with acupuncture and chiropractic treatments could be the solution for you. 
Schedule a Visit at AlignLife
Schedule a visit with your local AlignLife chiropractor to learn how chiropractic and acupuncture can be paired together for faster back pain relief and better outcomes.