Quinoa is an ancient grain-like food returning to popularity and revered by those wanting to eat green.  And there's a good reason for that! Quinoa is packed with nutrition and can be used to replace meat in a meal completely! That's great news for those trying to watch their grocery budget or trying to eat vegan and vegetarian!
What health benefits does quinoa offer?
Quinoa contains all 9 essential amino acids required as building blocks for the human body. Also, when comparing quinoa to other grains such as wheat, barley, and corn, it's higher in calcium, phosphorous, magnesium, potassium, iron, copper, manganese, and zinc. And it's completely gluten-free!
Do you have to soak quinoa before cooking it?
Quinoa is best when it has been soaked or sprouted because this process releases its full complement of nutrients and makes it very easy to digest.  It is the easiest grain to sprout, taking only about an hour. But if you are in a hurry, you can soak it for about 5 minutes and still get great results.
What is the best way to eat quinoa?
We personally love to eat quinoa in a spicy shrimp and avocado bowl like in the recipe below. But quinoa can also be served in numerous delicious ways! It is also great paired with grilled asparagus, candied carrots, baby bell peppers, and cherry tomatoes in romaine lettuce boats with a honey mustard dressing.
Print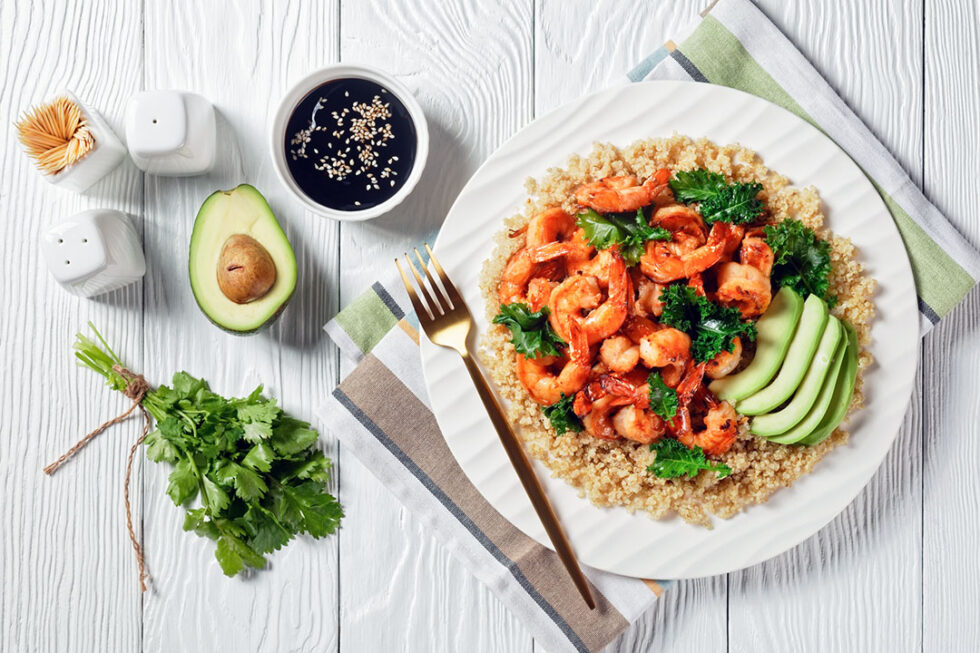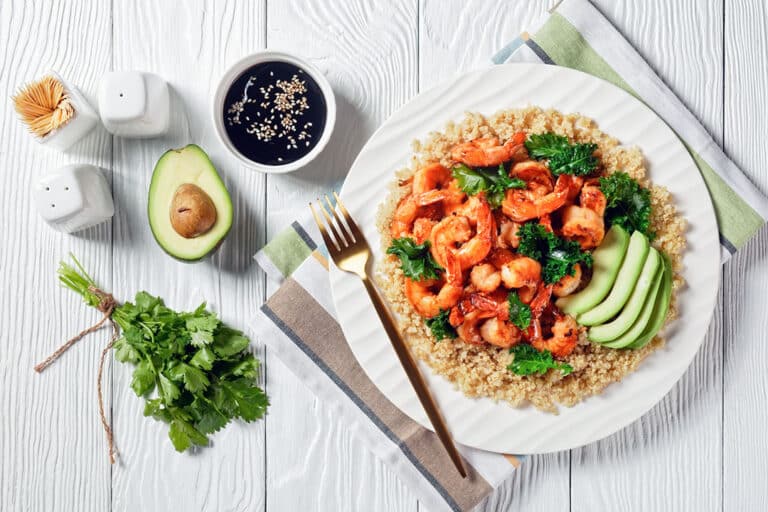 Shrimp Avocado Quinoa Bowl
Shrimp Ingredients
1/2

 

pound

 

shrimp

 

shelled and deveined

1

 

tablespoon

 

olive oil

1

 

teaspoon

 paprika

1

 

clove

 

garlic

 crushed (or

1/2 teaspoon

garlic powder)

1/4

 

teaspoon EACH

 

salt, onion powder, thyme, oregano, black pepper, cayenne pepper
Quinoa Ingredients
1/2

 

cup

 

uncooked quinoa

1

 

cup

 

water

1/4

 

teaspoon

 

salt
Bowl Ingredients
1

 

avocado

thinly

sliced

2

 

cups

 

chopped kale (or your choice of green)

1/2

 

cup

 

tomato

 

diced

1/4

 

cup

 

onion

 

diced (optional)
Creamy Avocado Dressing
1

avocado

1

clove garlic, peeled

1/4 cup

chopped cilantro

1/4 cup

low-fat greek yogurt

1 tablespoon

fresh lime or lemon juice

3 tablespoons

olive oil

1/4 teaspoon

kosher salt

1/4 teaspoon

ground black pepper

1/3

c water (to reach desired consistency)
Instructions
To make the quinoa
Rinse quinoa under cold water and drain well.
Bring 1 cup of water to boil in a large saucepan.
Stir in salt and quinoa.
Cover and cook on low heat for 15 minutes.
Turn off heat and let rest, covered, for 5 minutes.
To make the shrimp (while quinoa is cooking)
In a medium bowl, combine the shrimp, garlic, oil, and spices.
Heat a large pan over medium-high heat for 2 minutes.
Once the pan is hot, coat the pan with a light drizzle of oil (if using a non-stick pan).
Cook the shrimp in small batches for 2 minutes per side or until charred and cooked through.
To make the dressing
Place all the ingredients In a food processor or blender.

Process until smooth.

Thin the dressing out with water until it reaches a consistency you like.
To assemble your shrimp avocado quinoa bowl
Divide greens into two large serving bowls.
Top quinoa, shrimp, avocado, tomato, and onion.
Drizzle with avocado dressing, lime, or sour cream.