Magnesium deficiencies are more common than you think. Fortunately, you can help boost your levels by eating foods high in magnesium or through a quality supplement like Triple Mag. 
Picture this: you're on a walk in your favorite park, surrounded by beautiful scenery and fresh air. But instead of enjoying the experience, you're constantly stopping to stretch out painful muscle cramps. Or maybe you're just trying to make it through a busy workday, but you're stressed and foggy-headed, unable to focus. 
Sound familiar? These are just a few of the symptoms that can result from not getting enough magnesium. Magnesium is an essential mineral for hundreds of body functions, yet the vast majority of Americans don't get enough of it to feel – and live – well. 
By incorporating magnesium into your diet, you can not only prevent these uncomfortable situations but also experience a wide range of health benefits that make living life easier and more enjoyable.
Read on to discover the many ways magnesium helps your body function at its best, and how you can easily incorporate it into your diet through delicious and nutritious foods.
What are the Benefits of Magnesium for Health?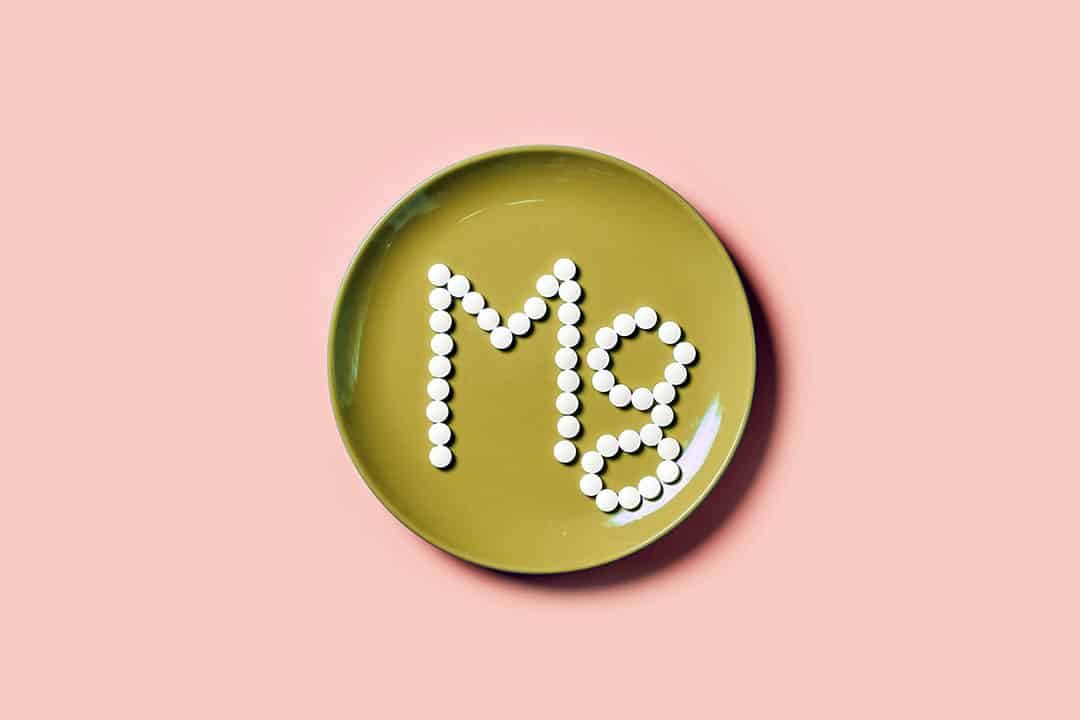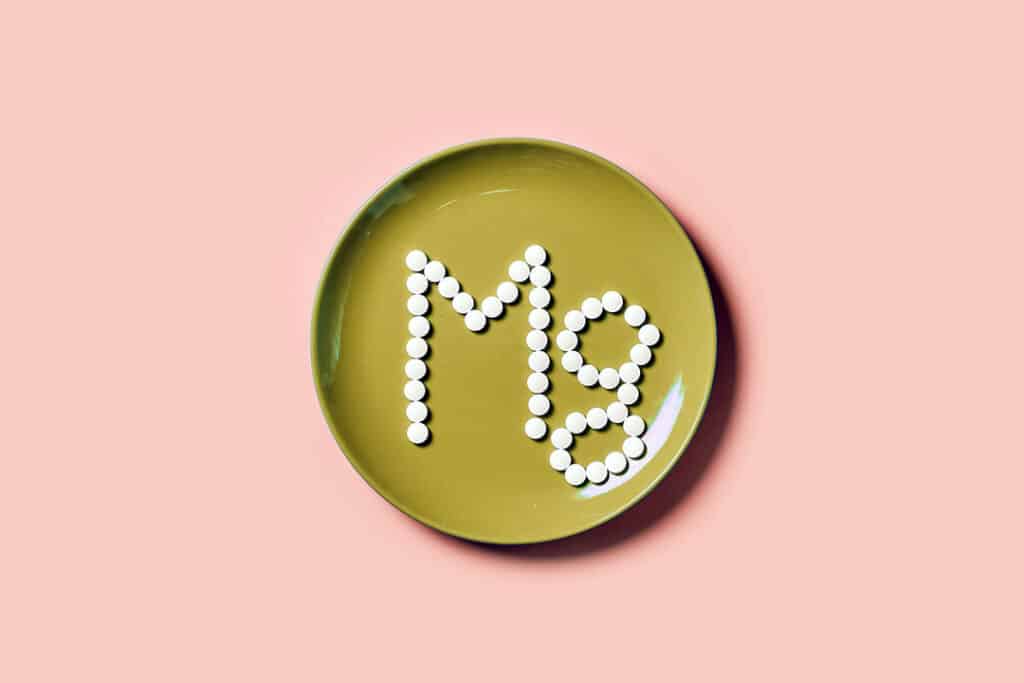 Magnesium plays a critical role in our body. In fact, it is necessary for more than 300 processes that regulate biochemical reactions in the body and maintain healthy homeostasis, including protein synthesis, muscle and nerve function, blood glucose control, and blood pressure regulation. Let's break down a few of the key ways magnesium supports our most important systems: 
Calcium may be the first mineral that comes to mind when you think about bone health, but magnesium is also a vital mineral for bone formation and maintenance. Without enough magnesium, we cannot properly absorb calcium and vitamin D. This is one reason why studies find that low magnesium intake is associated with an increased risk of osteoporosis and bone fractures.
>> Healthy muscle and nerve function
Magnesium is required for muscles to relax and contract, as well as for the transmission of nerve impulses throughout the body. It helps by regulating the flow of calcium in and out of the cells. This helps to ensure proper muscle and nerve function and can prevent muscle cramps and spasms. If you struggle with muscle weakness, cramps, and spasms, a magnesium deficiency could be at the root of the problem. 
>> Pain and arthritis support
Another benefit of magnesium is its potential to help alleviate joint pain and inflammation. Magnesium is involved in several inflammatory pathways in the body and has been shown to have anti-inflammatory and pain-relieving effects.
>> Improved cardiovascular health
You can thank magnesium for every heartbeat. Magnesium helps your heart muscle keep a regular rhythm and prevents abnormal heartbeats and palpitations. It also maintains healthy blood pressure levels and improves circulation to reduce the risk of heart disease.
>> Better blood sugar management
Getting the right amount of magnesium is especially important for people with diabetes or insulin resistance. Why? Magnesium is essential for insulin production and glucose metabolism – two key factors that control blood sugar levels. Studies show that those with diabetes who supplement with magnesium develop more insulin sensitivity, which leads to better blood sugar management. 
One of the most common uses of magnesium is for constipation, but this mineral can actually support your entire digestive system. Without enough magnesium, the digestive process can become sluggish, which leads to discomfort, bloating, and other digestive issues. Magnesium helps relax the muscles in the digestive tract and softens stool, allowing for easier and more efficient movement of food through the intestines. Magnesium also stimulates the production of digestive enzymes, which are necessary for breaking down food and absorbing nutrients. 
>> Enhanced sleep and mood balance
Struggling to get a good night's sleep? Magnesium may help. Taking magnesium and eating magnesium-rich foods helps to relax the body by regulating stress hormones and promoting the production of neurotransmitters like GABA, which are responsible for relaxation and sleep. Magnesium has been shown to reduce insomnia, improve sleep quality, and have a positive effect on mood.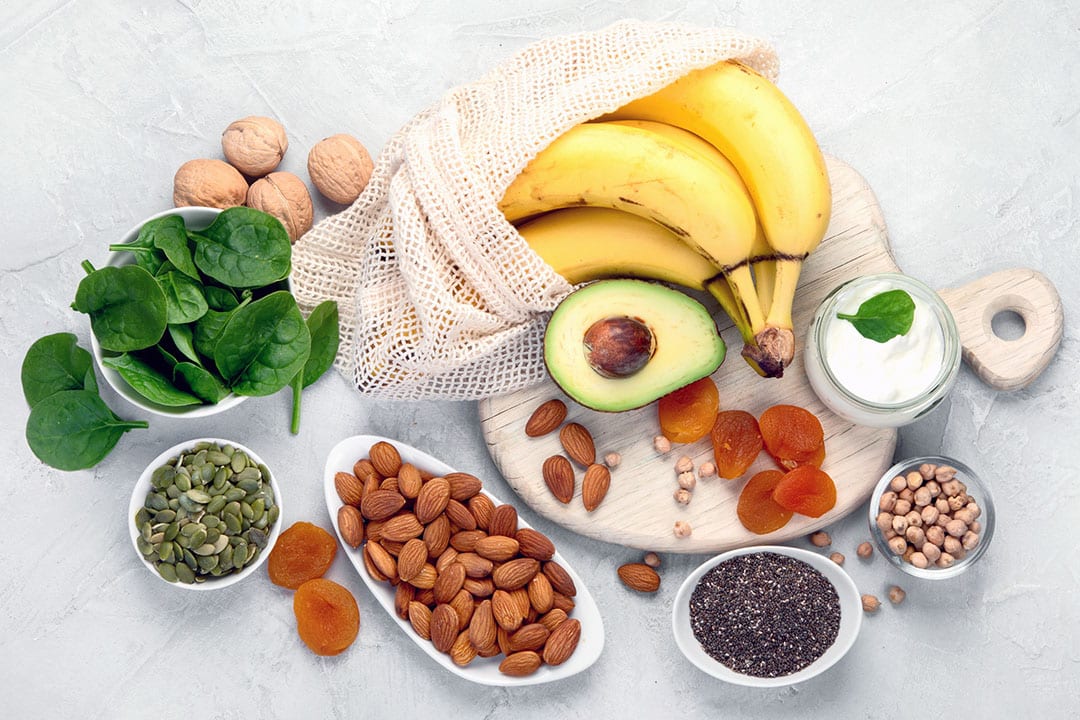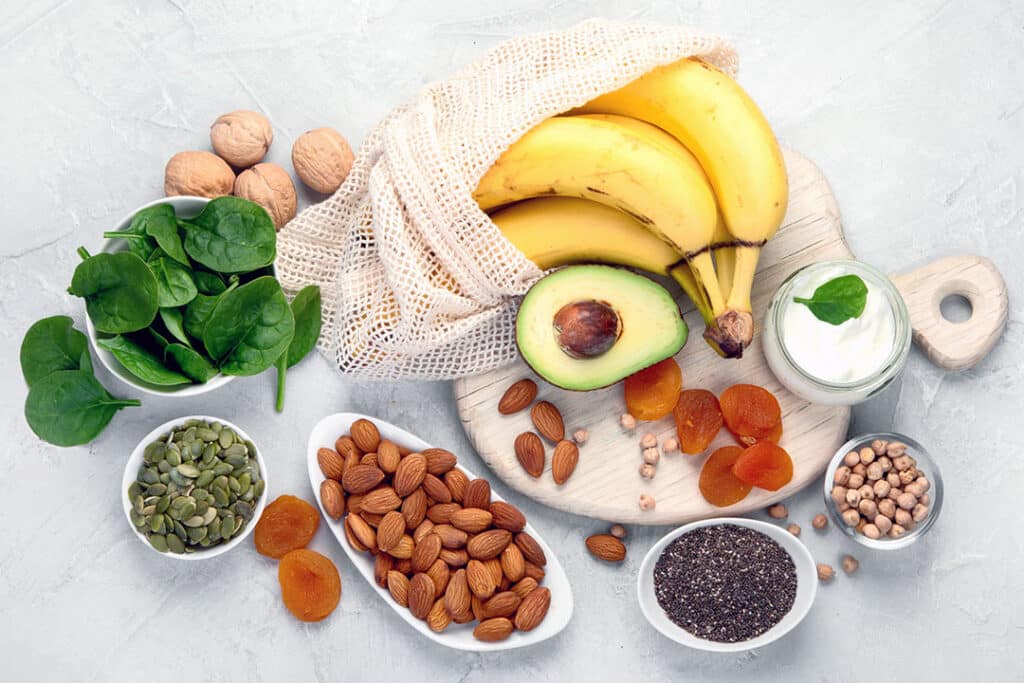 Enjoying these and other health benefits from magnesium is simple – eat more nutritious, magnesium-rich foods! Thankfully, magnesium is abundant in many healthy and delicious ingredients. But before we dive into all the best foods for magnesium, how much magnesium do you actually need?
The recommended daily intake of magnesium varies by age, gender, lifestyle, and pre-existing medical conditions. That's why it's always a good idea to get a functional nutrition lab test and evaluation to determine the exact right dose you need to thrive. 
But to keep it general, men need an average of 400-420 mg daily while women need an average of 310-320 mg daily. And if you are pregnant, you will need a little more (350-360 mg) to support your body as your baby develops. 
Incorporating magnesium-rich foods into your diet is an excellent way to help you reach your daily needs. Here are some of the top food sources of magnesium:
Who says eating healthy can't be enjoyable? One of the most delicious ways to boost your magnesium levels is with dark chocolate. One ounce (28 grams) provides about 64 milligrams of magnesium. Choose dark chocolate with 70% or higher cocoa content to get the best benefits with lower sugar levels. 
In case you needed another reason to eat your greens, dark leafy greens like spinach and kale are excellent sources of magnesium. One cup of cooked spinach contains approximately 157 milligrams of magnesium. Greens also contain a range of other necessary vitamins and minerals that work synergistically with magnesium to help your body function optimally. 
Avocado is not only a healthy way to add richness to your plate without sabotaging your diet, but also an excellent source of magnesium. One medium avocado contains about 58 milligrams of magnesium.
Legumes like black beans are a great source of magnesium, with one cup of cooked black beans providing approximately 120 milligrams of magnesium. Don't like black beans? Most types of legumes (beans, peas, chickpeas, and lentils) contain magnesium and work well as an alternative.
Salmon is touted as one of the healthiest fish to eat because of its high levels of omega-3 fatty acids, protein, vitamin B12, and vitamin D. This fatty fish is also a great source of magnesium, with one filet of salmon boosting your daily intake by approximately 53 milligrams.
Nuts like almonds are packed with protein and healthy fats that support your brain. They are also a great source of magnesium, with one ounce providing about 80 milligrams.
Flax, chia, sunflower, pumpkin…no matter which seeds you love to snack on, they'll likely be a good source of dietary magnesium. On average, one ounce of seeds contains about  150-170 milligrams. Seeds are also packed with plenty of other health-promoting nutrients like antioxidants, fiber, and omega-3 fatty acids. 
Creative Ways to Add Magnesium to Your Diet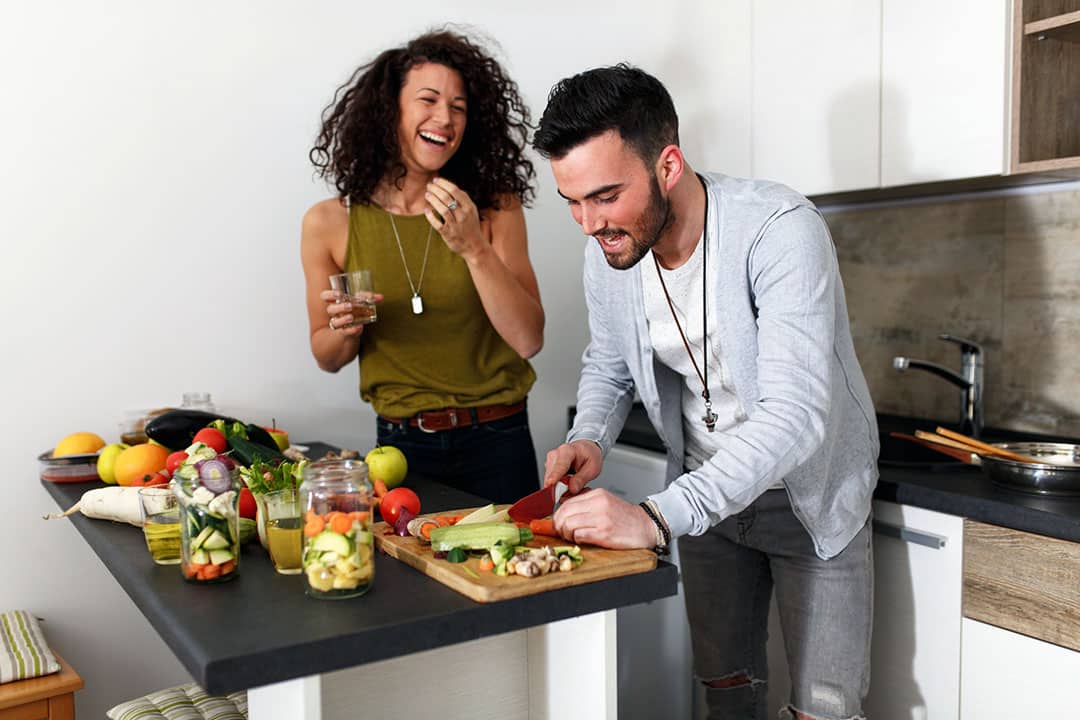 Now that you know which foods are high in magnesium, you may be wondering how to incorporate enough of them into your diet without boring your tastebuds. Good news – most of these and other magnesium-rich foods are incredibly versatile and can even make meal planning a little easier. Here are some creative ways to add magnesium-rich foods to your meals:
1. Get sneaky with your greens.
Whether you love greens or can't stand them, it never hurts to sneak more of them into your diet. By hiding green vegetables like spinach in your current favorite recipes, you can pack in a significant amount of magnesium and plenty of other vitamins and minerals without any more effort. The best part is that you won't even taste them! 
Add a handful of fresh spinach added to a fruit smoothie.
Mix sautéed kale or spinach into an omelet.
Add pureed spinach or kale to your pasta sauce for vibrant spaghetti or lasagna.
Puree cooked broccoli, spinach, or kale into a creamy soup.
Instead of bread, use lettuce leaves as a wrap for sandwiches or burgers to add more greens to your diet.
Add finely chopped greens into the meat mixture for meatballs or meatloaf.
Nuts are a great mid-day snack, but sometimes you crave something a bit more substantial and exciting. Why not soak and puree them to make delicious and magnesium-packed dips?
Nut-based dips like cashew queso, chocolate almond dip, and muhammara take snack time to the next level, all while quickly boosting your magnesium levels. 
Even if you don't like nuts or are allergic to nuts, you can still make simple magnesium-rich dips to enjoy as a snack or to enhance your favorite meals. Guacamole is a clear choice, as avocados are a great source of magnesium. But, you can also make hearty black bean dip, flavored hummus, healthy ranch dip, or spinach-artichoke dip. 
Did you know dips can also be used in a pinch for a quick weeknight dinner? Simply top a healthy protein (like salmon, chicken, or tofu) with your favorite dip (muhammara or spinach pesto works great) and enjoy.
3. Make your own chocolate bars.
Rather than treat yourself to store-bought and sugar-laden candy bars, make your own. Dark chocolate, almonds, and pumpkin seeds are all high in magnesium and make simple, easy, and delicious chocolate bark. 
Melt some dark chocolate, pour onto a baking tray lined with parchment paper, then sprinkle your nuts and seeds over top. You can also add other toppings like crystalized ginger, goji berries, or coconut flakes to make it your own! Chill the bark for at least 30-60 minutes, then break it up into bite size pieces.
Supplementing with Magnesium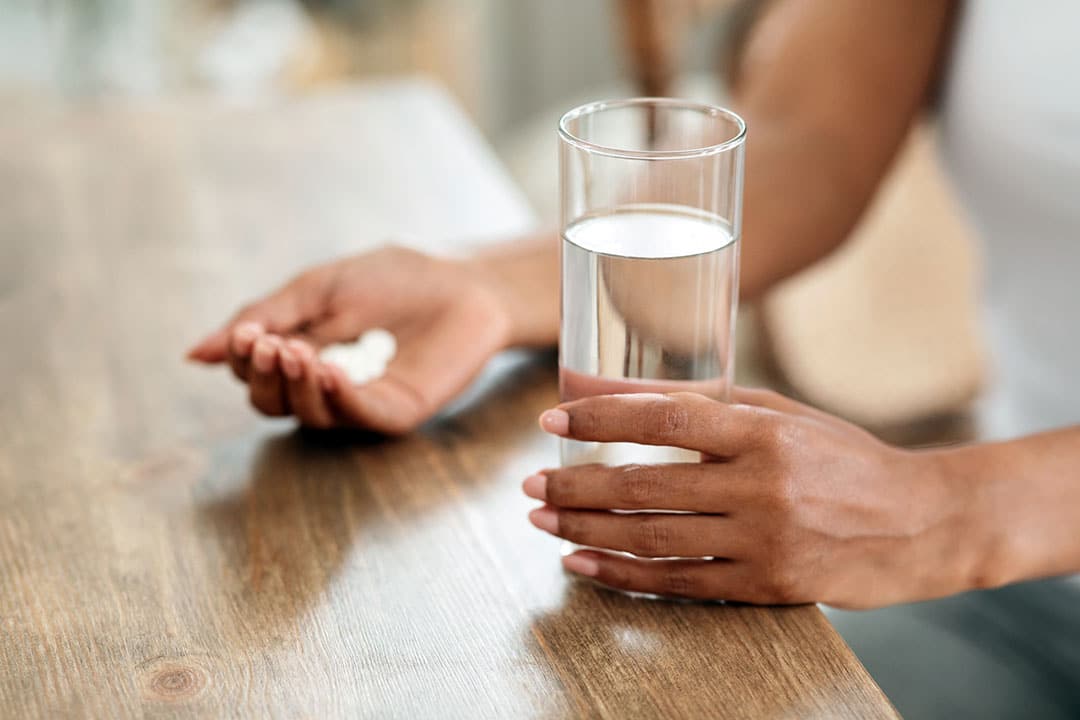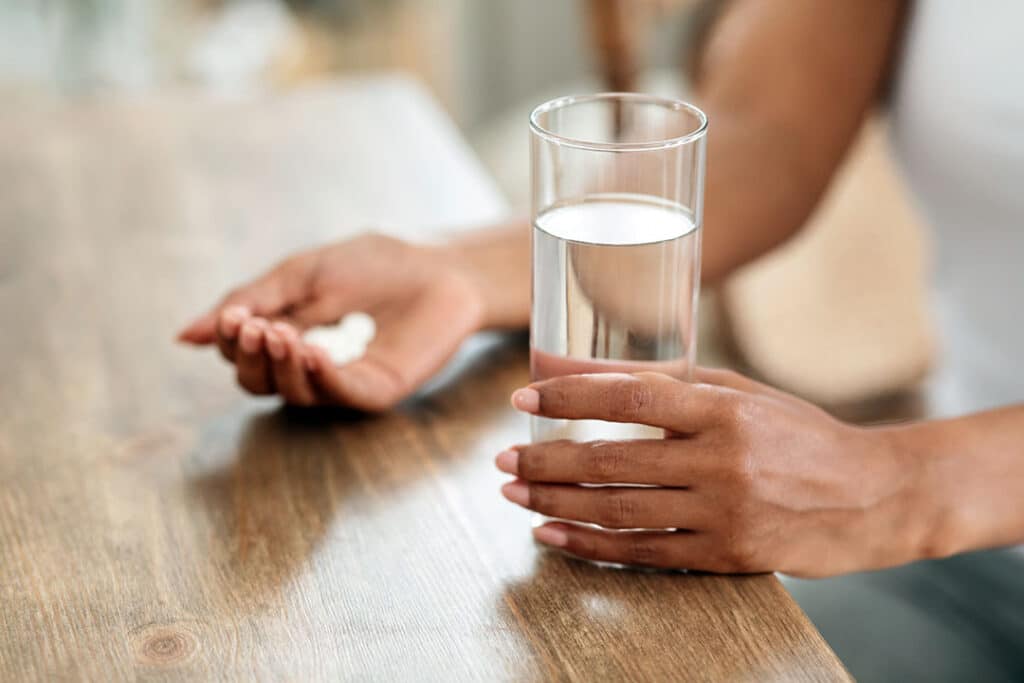 While it's essential to get magnesium from your diet, sometimes it may be necessary to get help with a high-quality supplement. In fact, only 30-40% of the magnesium you ingest from food is typically absorbed by your body.
So, how do you know if you should start taking a magnesium supplement? Supplementing is a good preventative measure for most people, and can help you ensure you get your recommended daily dose no matter what's on your plate that day. 
If you suspect you may have a magnesium deficiency, supplementation is usually required to get you back up to optimal levels. Signs that you may need more magnesium include muscle cramps, restless leg syndrome, anxiety, and difficulty sleeping. 
If you are experiencing any of these or other symptoms, speaking with a functional nutritionist is the best next step. AlignLife's functional nutrition team can help you understand where your magnesium levels are, and what other nutrient deficiencies may be contributing to your symptoms. From there, you'll start a tailored meal and supplement plan to help you restore your nutrient levels and your health. 
Types of Magnesium Supplements
Ready to try a magnesium supplement? Before you start shopping, it's important to know which types of magnesium your body needs. That's right – there's more than just one type of magnesium. Here are the most common forms of magnesium and when to choose them: 
Magnesium Citrate – This form is most commonly used for constipation relief, relaxation, and overall magnesium supplementation.
Magnesium Oxide – This is usually one of the more affordable options for those on a budget, but it has a lower absorption rate than other forms and can cause stomach upset.
Magnesium Glycinate – This form helps the brain and muscles relax, which is the most recommended for those who have trouble with sleep, anxiety, or muscle pain. Magnesium Lysyl Glycinate Chelate is a specialized form that is bound to the amino acids lysine and glycine for better absorption and bioavailability. 
Magnesium Ascorbate – This is a combination of magnesium and ascorbic acid (vitamin C) and is commonly used to support immune function and reduce oxidative stress.
No matter which forms of magnesium supplement you choose, make sure to look for a high-quality product from a reputable brand. At AlignLife, we recommend Triple Mag from Aceva, a high-quality magnesium supplement that is both potent and bioavailable. As its name implies, Triple Mag provides 3 crucial forms of magnesium (Magnesium Citrate, Magnesium Lysyl Glycinate Chelate, and Magnesium Ascorbate) in one highly-absorbable dose. 
Magnify Your Health with Magnesium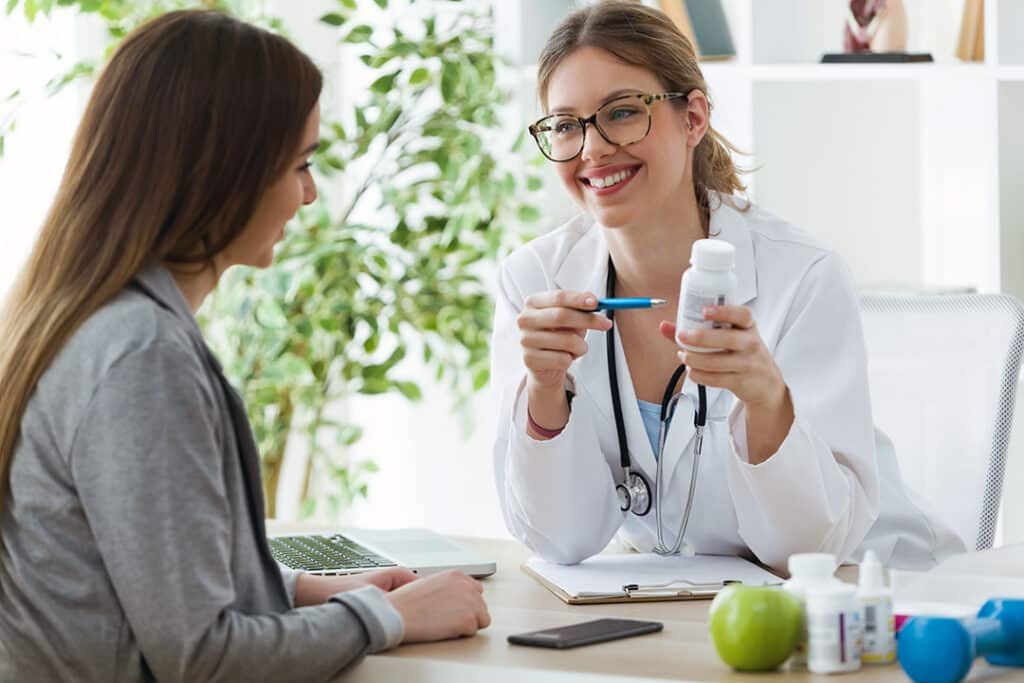 Incorporating magnesium-rich foods into your diet is an excellent way to support your overall health and well-being. Magnesium plays a critical role in several bodily functions, including bone health, muscle and nerve function, and inflammation. By adding foods like spinach, almonds, and salmon to your diet, you can ensure that you are getting enough magnesium. And, if you need additional magnesium, a high-quality supplement like Triple Mag from Aceva can help fill in the gaps.
As always, it's important to consult with your healthcare provider before starting any new supplement regimen. If you're looking for more ways to support your health naturally, schedule a consultation with your local AlignLife team for personalized health and wellness support.