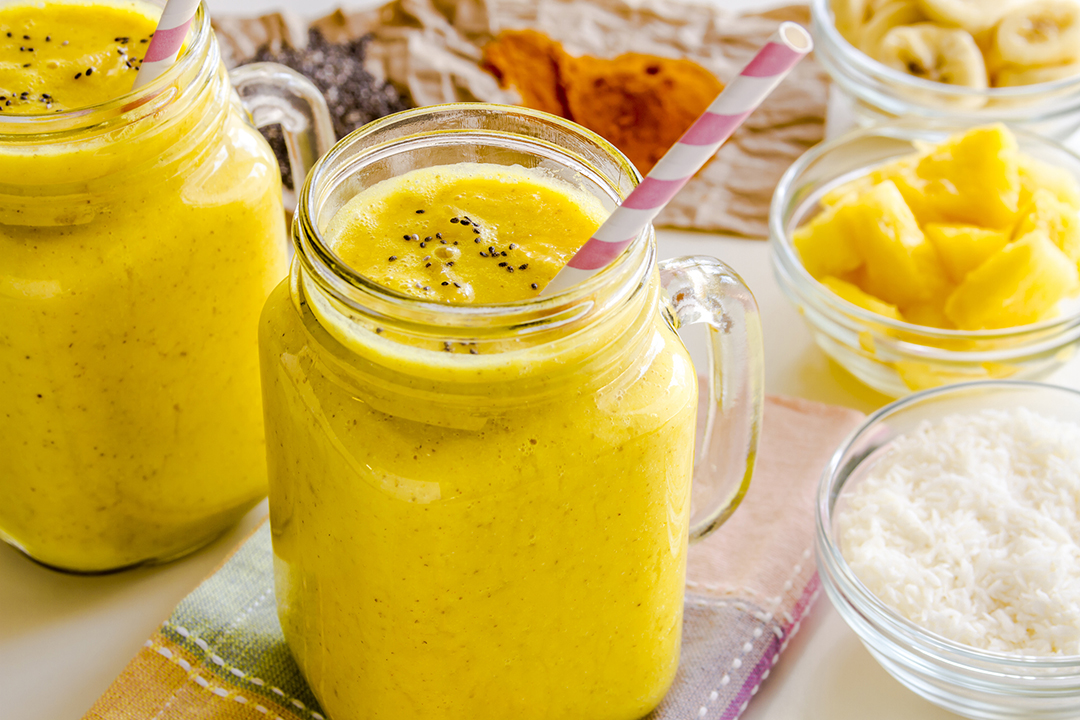 Skip the line for your favorite iced mocha and add this to your morning routine instead. Not only is it delicious, but this Tropical Fruit Turmeric and Chia Seed Smoothie offers you some major health benefits and is packed with six inflammation-fighting foods. That means if you're dealing with arthritis pain, aches from a new workout routine, low back pain, or just everyday aches and pains, you'll want to give this a try!
So whip yourself up this delicious drink as a morning smoothie, afternoon snack, or sweet treat throughout your day. Be warned, this recipe will make around 20 oz so it's enough to share, but we understand if you don't want to!
Print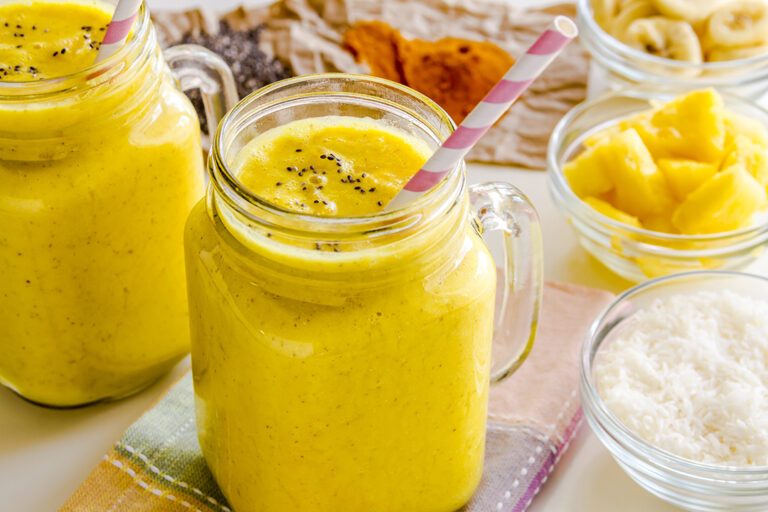 Tropical Fruit & Turmeric Smoothie
1 small frozen banana sliced
1/2 c frozen pineapple chunks
1/2 c frozen mango chunks
1/2 teaspoon turmeric
1/2 teaspoon minced ginger
1– 1 1/2 cups coconut milk (or your favorite non-dairy milk like almond or oat)
2 soft Medjool dates – pitted (if not soft, soak in water for 10–15 min)
1 tablespoon chia seeds
Instructions
Soak your chia seeds. Overnight is always best, but if you're in a rush, try to soak them for at least 20 minutes to release their health benefits. Simply add the chia seeds to the coconut milk or water and set them aside while you prep the rest of your ingredients.
Soak your dates. You'll also want to soften dates before you blend them into your smoothie. Just drop them in water for 10-15 minutes and they should soften up perfectly!
Add banana, pineapple, mango, chia seed gel, softened dates, turmeric, ginger, and 1 cup of coconut milk to your blender. Mix until smooth.
Slowly add in more coconut milk until the mixture reaches your desired thickness.
Pour into a glass and enjoy!
Notes
NOTE: Only have fresh fruit on hand? Just add 1 to 1-1/2 cups of ice (adjust to how thick you like it)  and you're all set!
Tip: Turmeric will stain your plastic yellow. Use glass instead of plastic to avoid any unwanted stains.
The Many Health Benefits of this Tropical Fruit Smoothie
Pineapple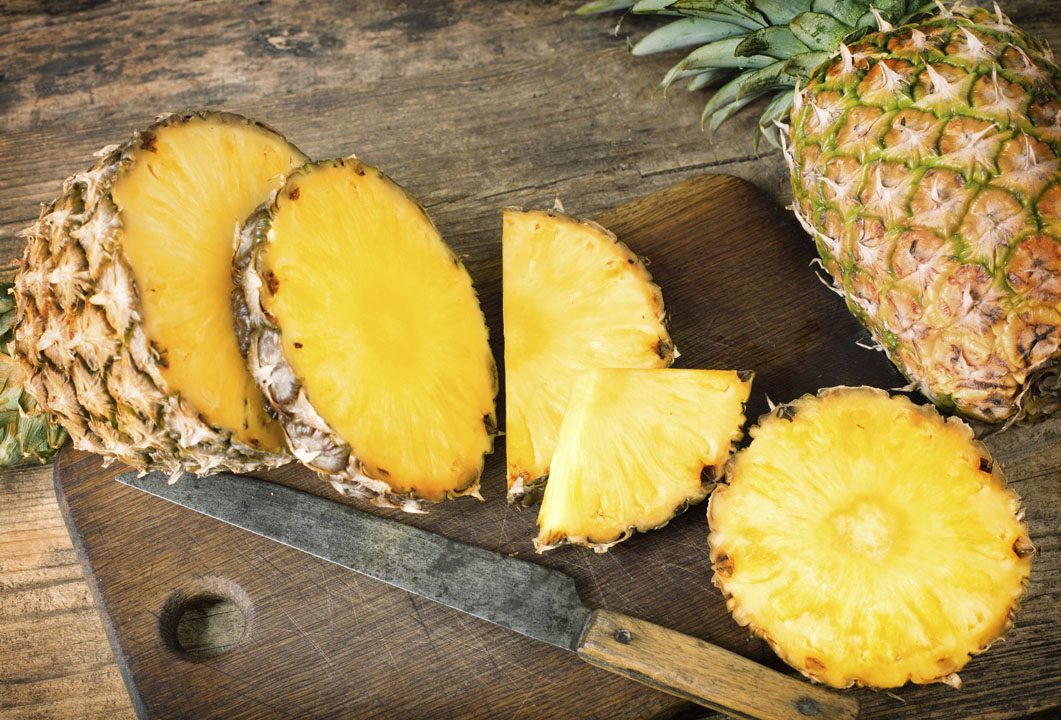 Pineapple is famous for being an anti-inflammatory food. That's because fresh pineapple contains a special enzyme called bromelain that is powerful at fighting inflammation. But that isn't all it offers you. One cup of pineapple is also a great source of fiber (2.3 g), potassium (189 mg), and vitamin C (78.9 mg).
Mangos
Mangos are another nutrient-packed inflammation fighter. But they also include over 20 essential vitamins and minerals including vitamins A, C and K, and potassium. It's also low-calorie and high in fiber. Mangos have been known to help improve digestion, improve heart health, and skin and hair health.
Ginger and turmeric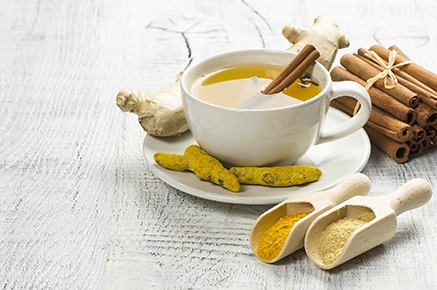 Ginger and turmeric are a powerful combination. They have been used for centuries to help people find relief from chronic inflammation, arthritis pain, menstrual pain, migraines, nausea, and more. Some research even suggests that it's just as effective at reducing pain as ibuprofen and aspirin! They also happen to be two key ingredients in Aceva's Mobility, one of the top products AlignLife Chiropractors recommend for natural pain relief.
Chia seeds
Chia seeds offer your body massive health benefits. You can also easily mix an ounce of chia seed into many of the foods you already eat without changing the taste much. Just doing this will give you 11 g of extra fiber, 9 g of good fats (9 g), 4 g of added protein, and 5 g of essential omega-3 fatty acids. Chia seeds are also great for your digestive function, but to get the most nutrients out of them, you need to soak them first. Chia seeds are able to absorb up to 12 times their weight in water. This helps you slow down your digestion and helps you feel fuller longer.
Bananas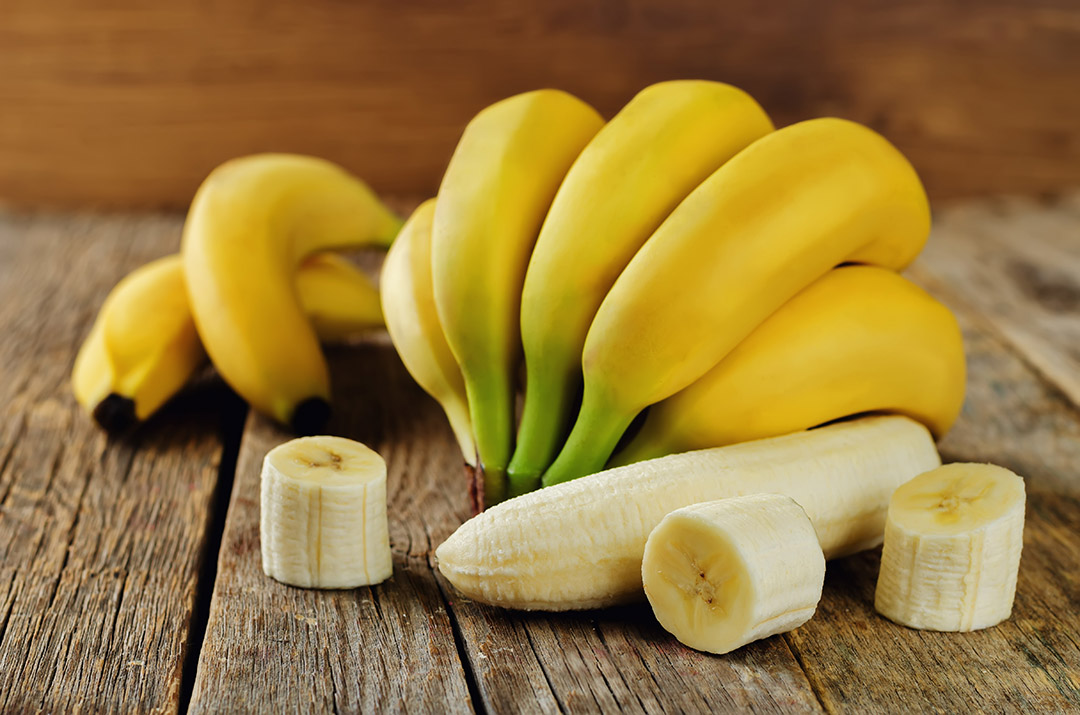 Bananas are another nutrient-packed food, but they are most famous for their high potassium content. You'll get 362 grams of potassium from just one small banana! Research shows that bananas can help reduce inflammation in the kidneys as they help flush extra sodium out of the system. Other key vitamins and minerals bananas are rich in include fiber, calcium, magnesium, protein, vitamins B and C, and zinc.