This baked honey mustard chicken recipe is a crowd-pleaser and perfect for any occasion. 
A mouth-watering combination of juicy chicken, savory bacon, and earthy mushrooms smothered in a tangy-sweet honey mustard sauce, this irresistible recipe for honey mustard chicken with bacon and mushrooms is easy to prepare and ready in just a few simple steps. So let's get cooking and indulge in the flavors that will soon become a family favorite!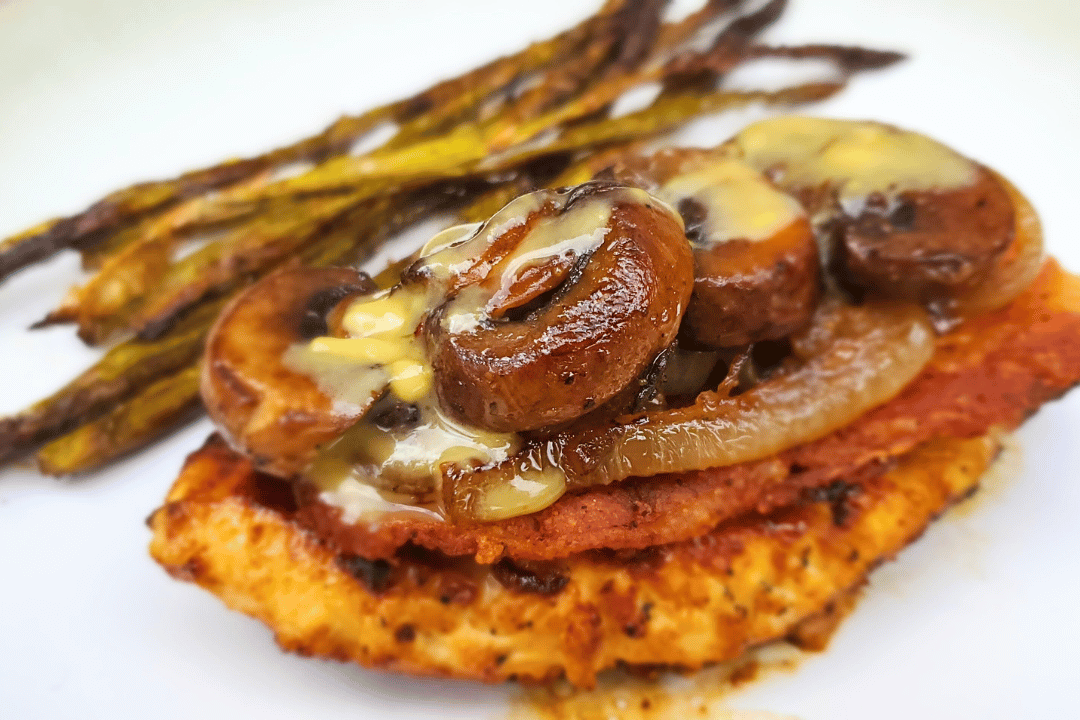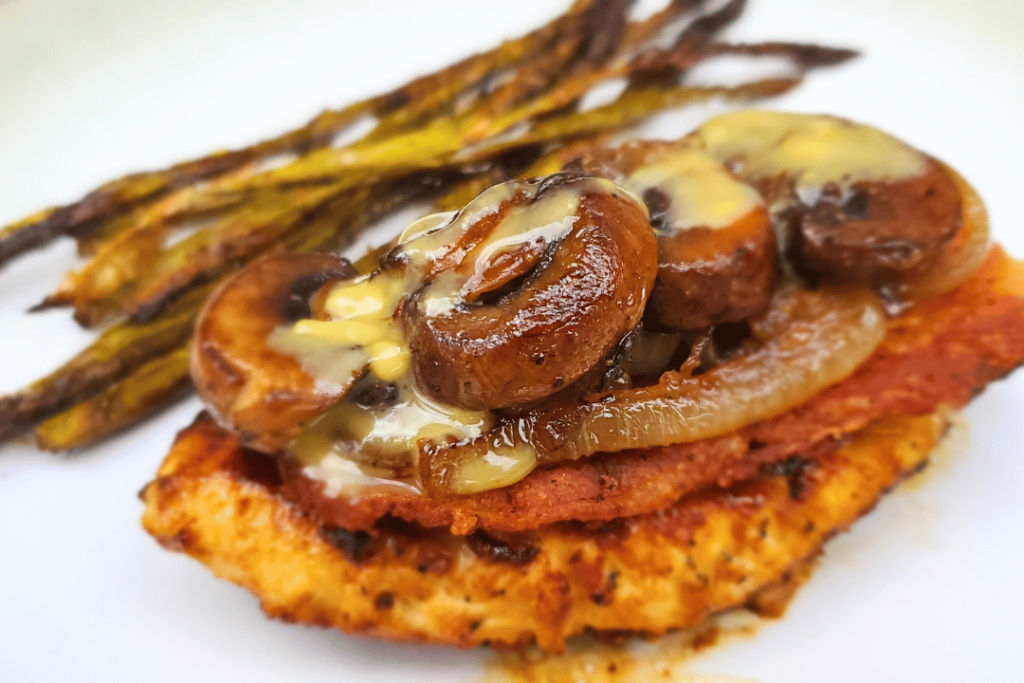 Before you get started, a few recipe tips:
Pound the chicken breasts to an even thickness before cooking. This helps to ensure that they cook evenly and stay tender and juicy.
The marinade is what makes this recipe shine. Drop the chicken in the marinade for at least 30 minutes before cooking or let it sit overnight. Don't forget to take a ¼ cup of the marinade out to set aside and use as a tasty sauce drizzled over your meal.
When making the honey mustard sauce, be sure to whisk the ingredients together well to ensure the honey is fully dissolved.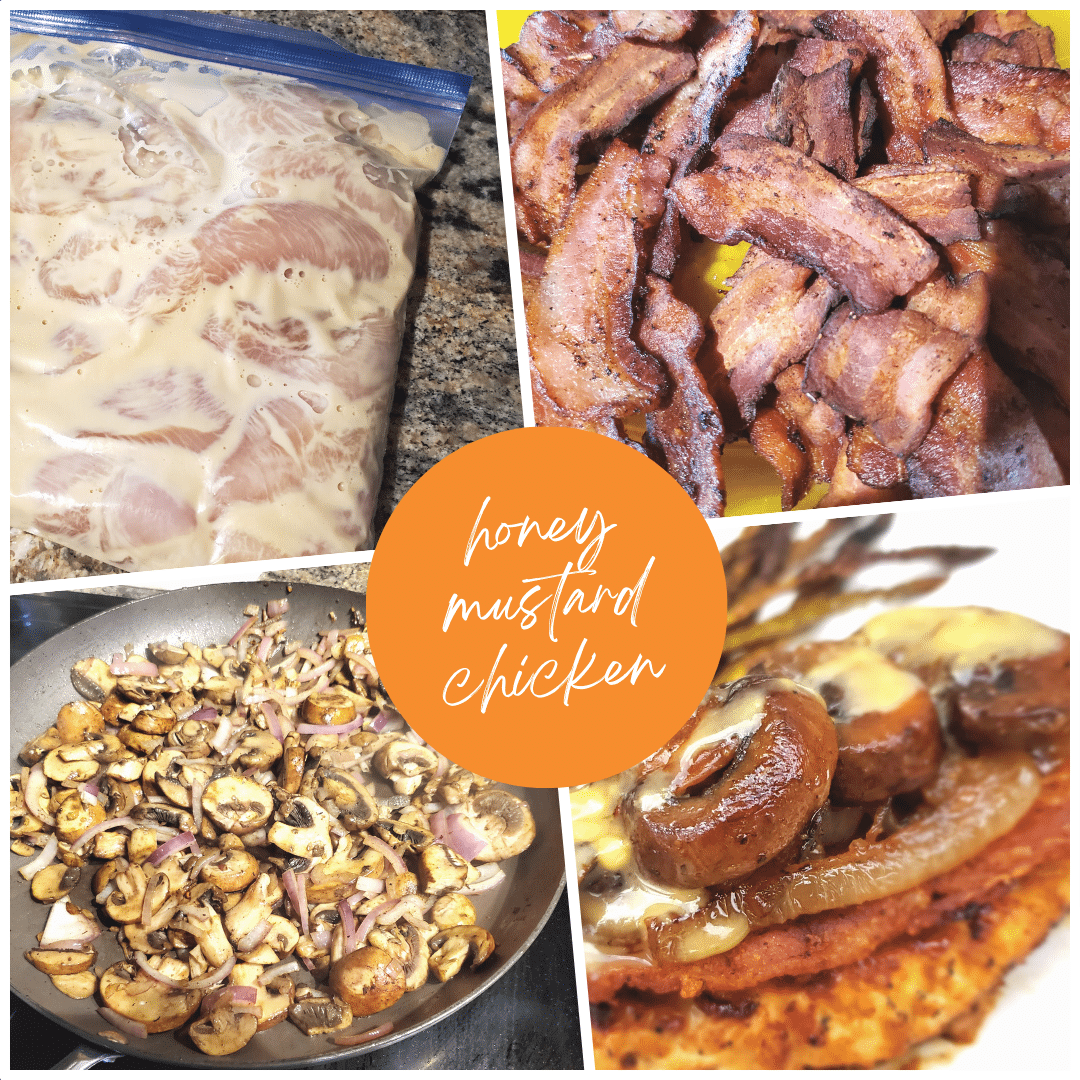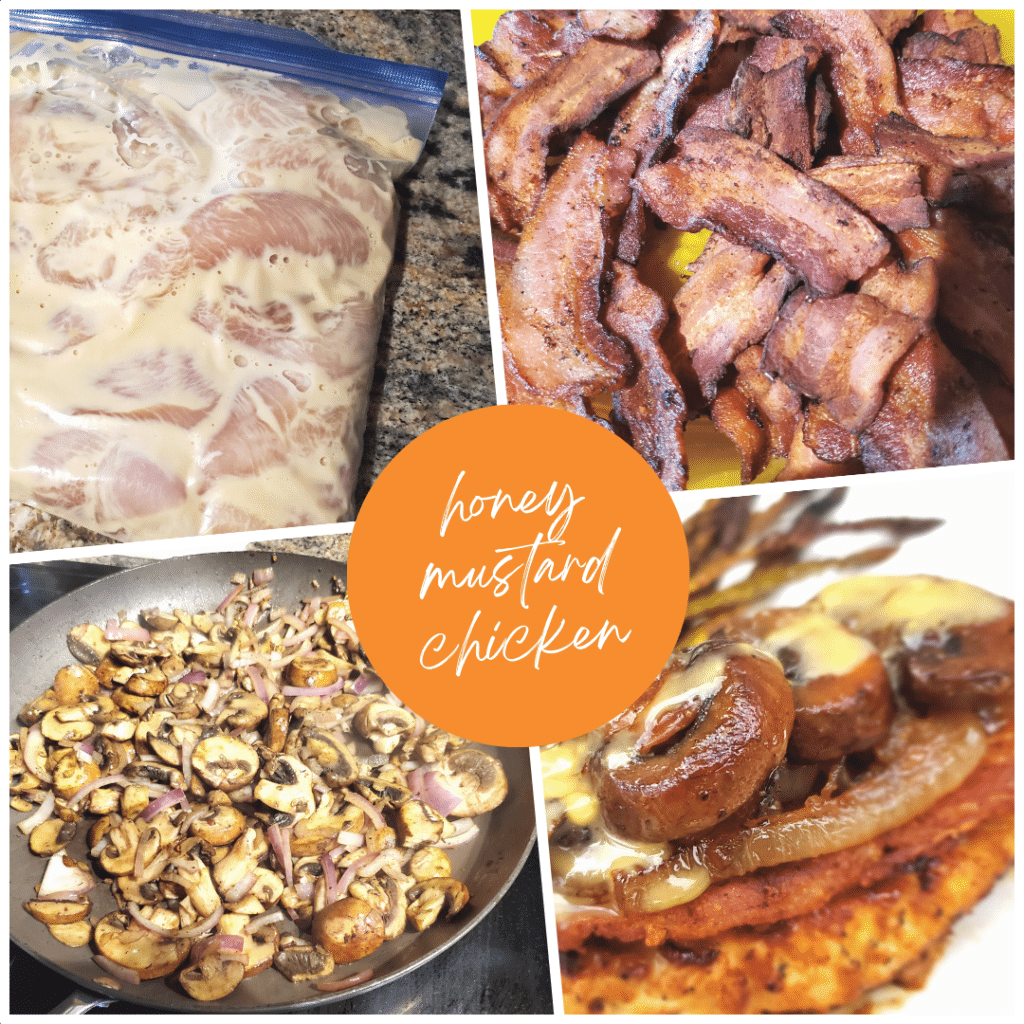 When cooking the chicken, make sure the skillet is hot enough before adding the chicken to it. A hot skillet will create a nice sear on the chicken and help lock in the juices.
Be sure to cook the bacon until crispy, but not burnt. Overcooked bacon can become tough and chewy, which can detract from the overall texture of the dish.
When sautéing the mushrooms, make sure the skillet is not overcrowded. Overcrowding can cause the mushrooms to release too much moisture and become soggy instead of getting that nice caramelized color.
Let the chicken rest for a few minutes before serving. This allows the juices to redistribute and ensures the chicken stays juicy.
Print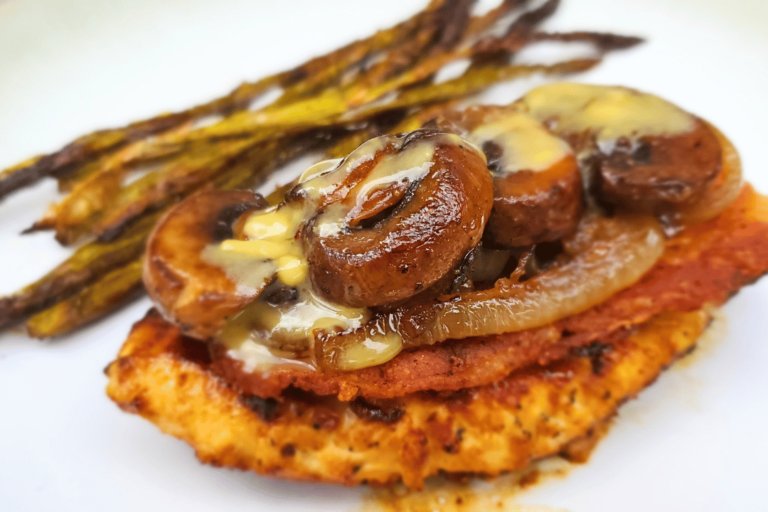 Honey Mustard Chicken with Bacon and Mushroom
4

boneless, skinless chicken breasts

4

strips of bacon

8 ounces

mushrooms, sliced

½ cup

onions, sliced (optional)

1 tablespoon

olive oil

½ cup

Dijon mustard

½ cup

honey

¼ cup

mayonnaise
Instructions
How to make honey mustard chicken marinade
In a small bowl, whisk together mustard, honey, and mayonnaise. Reserve ¼ cup sauce in a covered container and refrigerate until serving time.
Place the remaining sauce and raw chicken breast in a large plastic zipper-top bag. Turn chicken in the bag until evenly coated. Refrigerate for at least 30 minutes or overnight.
How to make honey mustard chicken, mushrooms & bacon
Preheat oven to 400°F.
In a large skillet, cook bacon until crispy. Remove the bacon and set aside.
In the same skillet, add the sliced onions and mushrooms and sauté until they are tender and slightly brown, about 5 to 7 minutes. Set aside and keep warm.
While the mushrooms and onion are cooking, heat olive oil in a different skillet. Add the chicken breasts and cook for 4-5 minutes on each side. Do not move or flip until a golden brown crust forms.
Cover the skillet (or transfer chicken to a baking dish) and place it in the oven. Bake until the chicken reaches an internal temperature of 165 degrees (test at the thickest part). This will take about 10 minutes, depending on thickness.
Remove the chicken from the oven.
Place one or two small bacon strips on top of the chicken, then divide mushrooms and onions evenly over the chicken.
Drizzle the top of the chicken with the set-aside honey mustard marinade. Be sure to keep some for dipping on the side.
Serve the chicken with your favorite sides and enjoy!
What to Serve with Honey Mustard Chicken
Some of our favorite sides to pair this honey mustard chicken recipe with are a delicious roasted asparagus and baked potato. But really any roasted vegetable would compliment the flavors well.