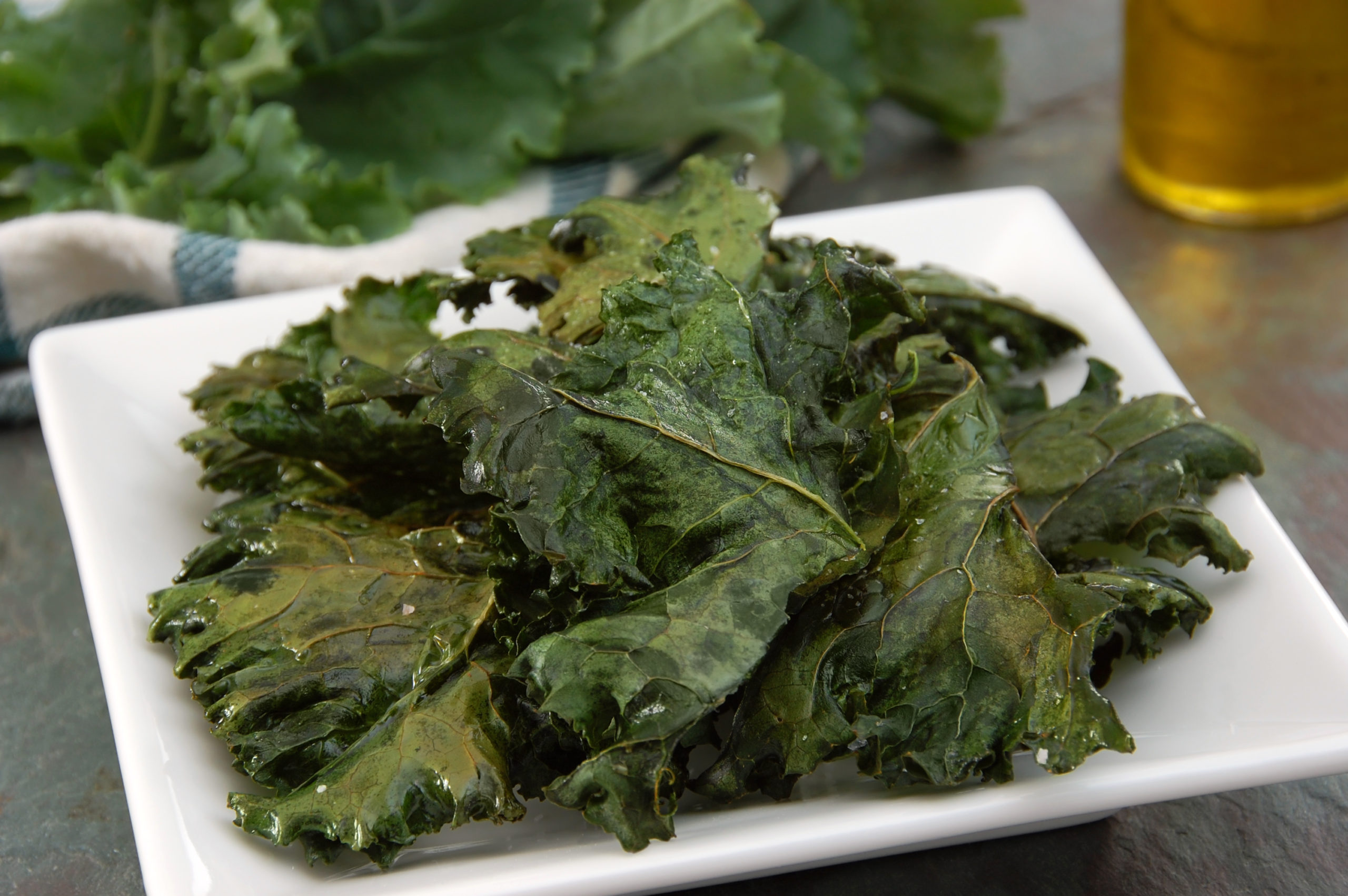 If you haven't tried Kale Chips, you've been missing out. Not only is kale one of the most nutrient-dense foods on the planet (dark leafy green alert!), it's also delicious. Still not convinced chips can be good for you? Here are some nutrition facts about kale that you can't deny:
Just one cup of chopped kale provides 80 mg of vitamin C (that's 89% of the recommended daily value!) In fact, kale is one of the world's best sources of vitamin C. A cup of raw kale contains even more vitamin C than a whole orange!

Kale is also an excellent source of Vitamins K and fiber.

Kale is loaded with powerful antioxidants like quercetin and kaempferol which have powerful heart-protective, blood pressure-lowering, anti-inflammatory, anti-viral, anti-depressant and anti-cancer effects.

Kale is a good source of minerals that most kids (and adults) don't get enough of.
All that's left is that you give it a try!
Print
1

head of kale (washed and dried thoroughly)

2 tablespoon

olive oil

1/4 tsp

sea salt
Optional toppings (mix and match to make your favorite combo)
2 Tbsp

parmesan cheese

2 Tbsp

nutritional yeast

2 Tbsp

pepper

2 Tbsp

curry

2 Tbsp

chili powder
Instructions
Preheat the oven to 275°F.
Wash and chop into 1-½ inch pieces.
Dry kale leaves (see below for best results).
Place chopped kale into a large bowl.
Pour the olive oil directly into your hands (not the kale), then massage the leaves until they're evenly coated.
Sprinkle with salt and optional toppings.
Place on parchment-lined baking sheets – make sure they have space. The leaves should just barely touch.
Bake for 20 minutes or until crispy, turning the chips halfway through.
Serve immediately.
What type of kale should you use?
Curly kale is best to use to make kale chips because it's the most tender. And you get can get the frilly edges nice and crispy! You can also use dino kale (or lacinato kale).
How to get your chips extra crispy
The key to getting crispy chips is to get rid of the moisture. For best results, wash your kale, chop into small pieces, then pat the kale leaves with a dry towel before adding the oil.