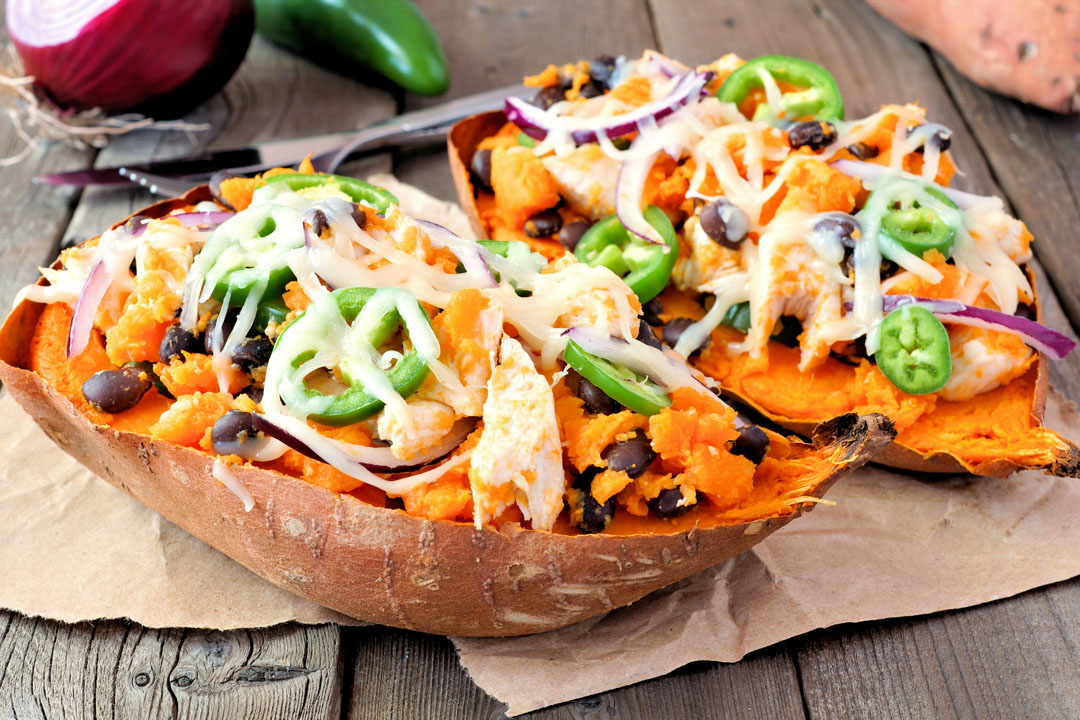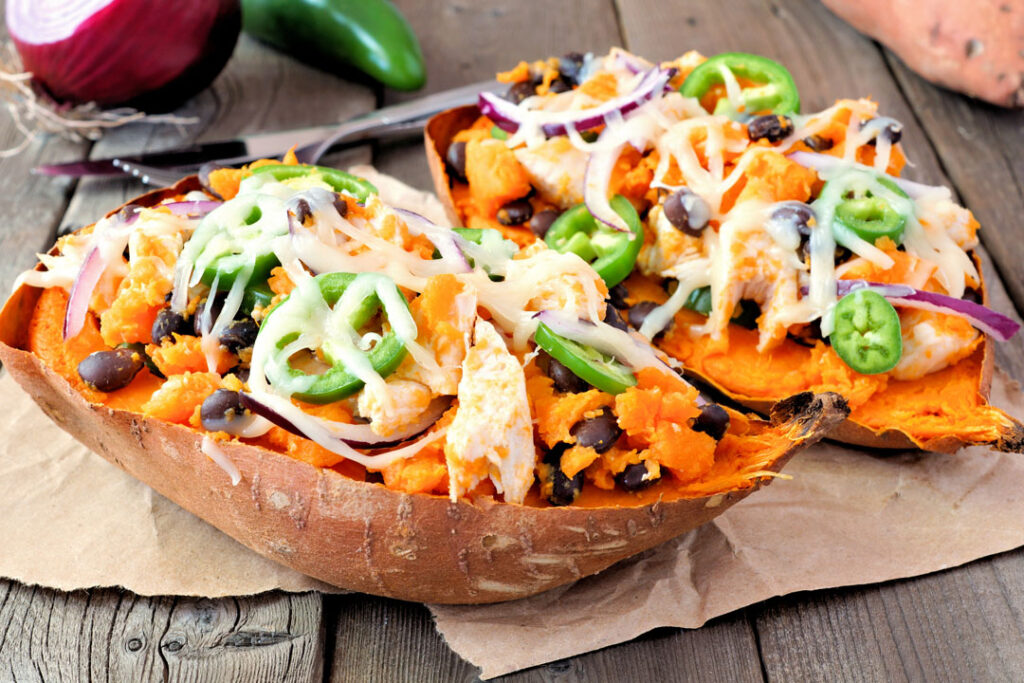 Sweet potatoes are a fall favorite veggie, right up there with pumpkins and squash. They can also be used in a variety of dishes, including dessert, and pack a powerful nutritious punch. Here's a quick and easy recipe that is sure to be a repeat this season.
Print
Chicken & Veggie Stuffed Sweet Potato
4

sweet potatoes

1 cup

of chicken, cooked and shredded

1/2

c black beans

1/4

c red onion

⅛ cup

jalapeno slices (optional, to taste)

¼

c shredded mozzarella cheese
Instructions
Preheat the oven to 375 degrees.
Wash sweet potatoes and prick with 6-8 times with a fork or knife.
Rub a thin layer of olive oil over potatoes and sprinkle with salt.
Place potatoes on a baking sheet.
Bake for 45-60 minutes (or until tender).
Slit lengthwise and stuff with chicken, veggies, and cheese.
Health Benefits of Sweet Potatoes
Many may write off the sweet potato as being too starchy. However, their high fiber content makes them a slow-burning starch—meaning they won't spike blood sugar and insulin levels. In fact, just one cup of baked sweet potato provides about 6 grams of fiber. That is more than a quarter of your daily recommended minimum.
Boost Immune System
One cup of sweet potato also provides nearly half of your daily vitamin C needs and 400% of your recommended intake of vitamin A. Both nutrients are key to boosting your immune system. So as we enter cold and flu season, packing your fall and winter menus with more sweet potato dishes is a smart choice.
Anti-Inflammatory
Sweet potatoes are also known for their natural anti-inflammatory properties and calm inflammation at the cellular level. Containing twice as much potassium as a medium banana, this helps your body get rid of excess sodium and fluid, which lowers blood pressure and reduces strain on your heart.
Helps with Digestion and Weight Loss
About 12 percent of the starch found in sweet potatoes is resistant starch or a fiber-like substance that your body can't digest or absorb. That means because it can't be broken down in the small intestine, it moves to the large intestine where it actually feeds the good bacteria in your gut as it breaks the resistant starch down. This can help you feel fuller longer, boost mineral absorption, improve bowel function and protect against colorectal cancer.