October is all about Halloween fun! Costumes are planned. Pumpkins are being carved. Haunted houses and family-friendly spook nights are on the schedule. You may even put a few decorations out. But if you ask any kid (or kid at heart), they'll tell you Halloween candy is the true star of season. 
According to the National Confectioners Association, up to 77 percent of Americans are likely to purchase candy to celebrate Halloween this year. The NCA also estimates Americans will spend around $2.7 billion on Halloween candy.
While an occasional sweet treat is more than acceptable (chocolate actually has many health benefits), like most things in life, it is best enjoyed in moderation. That makes Halloween a great time for parents — or candy lover's in general — to talk about nutrition and practice balance and mindfulness when it comes to eating. It's also a good idea to develop a Candy Plan so you're not sitting with piles of leftover candy and thousands of mindless calories.
Keep reading to learn why eating too much sugar at once matters, the worst Halloween candy offenders when it comes to sugar content, and how to manage your Halloween candy haul without compromising your health goals. 
What does sugar do to your body?
We all know what a sugar rush feels like. Most of us have also experienced a sugar crash at some point in our lives as well. That's because sugar is a vital source of energy for our bodies. But too much of it – which many are likely to do on Halloween – can cause some serious health effects.
The reason behind this is how your body processes sugar. When you eat sugar, most of it is broken down and digested in your small intestine. From there, specialized enzymes attack the larger molecules and convert them into three simpler sugars: glucose, galactose, and fructose. Your liver and muscles will store some of the glucose as glycogen, a molecule that can be turned back into glucose when your body needs it. But the rest is released into your bloodstream.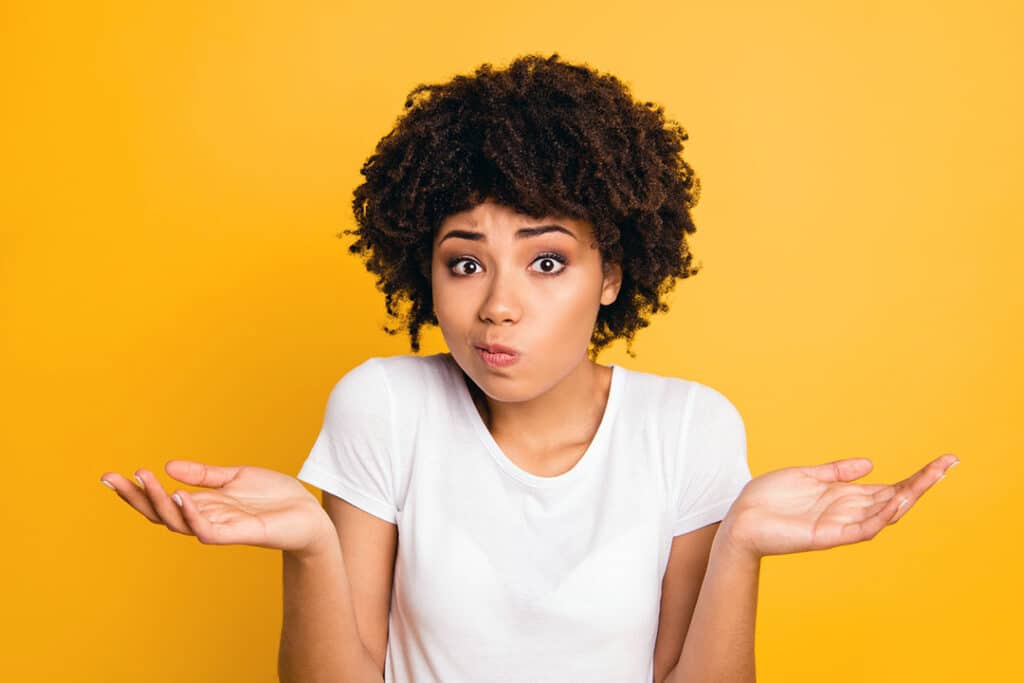 How do you know if you've eaten to much sugar?
As your blood sugar rises, your body pumps out insulin to combat the sugars. It works beautifully when you eat sugar in moderation. When you eat too much sugar at one time, however, the insulin overloads your system causing symptoms like:
Fatigue
Brain fog
Heartburn
Nausea
Stomach pain
Hyperactivity
Tantrums
Focus issues
Bellyaches
Irregular bowel movements
Susceptibility to colds and allergies


What is the recommended daily sugar intake?
The American Heart Association recommends keeping the added sugars you consume under control if you want to reach and maintain optimal health. Here is what that breaks down to for men, women, and kids:
Men: 9 teaspoons or 36 grams of added sugar per day
Women: 6 teaspoons or 25 grams of added sugar per day
Kids: 6 teaspoons or 25 grams of added sugar per day
And if we put that into perspective with what Americans actually consume? The numbers are three to four times the recommended amounts! Studies show that American adults average 77 grams of sugar per day, while American kids consume an average of 81 grams of added sugar per day. That's over 30 gallons or 60+ pounds of extra sugar a year, and most of that comes from sugary drinks!
How much sugar is in the most popular Halloween candy?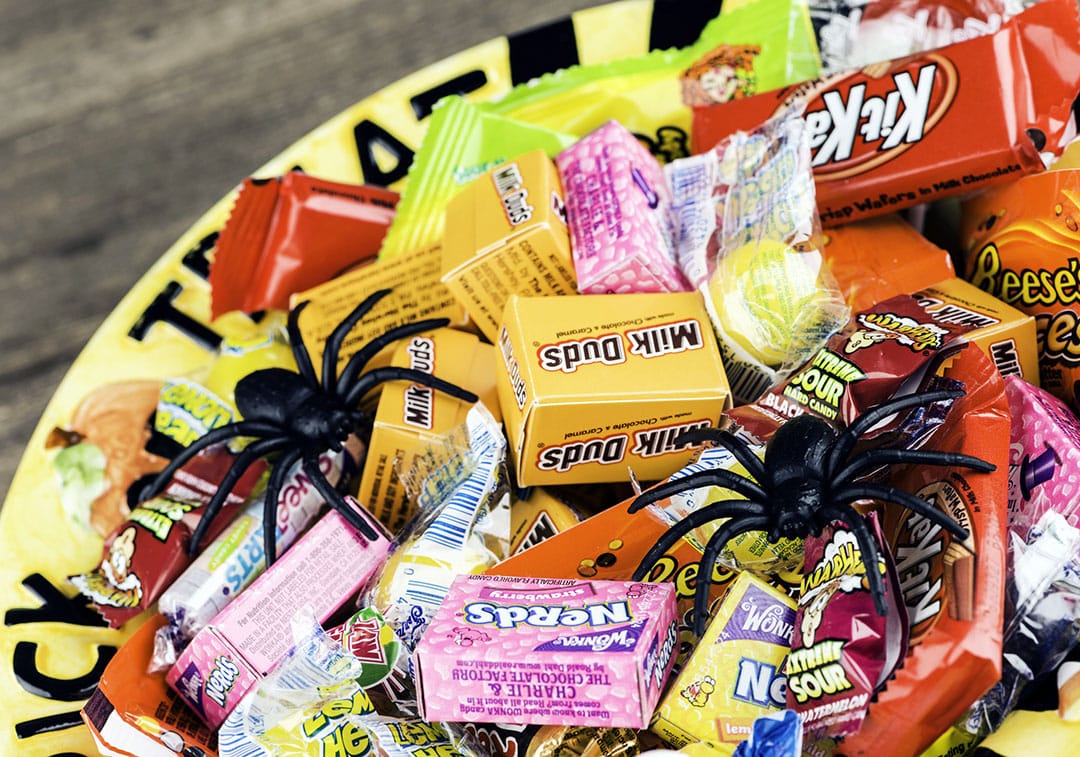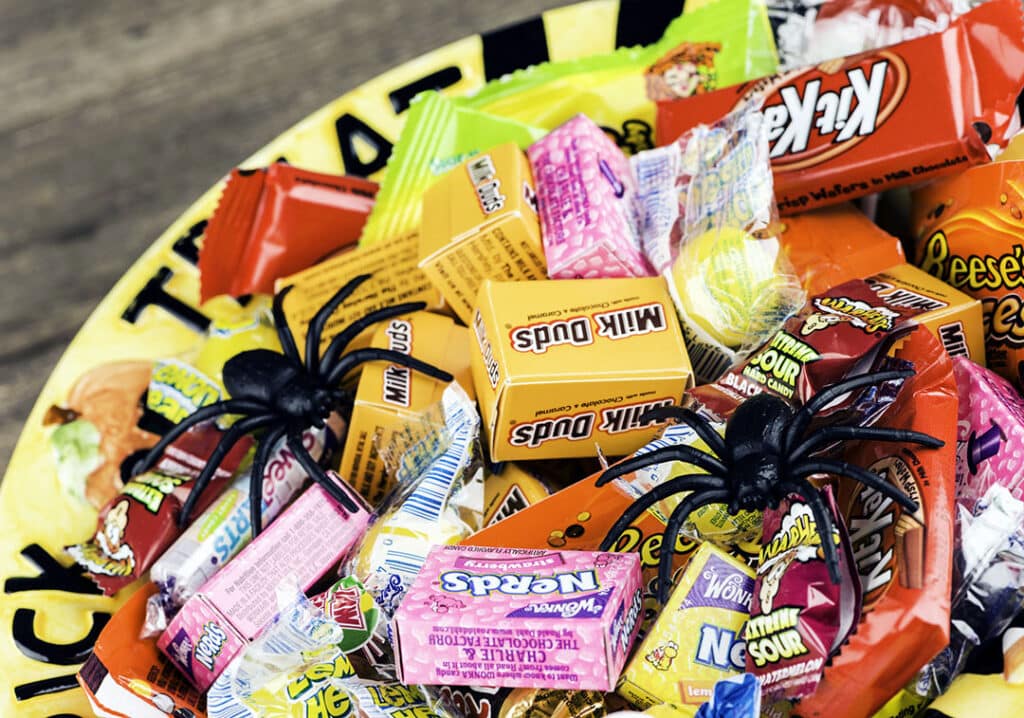 We could go on for hours (days even) on which Halloween candy is best. But when it comes to sugar content, we can easily separate the winners and losers. Here's a breakdown of some of the most popular Halloween candy and how much sugar is included in each. You'll be surprised at some of these!
Butterfinger 

(1 mini- sized square) – 4 grams

Whoppers 

(fun size package) – 4 grams

Kit Kat Bar

 (1 mini bar) – 4.5 grams

Heath Bar

 (1 mini bar) – 4.5 grams

Crunch Bar

 (1 mini bar) – 5.6 grams

Starburst Cand

y (2 squares) – 5 grams

Twix 

(1 mini bar) – 5 grams

Hershey's Chocolate Bar

 (1 mini bar) – 5 grams

Almond Joy

 (1 snack-sized bar) – 6 grams

Sweet Tarts

 (1 roll) – 6.5 grams

Snickers Bar

 (1 fun-sized bar – 8 grams

Trolli Sour Brite Crawlers

 (1 mini-pack) – 8 grams

M&Ms

 (fun-size bag) – 8.5 grams

3 Musketeers Bar

 (fun-size) – 10 grams

Seriously Strawberry Nerds

 (1 treat-size) – 11 grams

Skittles 

(fun-size bag) 11 grams

Dots 

(fun-size box) – 11 grams

Tootsie Pop

 – 11 grams

Reese's Peanut Butter Cups

 (minis) – 14 grams

Tootsie Rolls Jr.

 (3 rolls) – 15 grams

Brach's Candy Corn

 (15 pieces) – 22 grams

Marshmellow Monster Peeps

 (1 pack) – 23 grams
Top 5 tricks to manage your Halloween treats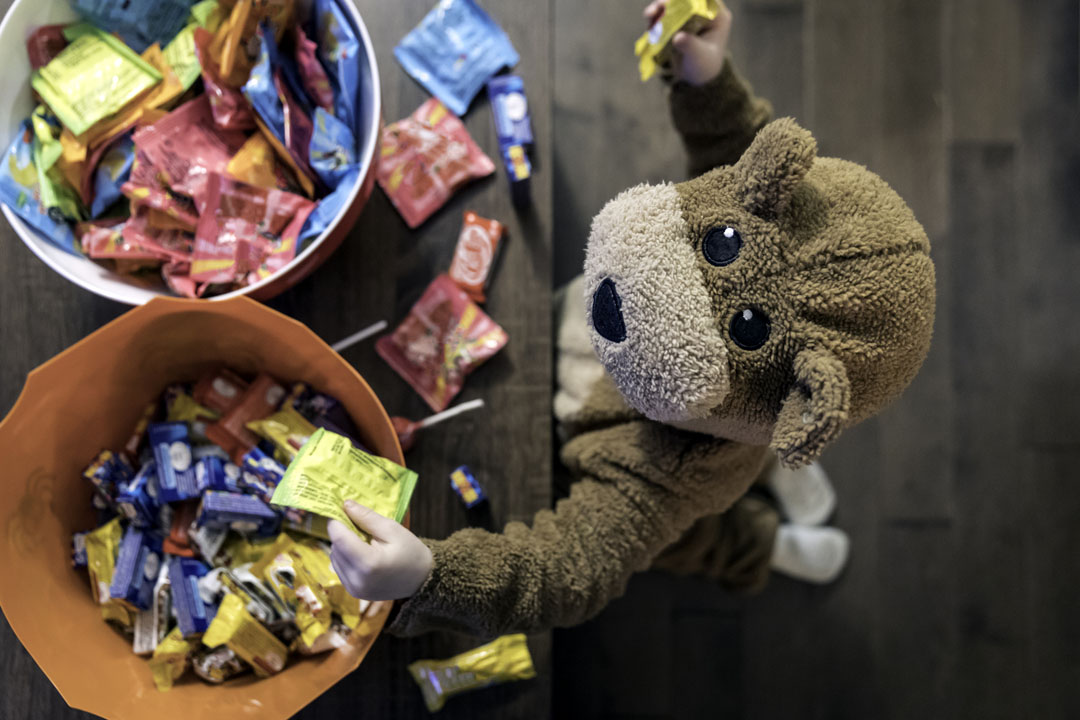 Having a Candy Plan is place for Halloween is a great way to enjoy the season and indulge in a few favorite treats! Here are our top 5 tricks to creating your plan:
#1: Pick out a small stash of your favorites.
The more candy you have sitting around the house, the more likely you're going to eat it. Decide as a family how many pieces you want to keep and eat that week. We recommend only one or two pieces a day, and to look at the calories and sugar content as you make your selections.
#2: Set rules for when Halloween candy can be eaten.
A good trick for not over-indulging in sweets is to fill up with nutritious snacks first. Grab some fruits, vegetables or nuts, then let yourself have a candy snack. It's also best to avoid eating candy right before bed. The boost in sugar to your system can make it harder to fall and stay asleep.
#3: Keep the Halloween candy out of sight.
Drive-by candy grabs are a real and slippery slope if your candy bowl is in sight. It's just too much of a temptation. Store your candy in a hard-to-reach location. so no one in the house mindlessly eats their calories and sugar grams away.
#4: Let your child trade-in their Halloween candy.
After your kids go trick-or-treating, let them swap out their candy for some different treats. Offer prizes like temporary tattoos, spider rings, mini-puzzles, or bubbles. Let them pick out a toy or book they have been wanting. Or take them to a special activity or event! We guarantee if the prize is sweet enough, they won't regret giving up their candy stash.
#5: Donate leftover Halloween candy.
Instead of throwing the candy away, consider donating your leftover Halloween candy stash. Check with some local dentists to see if they have a collection program for sending candy to overseas soldiers. Or, talk with local schools and nursing homes to see if they take unopened candy donations.