Crisp air filling your lungs, the crunch of the leaves under your feet, or the faint smell of a bonfire are just a few of the incentives for taking our activities outdoors in the Fall. After having spent the last few months drenched in sweat or staying inside to avoid the summer heat altogether, it's a beautiful time to get out and enjoy Mother Nature at her finest.
Health Benefits of Taking Your Workout Outside
We have known that being in nature provides limitless benefits to our mind, body, and soul. The fresh air inspires positive thoughts and increases creativity. The boon of spending time outdoors is scientifically backed with benefits ranging from lowering blood pressure, decreasing depression, helping us think more clearly, and of course, offering opportunities for physical fitness. Pair these statistics with cooling temperatures, and it's easy to see how Autumn is the perfect time to get out and get moving in nature. The nicer weather also invites a great opportunity to get your entire family involved in some activities as well.
If that isn't enough to convince you to head outdoors, it's important to note that recent studies suggest that more time in nature will help you achieve better sleep as well.
Researchers analyzed data from the Centers for Disease Control and Prevention's Behavioral Risk Factor Surveillance System, which surveyed more than 250,000 adults in the United States. The study noted that living near green landscapes is associated with higher levels of physical activity and that exercise in turn predicts beneficial sleep patterns.
Furthermore, many parents would be shocked to learn that children suffer from persistent sleep deprivation – getting as much as two hours less sleep per day than recommended. While this includes a variety of reasons (busy schedules, too much screen time, and lack of public knowledge about the amount of sleep kids really need) the main finding was a lack of regular outdoor play.
6  Easy Ways to Get Out and Get Moving in Nature This Fall
#1: Scenic Hiking
No bugs, cooler temps, and beautiful scenery make hiking one of the top Fall outdoor activities. John Muir said, "In every walk with nature, one receives far more than he seeks." Hiking in the Fall not only provides a strong cardio workout (just one hour of trekking can burn well over 500 calories depending on the level of incline and the weight of the pack you're carrying), but studies have shown that hitting the trails is just as beneficial for your brain as your body.
A study published in 2012 showed that spending time outdoors increases attention spans and creative problem-solving skills by as much as 50 percent. The authors of the study also point out that the results may have as much to do with unplugging from technology as they do spending time outside. "This is a way of showing that interacting with nature has real, measurable benefits to creative problem-solving," David Strayer, co-author of the study.
You don't have to live in the mountains to hike on a beautiful trail. Oftentimes, you'll discover that your local community has trails in your own backyard. Visit apps such as AllTrails or Trailforks to help you seek out local opportunities for hiking. Cities, counties, and states all have parks or natural areas to get started. Even very urban areas, like New York City or Washington D.C., have green spaces great for shorter hikes. Hiking is a great family activity for the Fall.
Here are some tips to keep in mind as you hit the trails.
Try to find a shorter distant hike that is fairly easy if you're bringing your children along. As they get more comfortable hiking, you can increase the distance and difficulty.

Encourage your little ones to go on a scavenger hunt or do some leaf-peeping to find the colors of the rainbow. Offering children an activity helps keep them engaged throughout the hike and gives you more opportunities for peace.

If you do bring your children along, just pack the patience and don't forget the snacks!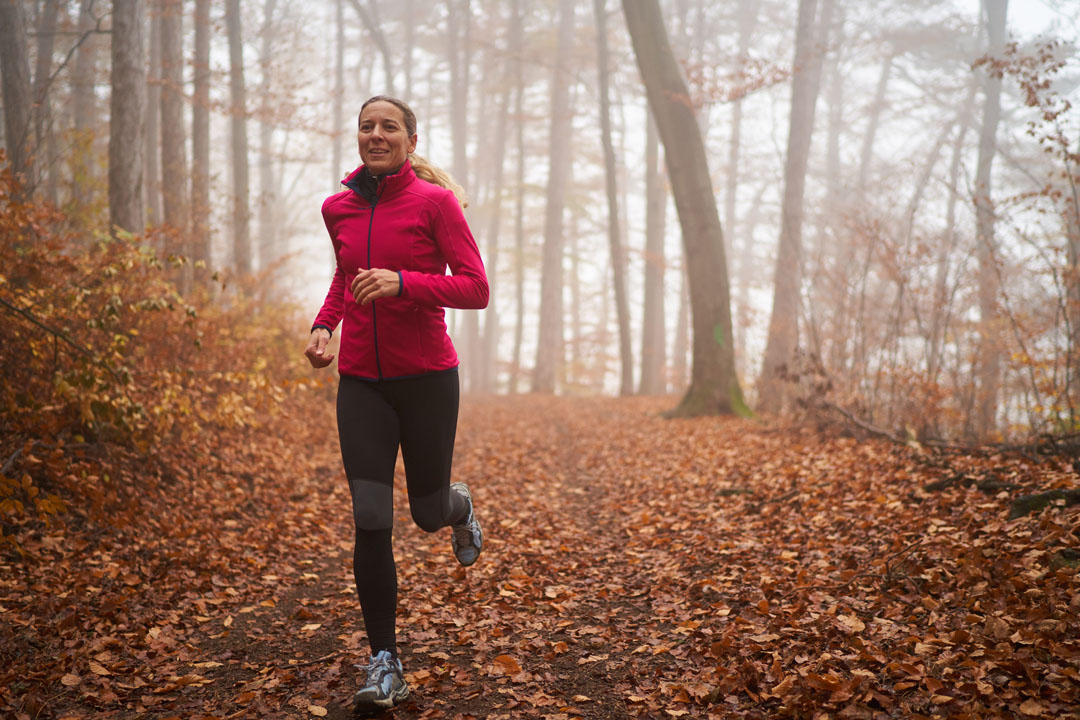 If running on a treadmill is getting boring or running on asphalt creates discomfort to your joints, there could not be a better time of year for trail running. Trail running improves balance and coordination (watch out for tree stumps, exposed roots, and hills) and keeps things interesting by providing the most gorgeous views nature has to offer.
Running in the autumn months usually means a longer endurance as it's not too hot or not too cold. As you begin to establish a routine you'll quickly notice the changing of the leaves every day on your run which will give you something to look forward to daily. Breathe in the fresh air and enjoy a strong cardio workout.
If you're new to running, start with a brisk walk, get familiar with your surroundings, and use a GPS device to keep track of your progress.
#3: Kayak, Paddleboat, or Canoe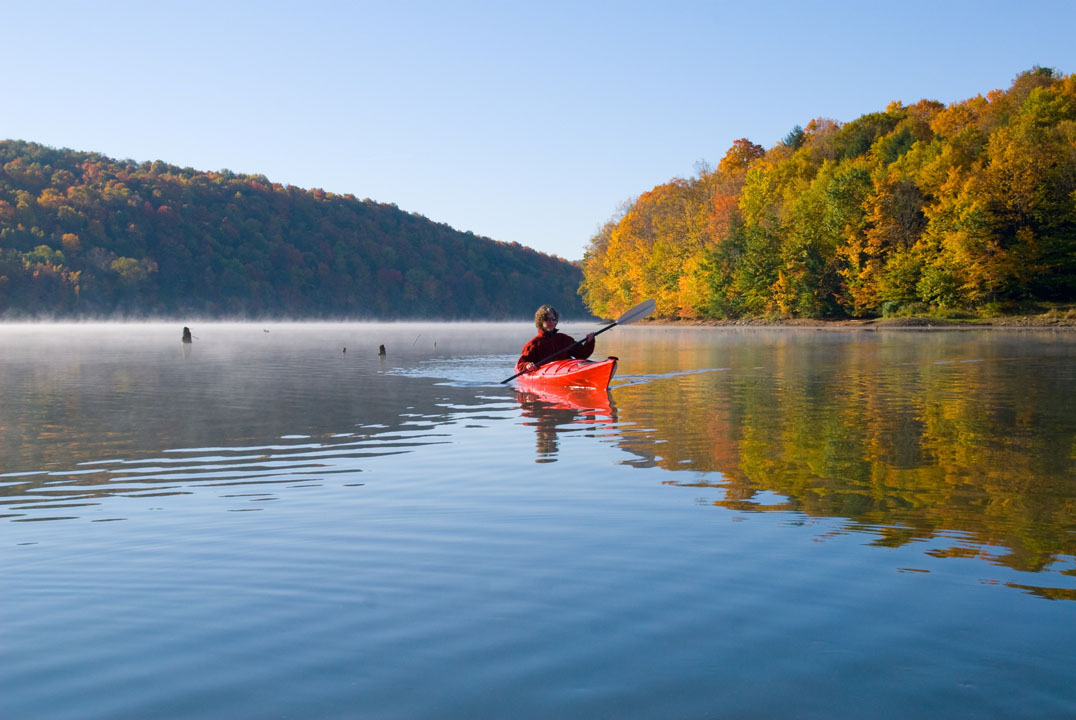 Have access to a pond, lake, or river? Slide into a kayak, paddleboat, or canoe for a wonderful Fall exercise. This low-impact activity is fun and will have you seeing double as the Fall colors reflect off the water. Download the GoPaddle app to find the perfect location near you or to find rental opportunities.
For the next few months, you may want to ditch the spin class and opt outside for your biking outdoors. Biking is an excellent full-body workout and with the cooler temps, you may find new areas in your community to explore. Biking is also a fantastic family activity. AllTrails or BikeMaps are two great apps to help you find a local path near you.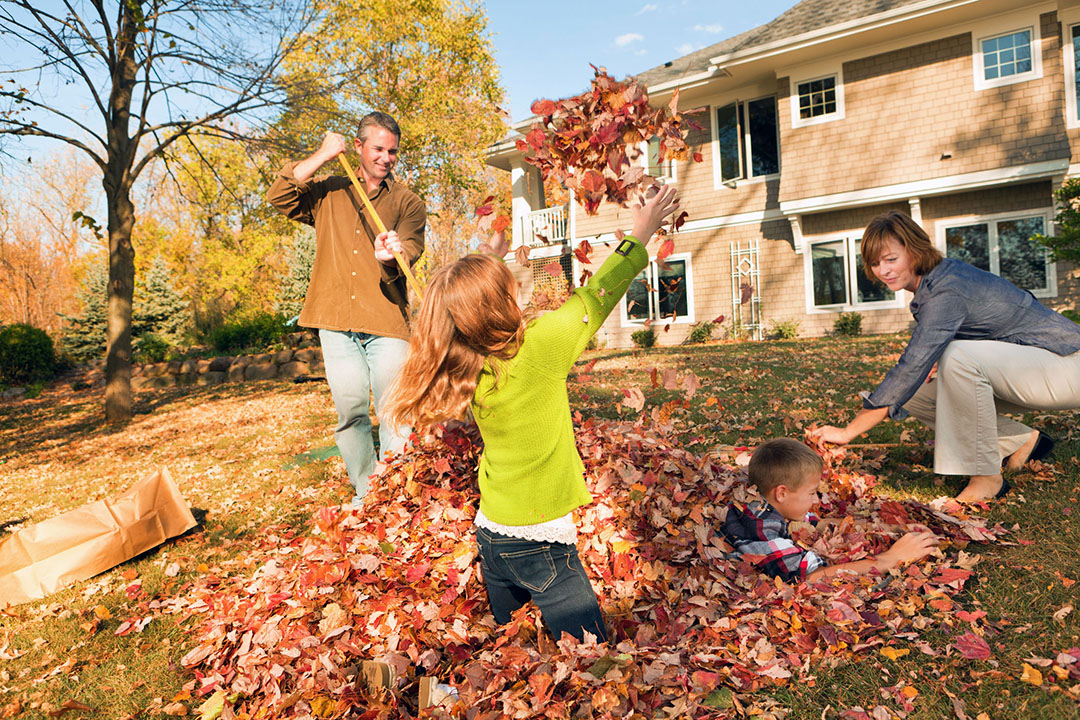 I know what you're thinking. Yard work is fun? Not always, but as the leaves pile up you can turn this task into a great opportunity for exercise. Working in the yard offers plenty of benefits to the mind and body. Raking leaves uses muscles in your arms and back, which makes it a great upper body workout. You can burn up to 400 calories an hour by simply raking and bagging leaves (that's a large pumpkin spice latte). Incentivize your kids to help because once that leaf pile has been raked the only thing left to do is JUMP in it (squats for the parents and joy for the kids).
What could be more relaxing than a walk in nature as the colors change all around us? Beauty aside, walking has the lowest impact on bones and joints and often is an easy form of exercise to blend into your day. It's also free! There are many other benefits to a walk in the woods. The Japanese have coined a term, "Forest Bathing" or shinrin-yok which is simply wandering in the woods to improve one's health and well-being. Studies have shown a walk in the woods provides benefits such as reduced stress, lowered blood pressure, newfound creativity, and reducing loneliness. Seek out an urban park or local forest to literally breathe in the benefits of the trees.
Final Thoughts on Fall Exercises
Fall has earned the hype as one of the best times of year to get outdoors. Moving our bodies gives us physical strength, peace of mind, better sleep, and most importantly that much-needed time to soak in the beauty of Autumn! 
Want more wellness tips?
Talk with your local AlignLife chiropractor.