Oranges aren't the only source for Vitamin C. Zucchini is a great source for getting some extra Vitamin C in your diet. One medium zucchini has over 50 percent of your daily vitamin C needs. Try this healthy twist on a family favorite. By swapping out the noodles for zucchini, you'll not only drop the calories, but it also makes this dish gluten-free and oh-so-delicious!
Print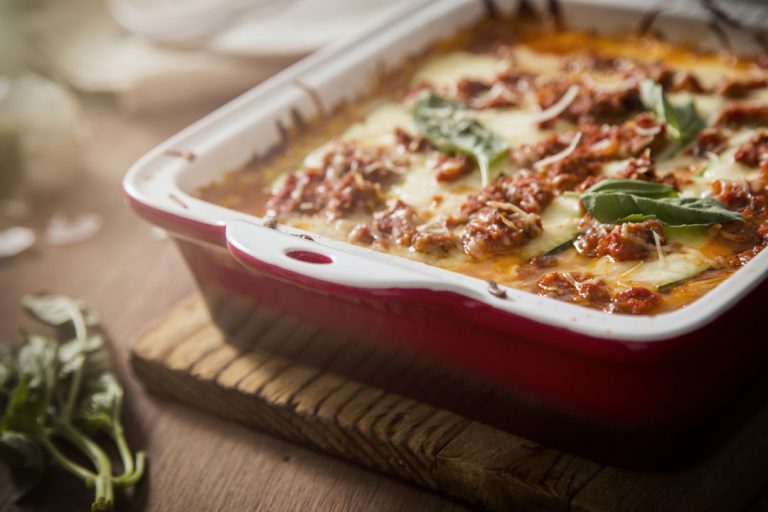 3

medium zucchini

1

lb ground beef

1 Tbsp

salt

1 1/2 tsp

ground black pepper

1 tsp

olive oil

1/2

large onion, chopped

3

cloves garlic, minced

1

16 oz package frozen chopped spinach, thawed and drained

1

28 oz can crushed tomatoes

2 tbsp

chopped fresh basil

1 1/2 cups

part-skim ricotta (or substitute cottage cheese)

1/4 cup

Parmigiano Reggiano

1

large egg

16 oz

4 cups shredded part-skim mozzarella cheese
Instructions
Preheat the oven to 325 degrees F. Grease a deep 9×13 baking dish.
In a medium pan, brown meat and season with salt. Once the meat is cooked, drain the fat and set aside.
Heat olive oil in the same pan and saute garlic and onions (about 2 minutes).
Return the meat to the pan, then add tomatoes, basil, salt and pepper. Simmer on low for at least 30 minutes, covered. Note: The sauce should be thick – do not add water.
Slice zucchini lengthwise about an ⅛" thick, then sprinkle with salt. Set aside in a colander or on a paper towel for about 10 minutes to help remove the moisture.
Meanwhile, in a medium bowl, stir ricotta cheese, parmesan cheese and egg until mixed well.
Dab zucchini with a paper towel to remove excess moisture.
To assemble lasagna, spread 1/2 cup of sauce on the bottom of the 9×13, then layer with zucchini, ricotta cheese mixture, spinach, and mozzarella cheese. Repeat by layering the remaining meat sauce, zucchini slices, ricotta mixture, spinach, and mozzarella. Reserve 1 cup of mozzarella for the top.
Top lasagna with remaining zucchini and sauce, cover with foil and bake for 40 minutes.
Remove foil. Increase oven temperature to 350 and bake for another 10 minutes (this will help dry up sauce). Sprinkle the remaining 1 cup mozzarella on top and bake until melted (around 10 minutes).
Let stand for 5 – 10 minutes before serving.
Why is zucchini a great pasta alternative?
Many vegetables can be spiralized into pasta-like servings. But zucchini is one of the most popular… and it adds a nutritious punch to your meals too. One cup of cooked zucchini has 33 calories, 6 grams of carbohydrates, and 2 grams of fiber. In comparison, one cup of cooked spaghetti has 221 calories, 43.2 grams of carbohydrates, and 2.5 grams of fiber. Zucchini is also rich in vitamins and minerals! Just look at the nutrients you're giving your body in one cooked cup!
Calories: 17
Protein: 1 gram
Fat: less than 1 gram
Carbs: 3 grams
Sugar: 1 gram
Fiber: 1 gram
Vitamin A: 40% of the Reference Daily Intake (RDI)
Manganese: 16% of the RDI
Vitamin C: 14% of the RDI
Potassium: 13% of the RDI
Magnesium: 10% of the RDI
Vitamin K: 9% of the RDI
Folate: 8% of the RDI
Copper: 8% of the RDI
Phosphorus: 7% of the RDI
Vitamin B6: 7% of the RDI
Thiamine: 5% of the RDI
What health benefits does zucchini offer?
Zucchini like most vegetables also offers some serious health benefits. Because of its low carb and calorie counts it helps with weight loss and lowers blood sugar levels, but it can also help improve your eye health, digestion, energy levels, thyroid function, as well as reduce inflammation that can cause those added aches and pains.

Want to mix more zucchini into your meals?
Here are some quick and easy ways you can incorporate more zucchini into your life!
Mix raw zucchini into your salads.

Bake it into breads, cookies, pancakes, muffins and cakes!

Bread it and fry it! YUM!

Boil it and blend it into soups.

Serve it as a side. Grill or sauté with some garlic and oil! l.

Try it breaded and fried.

Make it into zucchini noodles or zoodles.