Looking for a healthy snack food the whole family can love? Breaking the salty snack food habit is one of the hardest parts of healthy eating, and getting children to give up salty snacks is almost impossible. But now you can replace them with a munchy-snack alternative that offers both great taste and great nutrition!
Pumpkin seeds are nutty tasting, crunchy, chewy, and slightly sweet. When sea salt, herbs, or spices are added, they turn into a healthy snack food that would please the biggest junk food addict.
Print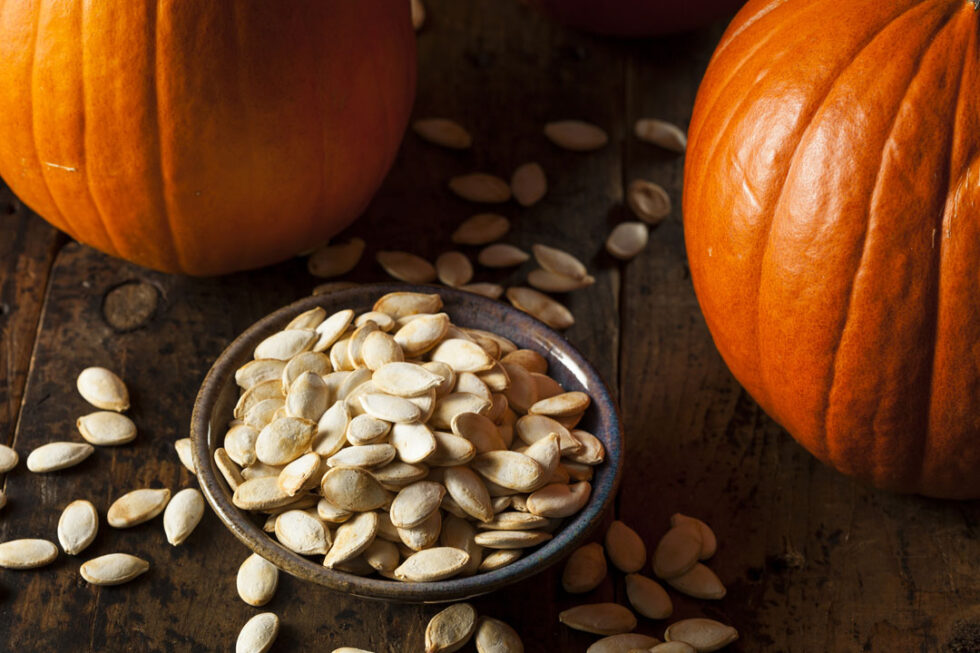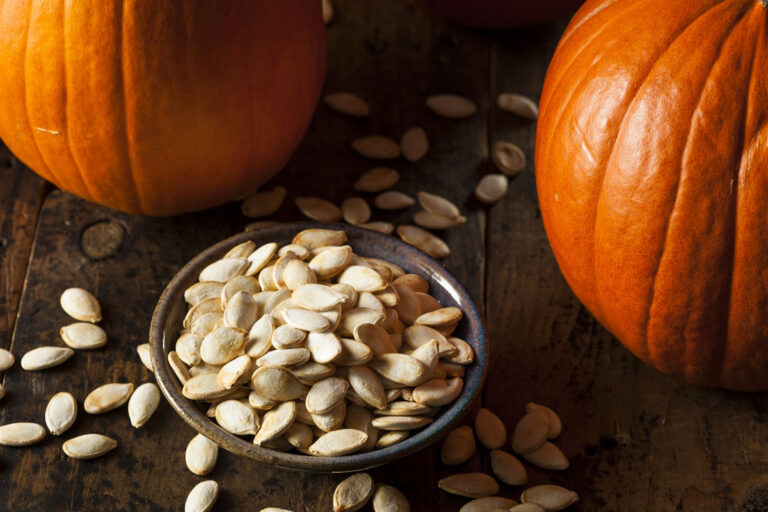 Quick Pumpkin Seed Seasonings
Sea Salt
1 cup pumpkin seeds
2 tsp olive oil
1 tbsp sea salt

Italian
1 cup pumpkin seeds
2 Tbsp melted butter
¼ c grated Parmesan
½ c Italian seasoning
Cinnamon
1 cup pumpkin seeds
2 Tbsp melted butter
1 Tbsp brown sugar
½ tsp cinnamon
Spicy
1 cup pumpkin seeds
2 tsp olive oil
1 tsp salt
¼ tsp black pepper
¼ tsp cayenne pepper
Cocoa
1 cup pumpkin seeds
2 Tbsp melted butter
2 Tbsp sugar
1 Tbsp cocoa powder
Pinch of salt
Instructions
How to Clean and Prep Pumpkin Seeds
Any pumpkin will do. Simply scoop out the flesh and seeds with a sturdy serving spoon or ice cream scoop. Try to separate the pulp and fiber from the seeds as much as you can before putting them in your colander. Rinse the seeds under cold running water. You'll probably need to use your hands to help get the seeds completely clean of pumpkin bits. Pat the seeds to dry with a paper towel.
How to Roast Pumpkin Seeds
Once you've picked your flavor, spread your pumpkin seeds out on a large baking sheet and let the magic happen. Bake the seeds at 350°F for 15 to 20 minutes or until the seeds are light golden brown and crispy. Cool at least 10 minutes before serving.
Pumpkin seeds are a versatile food
Pumpkin seeds can be eaten raw or roasted, and both types are great for hard-core snacking, but that's not all. Mexican cuisine uses them liberally in many dishes, and they are ground for use in green sauces. In the Southwest and Latin America, pumpkin seeds have been used in many dishes and eaten since the time of the Aztecs or earlier for their special flavor and health benefits.
Here are a few suggestions for pumpkin seeds that go beyond snacking:
Add to salads or vegetable dishes to provide some textural variation.
Add to cereal, granola, trail mix, or mix with dried fruits
Use in cookie and muffin recipes.
Shred or grind and add to veggie or meat burgers.
Sprinkle on rice, pasta, and potatoes dishes.
Why pumpkin seeds are a healthy snack
What makes pumpkin seeds healthy snack food? Pumpkin seeds offer a nutritional profile that can't be beaten, including amino acids, unsaturated fatty acids, and a wealth of minerals. They are high in most of the B vitamins, and vitamins C, D, E, and K. They are rich in beta carotene that can be converted into vitamin A as needed by the body, and also rich in the eye-protective carotenoid lutein.
Snacking on just one ounce (28 grams) of pumpkin seeds provides 7 grams of body-building protein, along with substantial amounts of manganese, phosphorous, iron, copper, and zinc. It also provides 37% of the daily value recommended for magnesium, the master mineral in which most Americans are deficient.
[dt_divider style="thin" /]
RELATED ARTICLE: Magnesium: The Key to Better Moods, Sleep, and Overall Health
[dt_divider style="thin" /]
Here's the full nutritional breakdown for 1 ounce of pumpkin seeds:
Fiber: 1.7 grams
Carbs: 5 grams
Protein: 7 grams
Fat: 13 grams (6 of which are omega-6s)
Vitamin K: 18% of the RDI
Phosphorus: 33% of the RDI
Manganese: 42% of the RDI
Magnesium: 37% of the RDI
Iron: 23% of the RDI
Zinc: 14% of the RDI
Copper: 19% of the RDI
Additional health benefits of pumpkin seeds
May help with prostate and breast health
Pumpkin seeds are chocked full of monounsaturated fat that has been shown to interrupt the triggering of prostate cell multiplication by DHT, a product of testosterone conversion. This makes them an ideal snack for guys as well as kids. Monounsaturated fat is one of the reasons people who eat the Mediterranean diet live longer, healthier lives. The omega-3 fats found in pumpkin seeds are being studied for their potential prostate benefits. The significant amounts of carotenoids in pumpkin seeds are of interest to researchers because men with higher amounts of carotenoids in their diets have a lowered risk for prostate enlargement. The high zinc content of pumpkin seeds protects prostates and breasts, so add women to the list too.
Help build bone density
Another reason for men and women to eat zinc-rich pumpkin seeds is their effect on bone mineral density. Although osteoporosis is usually thought of as a women's disease, it can affect older men, a group that suffers 30 percent of the hip fractures.
Offer powerful anti-inflammatory properties
Adding pumpkin seeds to the diet has been shown to work as well as non-steroidal anti-inflammatory drugs in reducing symptoms of inflammation. And they did this without any unwanted side effects or threat to the liver. In fact, pumpkin seeds have recently been shown to be protective of the liver. In a study reported in Food Chemistry and Toxicology, mice fed a mixture of pumpkin seeds and flax seeds showed their lipid parameters decreased significantly compared to controls. Plasma and liver toxins decreased, and the efficiency of their antioxidant defense systems improved.
May help with cholesterol and immune function
Phytosterols are compounds found in plants with chemical structures similar to cholesterol. When the diet contains high levels of phytosterols, blood levels of cholesterol are reduced. Phytosterols also enhance the immune system response, and can help reduce the risk of developing certain cancers. They are present in high amounts in seeds and nuts. Pistachio nuts and sunflower seeds are the richest in phytosterols, with pumpkin seeds coming in third of all the nuts and seeds usually eaten.
Are an excellent source of omega 3 fatty acids
The oil in pumpkin seeds has an excellent ratio of omega 3 to omega 6 fatty acids. This ratio makes it important for cellular function and oxygenation. It is also why pumpkin seeds make hair glossy, skin clear, and energy levels high.
Bottom line on pumpkin seeds
Pumpkin seeds are an easy, delicious, and healthy snack your whole family will enjoy – especially when you season them to everyone's favorite tastes. Take a look at more healthy recipes from alignlife here or ask your local chiropractor for food ideas that pack a nutritional punch!