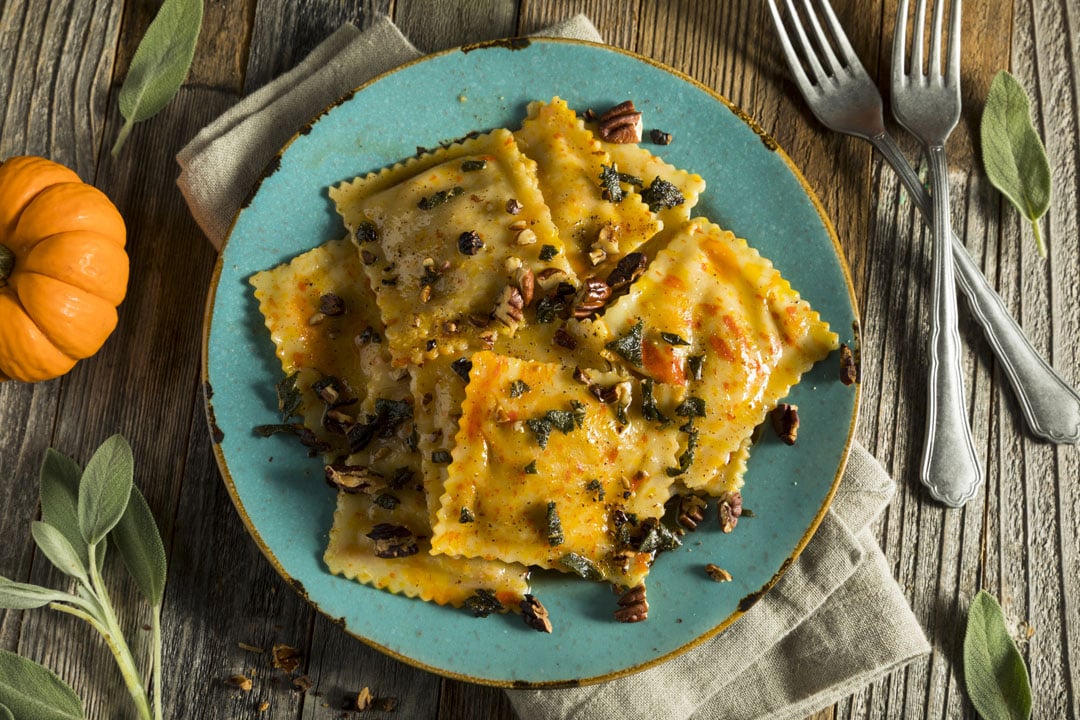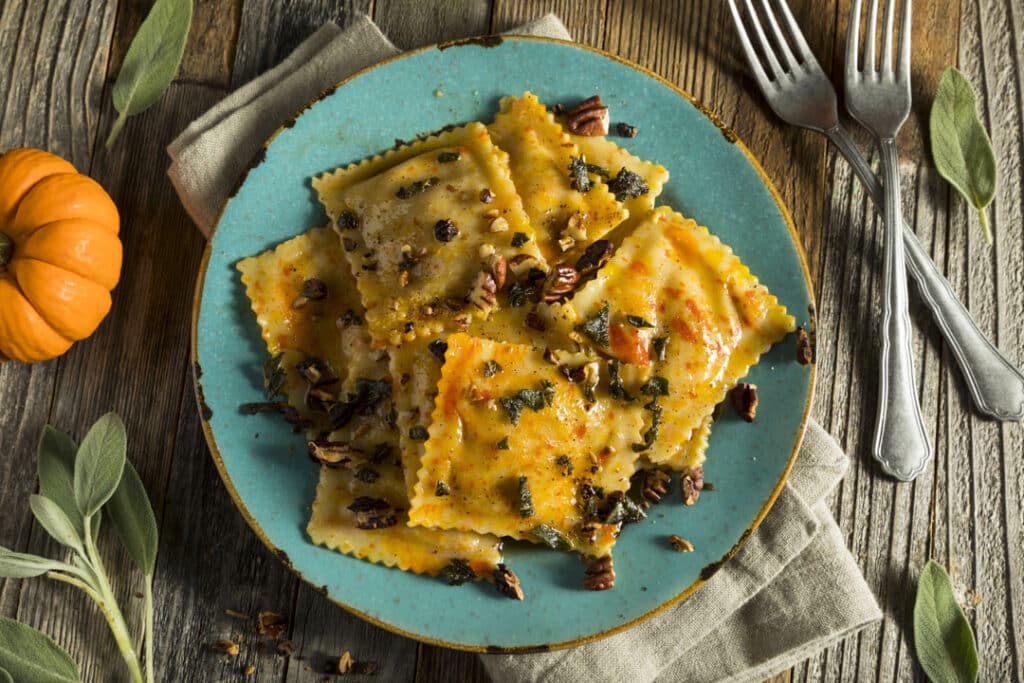 Harvest time is right around the corner, and stores will feature those symbols of the fall season, pumpkins and squash. Pumpkins are actually types of squash, and are a healthy seasonal favorite that can also be enjoyed in recipes year-round if you freeze or can the flesh after they ripen in the fall. Here is a healthy and delicious meatless pasta dish using pumpkin that can be served as either a main course or a side dish. Be sure to save the seeds!
Print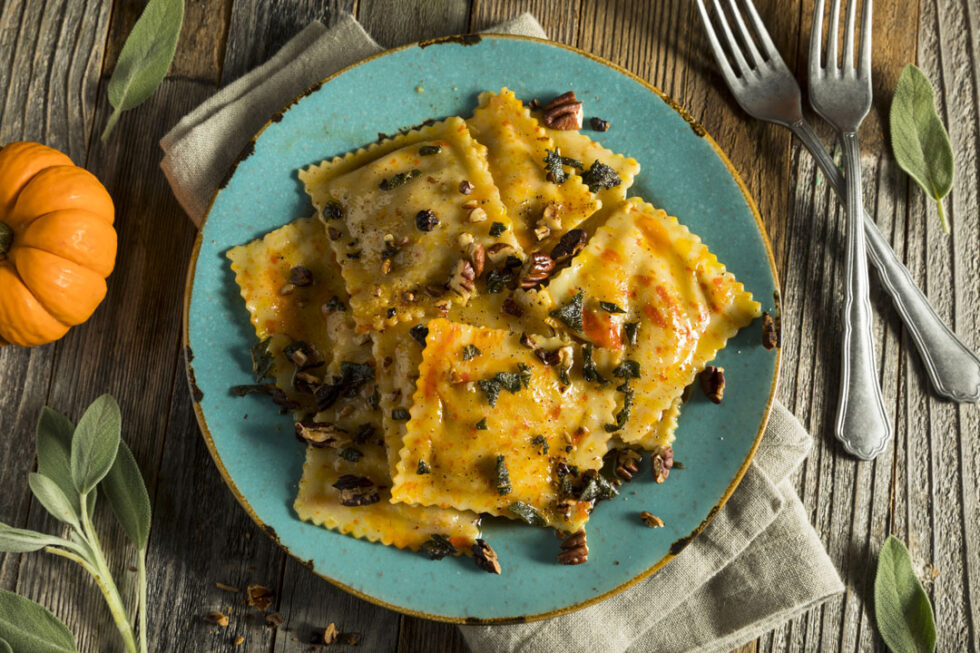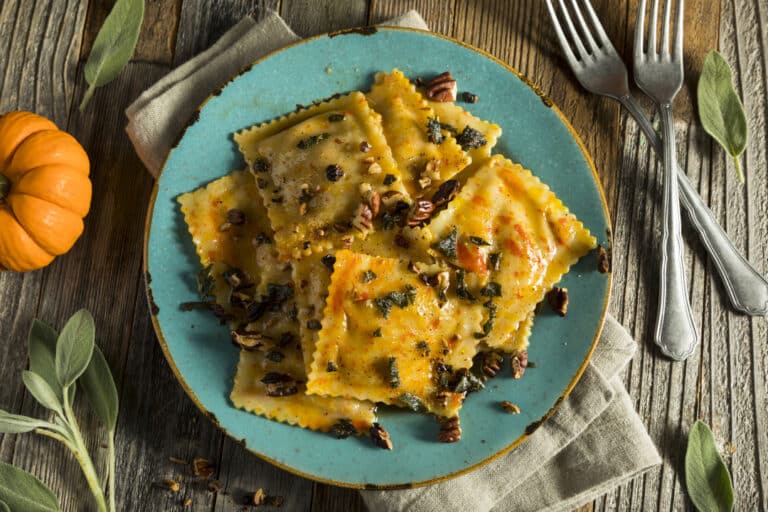 Filling
1 cup

roasted pumpkin

2 tablespoons

butter

1/4 tsp

nutmeg

1/4 tsp

cinnamon

1/4 tsp

cumin
Dash of white or black pepper

1/2 tsp

sea salt

1/4 cup

ground cashews (or nuts of your choice)
Pasta
1 1/2 cups

semolina flour

1/2 cup

all-purpose non-bleached flour

1/2 tsp

sea salt

2 tsp

dried basil

1/2 cup

water

1 tsp

olive oil
Instructions
Roast the Pumpkin
Preheat oven to 400 degrees.
Slice your pumpkin in half horizontally and scrape out all the seeds and surrounding stringiness (keep the seeds for these pumpkin seed treats!)
Place both pumpkin halves cut-side down on a baking sheet and roast for about an hour or until the skin is very soft and brown in spots and the flesh is soft and easily separates.
Scrape flesh away from skins and let drain in a colander.
Make the Filling
Melt butter over medium heat in a large saucepan.
Add nutmeg, cinnamon, cumin, pepper, salt and ground cashews.
Stir in pumpkin and cook, stirring and mashing, until the mixture is fragrant and the consistency of stringy, creamy mashed potatoes.
Turn off heat and set aside.
Make the Pasta
Sift together flour, salt, and basil. Add oil and water and knead until a stiff dough forms.
If you're going to be cooking your ravioli the same day that you're making them, you'll probably want to prepare a large pot of water at this point so it'll be ready to go when you're done with assembly. Add a dash of salt and a dollop of olive oil to the water.
Turn out dough on a lightly floured surface and roll it as thin as you can with a rolling pin (or, if you have a pasta maker, by all means, use it). You may want to work with a small portion of the dough at a time.
Cut your dough into roughly matching squares – about 2.5″ works well.
Put approximately 1 tablespoon of the pumpkin filling in the middle of a square, place another square on top, and pinch around the edges to seal. This is a great step on which to enlist the help of family and friends – it will go much quicker with more hands-on the job. Place ravioli on parchment paper to prevent sticking.
Gently drop ravioli into a large pot of boiling water.
Cook for 15 minutes and carefully drain.
Serve with sauce of your choice.
Notes
Cooking Notes
One pumpkin will yield way more than the one cup needed for this recipe, so you might want to plan on making a pie, soup, and/or other recipes that call for pumpkin. Or quadruple this recipe; ravioli freezes well. Or just drain, bag, and freeze the excess pumpkin.
You can make the ravioli ahead of time. It keeps very well on parchment paper in containers in the fridge.
Save and rinse the pumpkin seeds. They are easy to roast and delicious. Simply toss in oil, spread on a baking sheet, and roast at 350 degrees for about 30 minutes, stirring halfway through.
[dt_divider style="thin" /]