This pineapple grilled chicken recipe is guaranteed to check all the boxes for kids and parents alike. Plus, it is extremely easy to make for a quick, weeknight dinner.
There's nothing more refreshing than the sweet taste of pineapple. But its mouth-watering flavors aren't its only claim to fame. Pineapple also carries with it some amazing health benefits because it's rich in vitamins, enzymes, and antioxidants! Just scroll down to see some of the many ways it can help your overall health and check out this tasty pineapple grilled chicken recipe while you're at it! Make it a meal by serving your pineapple grilled chicken over brown or whole-grain wild rice along with grilled pineapple slices or pineapple skewers.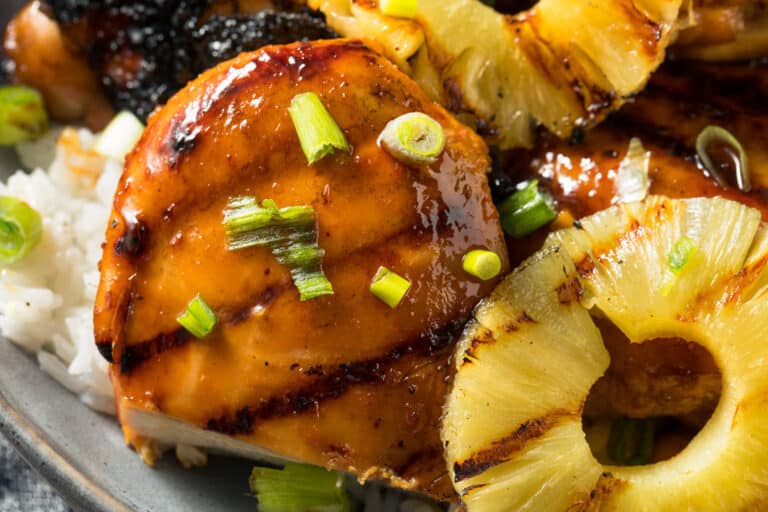 Pineapple Grilled Chicken
1 cup

pineapple juice

1/2 cup

packed brown sugar

1/3 cup

Tamari or soy sauce

2

pounds organic chicken breasts or

ten

derloins
Instructions
In a small saucepan over medium heat, mix together the pineapple juice, brown sugar, and soy sauce. Remove the sauce from heat just before the mixture comes to a boil.

Place chicken breasts or tenders in a medium bowl. Pour the pineapple marinade over the check, cover, and refrigerate for at least 30 minutes (marinate longer for stronger flavors).

Preheat the grill for medium heat.

Place chicken on a lightly oiled grill grate.

Grill chicken breasts or tenders for 5 minutes on each side or until juices run clear.
5 Health Benefits of Pineapple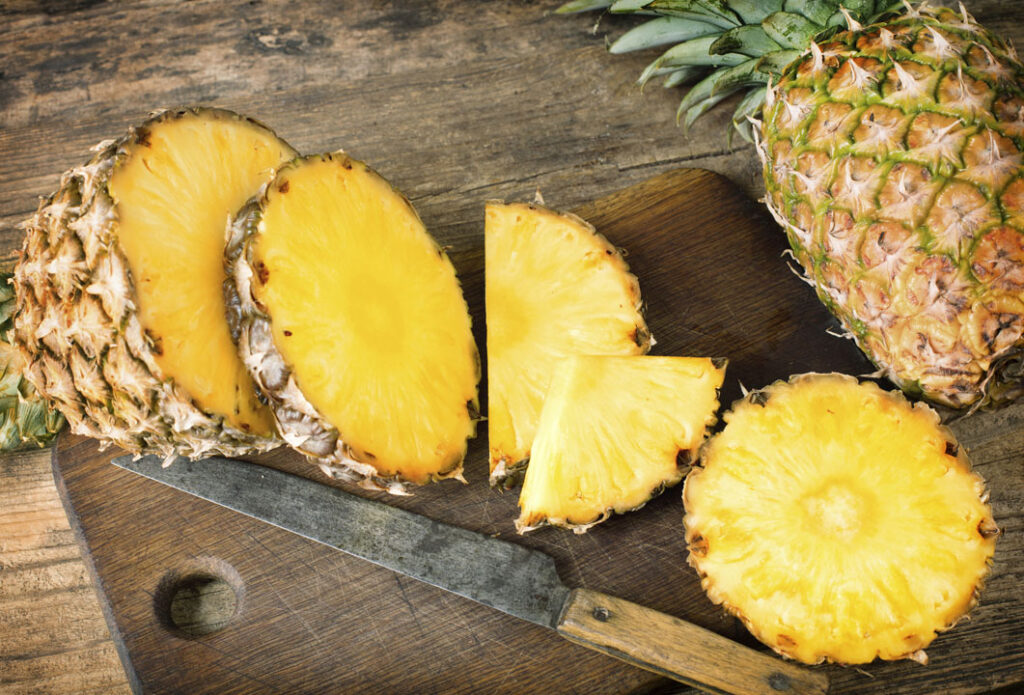 1) Helps Support Your Immune System
Full of Vitamin C, one cup of fresh pineapple chunks equals 131% of your daily Vitamin C intake!
2) Supports Healthy Digestion
Rich in fiber and high in water content, pineapples also help prevent constipation and promote regular bowel movements. Pineapple also contains bromelain, a group of digestive enzymes that helps breaks down proteins, to help your overall digestive process and ease conditions like acid reflux, irritable bowel syndrome (IBS) and more. 
3) Reduces Inflammation and Helps You Heal Faster
Bromelain also helps treat and reduce inflammation from muscle injuries as well as swelling in your ear, nose, and throat due to sinus inflammation. 
4) Protects Against Cardiovascular Disease
Pineapples are rich in potassium. Research links high potassium intake to a reduced risk of stroke!
5) Supports Bone Strength
Another key nutrient pineapples are rich in is manganese, containing nearly 75 percent of your daily recommended intake. Manganese is an essential mineral for developing strong bones.