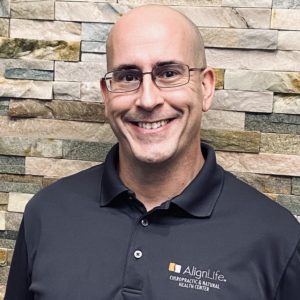 We are excited to announce our expansion of the greater Charleston area. Give a big welcome to Dr. Brian Bord and his team from AlignLife Nexton. Dr. Bord joins two AlignLife Clinics in the area and we can't wait to see the impact they will make on the community. We want our patients to be able to connect both personally and professionally to their doctors. To help accomplish that, we put together a New Clinic Spotlight for all incoming franchisees to give an insight to how they tick.
Dr. Brian Bord
What made you want to become a Chiropractor?
Working in a hospital for 2 years piqued my interest in the healthcare field. Reading about chiropractic philosophy steered me down that path.
What technique do you practice and what are the benefits?
My technique can best be described as mostly based off of a Diversified platform, with elements of Gonstead, Blair, Thompson, and HIO mixed in. I also work quite a bit with extremities. The technique I employ is easily tolerated by the vast majority of patients who have come across my table. My patients tend to realize substantial benefits very quickly.
What is your favorite thing that patients ask you about?
"What bed should I sleep on/what pillow should I use?" I don't know why that tickles me so much, but I hear it SO often…
What is one thing you see all the time in your community that can be helped with Chiropractic?
The detrimental structural effects of handheld electronics. It is SO easily spotted, and SO pervasive.
If you could give your community just one health tip, what would it be?
Get adjusted regularly!!!
If you had to describe yourself in five words, what would they be?
Friendly
Professional
Easy-going
Thorough
Empathetic
What's the number one item you would save from your burning house?
Are wife and kids items? Dogs? Other than that, the rest can burn. It's just stuff.
Aside from necessities, what is one thing could you not go a day without?
Hugs. And coffee. That's two things, but whatever.
Do you have any guilty pleasures?
Craft IPAs.
Why did you choose the area you are practicing in?
Charleston is heaven on earth. Isn't that obvious?
For what in your life do you feel most grateful?
The love of my wife.
Do you have a specialty or area of focus that you love working with?
I am extremely good at upper cervical adjusting, and I do extensive extremity work as well.
Contact Us
If you are in the Charleston South Carolina area and would like to schedule an appointment with Dr. Bord, please visit AlignLifeNexton.com or call (843) 900-6336!