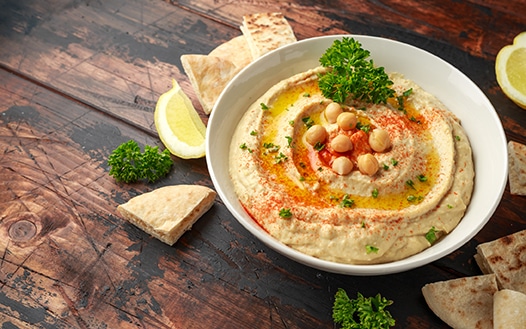 Looking for a healthy appetizer to share at your next party or delicious weekday snack? Give homemade hummus a try! A popular Middle Eastern dip, hummus is packed with vitamins and minerals. Research has even linked hummus and its ingredients to a variety of health benefits! This includes: helping fight inflammation, improving blood sugar control, better digestive health, lower heart disease risk and weight loss. Added bonus… it's incredibly easy to make. Whip out your blender and in less than 10 minutes, it's ready to eat!
Print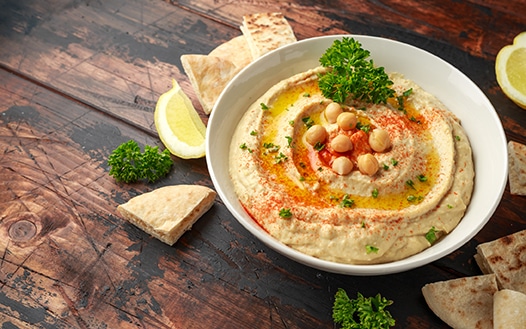 2 cups

of organic chickpeas (garbanzo beans), cooked/softened

1/3 cup

of tahini

1/4 cup

of lemon juice

2 Tbsp

extra virgin olive oil

2

garlic cloves, crushed or minced

½ tsp

ground cumin

¾ tsp

salt

2

–

4

Tbsp cold water (more if needed)
Instructions
Combine tahini and lemon juice in a food processor and blend for 1 minute. Scrape the sides of the bowl then blend for 30 seconds more. This helps make your hummus smooth and creamy.
Add olive oil, garlic, cumin, and salt to the tahini and lemon juice mixture. Blend for 30 seconds, scrape the sides of the bowl, then blend for another 30 seconds.
Add 1 cup of cooked and softened chickpeas. Process for 1 minute, then add remaining chickpeas and process for 1-2 minutes more until the mixture is thick and smooth.
If the mixture is too thick (which it will likely be at first), turn on the food processor and slowly add 2-4 Tbsp of cold water until you reach your perfect consistency and smoothness.
Salt to taste, drizzle with olive oil and paprika and serve.
Notes
Note: Store hummus in an airtight container and refrigerate for up to a week.
Serving Size 1/4 cup | Calories 190 | Protein 6 g | Carbohydrate 18 g | Dietary Fiber 5 g | Total Sugars 3 g | Total Fat 11 g | Saturated Fat 2 g | Cholesterol 0 mg
Why Hummus is Great for Your Overall Health
It's rich in ingredients that help fight inflammation.
Hummus is high in fiber, promoting digestive health and good gut bacteria by producing butyrate — a type of fatty acid that helps nourish cells in the gut.
Hummus has a low glycemic index, which may help control blood sugar levels.
Chickpeas and olive oil — two key ingredients in hummus – may reduce risk factors, and thus overall risk, for heart disease.
Need more nutrition tips?
Ask your local AlignLife Chiropractor about how we can help you enhance your nutrition to meet your health goals!