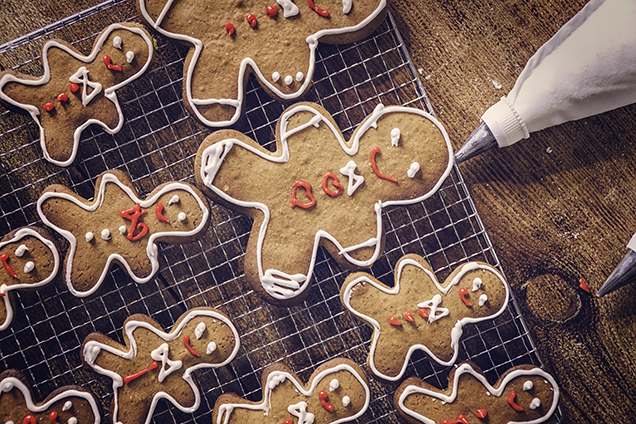 Ginger is a happy, warming herb that stirs up memories of family holidays, gingerbread cookies, and pumpkin pies. It is an ancient spice used worldwide and it's recognized as one of the most versatile healers on earth.
So if you're looking for a "healthier" holiday cookie to make this year, try out this yummy paleo, vegan gingerbread cookie recipe from Detoxinista!  This recipe makes about 15 cookies.
Print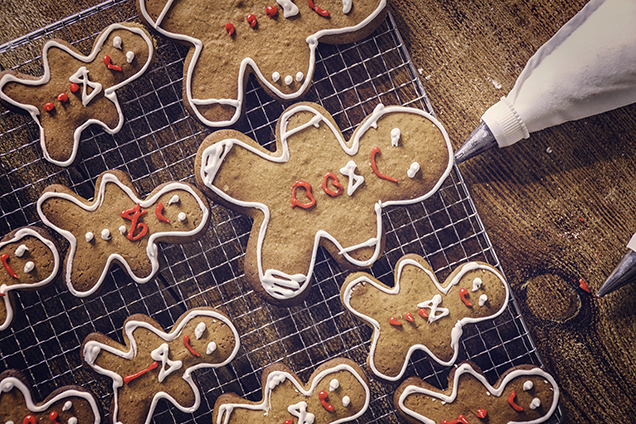 Paleo Gingerbread Cookies
Total Time:

50 minutes

Yield:

15

cookies

1

x
1 1/2 cups almond flour (almond meal works, too)
1/4 cup arrowroot or tapioca starch
2 teaspoons ground ginger
1/2 teaspoon ground cinnamon
1/8 teaspoon fine sea salt
1/4 teaspoon baking soda
2 Tablespoons melted coconut oil
1/4 cup pure maple syrup
1 tablespoon blackstrap molasses
Extra arrowroot or tapioca starch, for rolling & cutting
1 batch of Coconut Sugar Icing or regular icing for decorating
Instructions
In a large mixing bowl combined the almond flour, starch, ginger, cinnamon, salt, and baking soda and stir to combine. Add in the coconut oil, maple syrup, and molasses and stir again until a sticky dough is formed. Arrowroot starch acts as a binder in this recipe, so you don't need to use eggs or even an egg substitute. Simply mix the ingredients together all in one bowl, then place the dough in the freezer for 30 minutes (or chill in the refrigerator overnight if you want to make them ahead) before rolling it out and making it into cute gingerbread cookie shapes.
Preheat oven to 350 degrees F and line baking sheet with a piece of parchment paper.
Place chilled dough on parchment paper and sprinkle it with a bit of arrowroot or tapioca starch to help prevent sticking.
Flatten the dough using a rolling pin, spreading the dough out to be a flat sheet, about a 1/4-inch thick.
Cut gingerbread into shape using cookie cutters.
Bake the cookies at 350F for about 10 minutes for a soft center, or 14-15 minutes for crisper gingerbread cookie.
Allow the cookies to cool completely on the pan before icing and serving. They will firm up as they cool.
Notes
Storing leftover cookies
Unlike traditional gingerbread cookies, for best results these vegan, paleo gingerbread cookies should be stored uncovered on the counter for up to 3 days. You can also store them in an airtight container in the fridge for up to 2 weeks or freeze them for up to 3 months. We do not recommend storing them in an air-tight container at room temperature as they will get softer when sealed in a bag.
Author:

Prep Time:

40 minutes

Cook Time:

10 minutes

Diet:

Vegan
Keywords: gingerbread, cookies, ginger, vegan, paleo
Fun Fact about Gingerbread Man Cookies
An Armenian monk brought gingerbread to Europe, in the year 992. Early reference logs from Vadstena Abbey record that Swedish nuns were baking gingerbread to ease indigestion in 1440. Queen Elizabeth I of England created the idea of the gingerbread people in the 16th century. The first gingerbread cookies were revealed at a royal ball where several were made to resemble respected guests.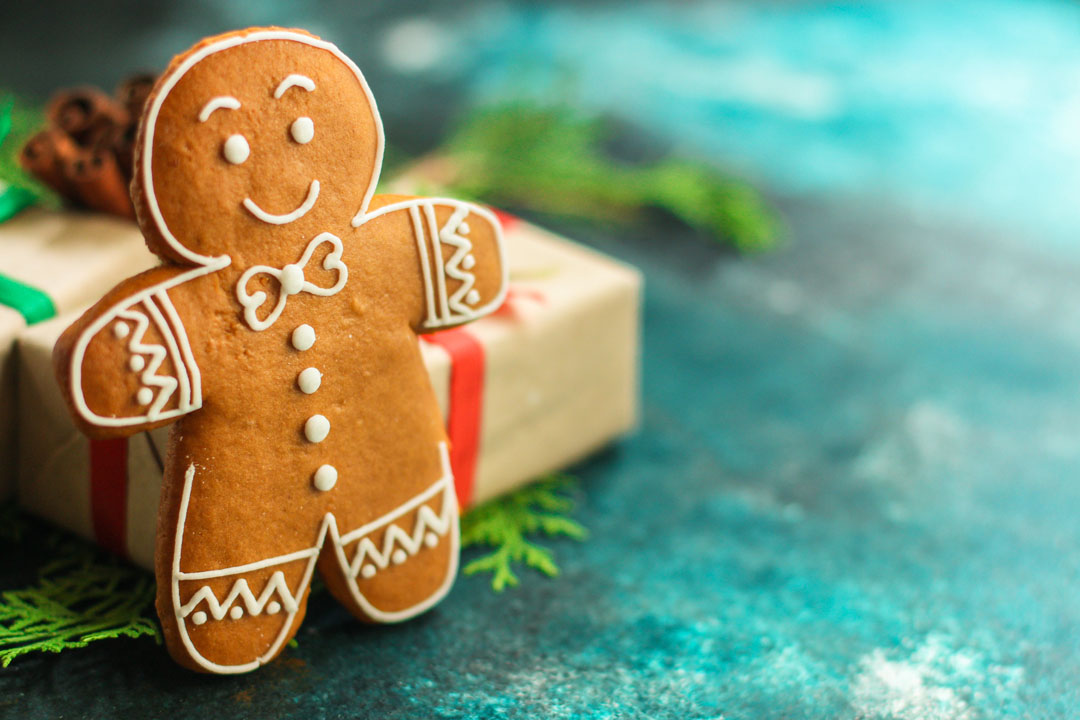 Health Benefits of Ginger
Ginger is known for being a versatile healing herb. While many may call it a root, ginger is botanically known as Zingiber Officinale and it's actually the rhizome that is used. It is also an essential oil and is one of the oldest herbals.
Ginger is known to offer the following health benefits:
Boost bone health
Eliminate arthritis symptoms
Strengthen the immune system
Prevent various types of cancer
Improve respiratory conditions
Alleviate cold and flu symptoms
Increase appetite
Aid digestion
Treat nausea
Reduce flatulence
Enhance libido
Relieve menstrual pain
There are over 400 active ingredients in this herb, including ascorbic acid, caffeic acid, capsaicin, beta-sitosterol, beta-carotene, curcumin, lecithin, limonene, selenium and tryptophan. The synergy of these ingredients contributes to the therapeutic power and versatility of the herb.
Bone health: A University of Miami study, conducted with several hundred patients from different backgrounds and ages, demonstrated improvement in osteoarthritis with ginger.
‪Ovarian cancer treatment: A University of Michigan Comprehensive Cancer Center found this herb to be a powerful weapon in the treatment of ovarian cancer. Ginger powder induced cell death in all of the ovarian cancer cells to which it was applied.
Colon cancer: A University of Minnesota study found the herb may slow the growth of colorectal cancer cells.
Diabetic nephropathy (kidney damage): A study of diabetic rats found ginger reduced incidence of kidney damage.
Morning sickness: A review of several studies has concluded that the herb is just as effective as vitamin B6 in the treatment of morning sickness.
Motion sickness remedy: Studies have demonstrated it is an effective remedy for nausea associated with motion sickness.
Reduces pain and inflammation: The anti-inflammatory and powerful natural painkiller properties of this herb have been demonstrated in several studies.
Migraine relief: Migraine research has shown that this herb has the ability to stop prostaglandins which cause pain and inflammation in blood vessels.
Menstrual cramp relief: Ginger tea with brown sugar has long been used in Chinese medicine as a treatment for menstrual cramps.
Double the Benefits of Ginger by Adding Turmeric
Add turmeric to ginger tea and benefit from the healing benefits of both herbs. Ginger is anti-inflammatory and anti-viral, and turmeric has antibacterial, anti-inflammatory, and anti-viral properties. This combination tea is very effective for helping calm food poisoning or a stomach virus.
Print
Ginger and Turmeric Tea
Total Time:

15 minutes

Yield:

4 cups

1

x
4 cups water
1/2 tablespoon ground ginger
1/2 tablespoon ground turmeric
lemon and/or honey (optional)
Instructions
Bring water to a boil. Reduce heat and add turmeric and ginger. Simmer for 10 minutes.
Strain into a mug using a mesh strainer or cheesecloth.
Add honey and/or lemon to taste.
Prep Time:

5 minutes

Cook Time:

10 minutes
Keywords: ginger, tea, turmeric
How to Get the Most Health Benefits from Ginger
Many of us have dried ginger in our pantry, but to take full advantage of its healing properties try cooking with fresh ginger. First, remove the skin from the rhizome using a paring knife or peeler. Try blending fresh ginger root into fruit smoothies or vegetable combinations. Add freshly minced ginger as a finishing touch to sautéed and stir-fried dishes, or for a subtle flavor, add ginger at the beginning of cooking.
[dt_divider style="thin" /]
Resources:

http://www.healthdiaries.com/eatthis/10-health-benefits-of-ginger.html

http://healthyeating.sfgate.com/health-benefits-fresh-ginger-root-stomach-8667

https://detoxinista.com/vegan-paleo-gingerbread-cookies/ 


‪