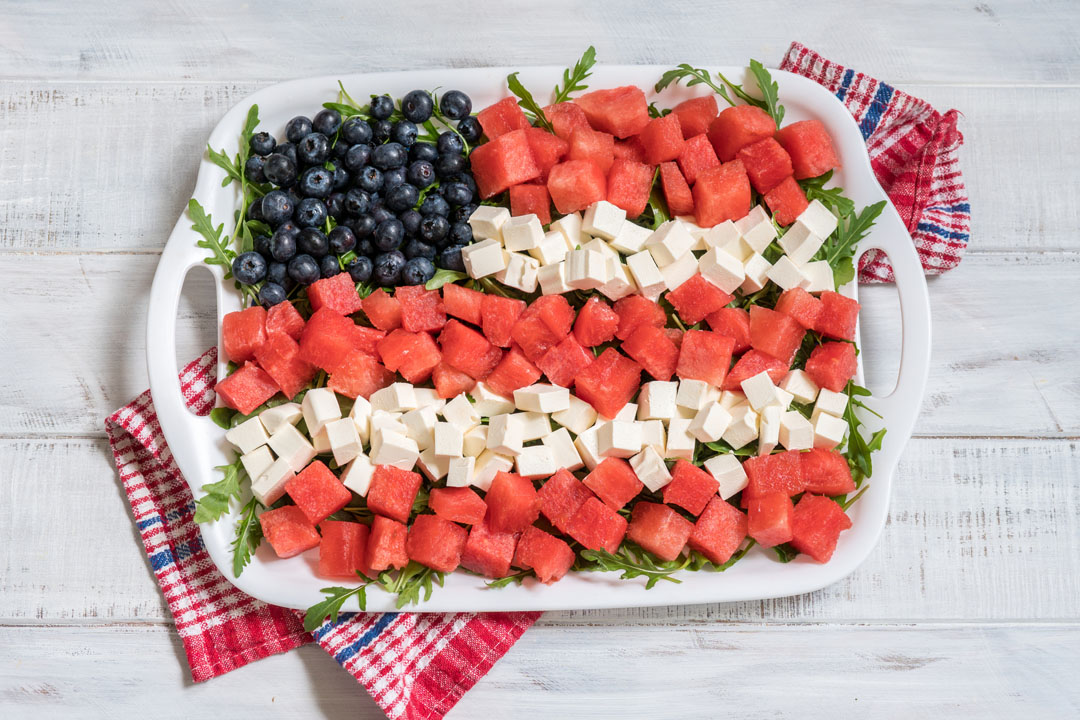 Put a fun spin on your dish to share at this year's 4th of July party with a patriotic fruit & cheese tray.
Not only is it quick and easy to pull together, but you can also mix and match your favorite red, white and blue fruits, and cheeses! Here are a few ideas to get you started.
Ingredients
Blue
Blueberries are the way to go to show off your patriotic blues. They're sweet, nutritious, low in calories and wildly popular. But that also packs a punch as a superfood and are among the most nutrient-dense berries you can get being rich in fiber, Vitamin C, Vitamin K, and Manganese.  Grab a a few handfuls and create the square of the flag. To help keep the shape, use a small square or rectangle dish.
Red
To make the red stripes of the flag, use watermelon, red raspberries or strawberries for your go-to fruits. You can change it up for each row or go with all the same as you make the design.
Watermelon is a great choice if you want to keep your dish low in calories with only 46 calories per cup, but it's also a great source of Vitamin C, Vitamin A, Potassium, Magnesium, and Vitamins B1, B5 and B6.
Red raspberries provide a decent amount of fiber, vitamins, and minerals and are particularly high in Vitamin C and manganese.
Strawberries are a great summer favorite, but they also have numerous health benefits. They have high levels of heart-healthy antioxidants, are high in Vitamin C, and are rich in iodine which boosts brain function!
White
White is where you can have a lot of fun. Not only can you choose from popular fruits like bananas, apples, and pears, you can also add in a couple of rows of low-fat cheese such as feta, mozzarella and swiss.
If you opt to use bananas and apples, toss your cut fruit in a little citrus juice (lime, lemon or even orange juice will work). This will keep them looking fresh all day long!
Directions
Place bowl of blueberries in the top left corner of a large serving tray.

Create 3 red and 2 white rows made of fruits and cheese to fill up your tray.

Keep chilled until ready to serve!