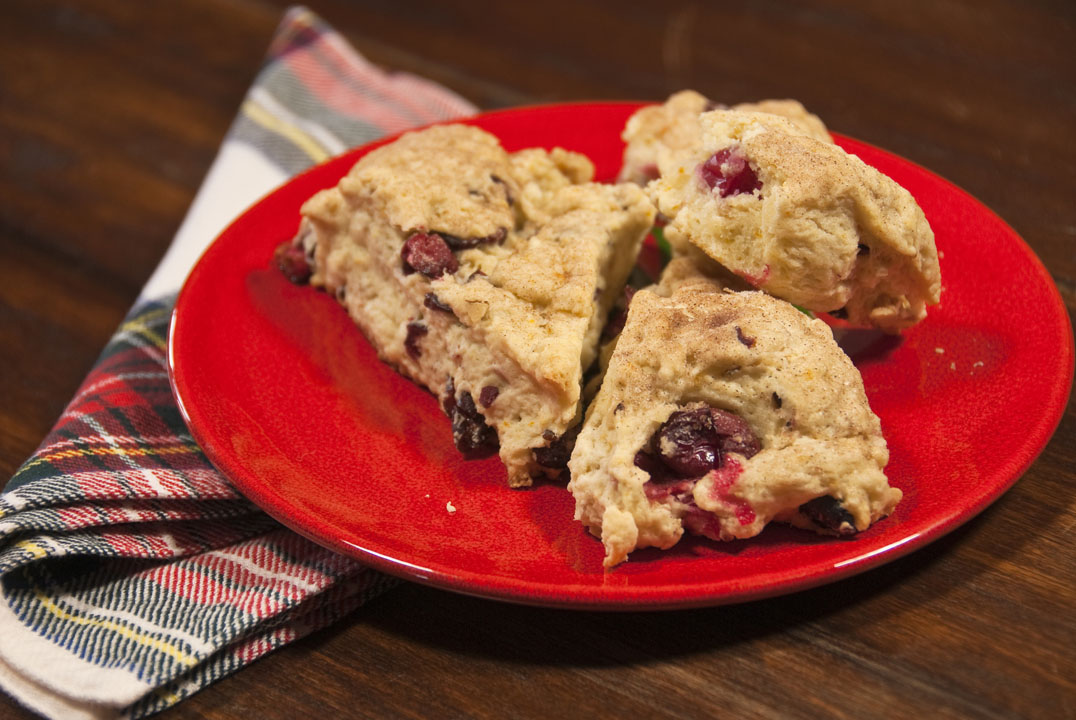 There are many ways to strengthen the immune system. Some of the best are spending time with those you care for, being kind to yourself, and eating healthy food. Thankfully, you can achieve all of this at once by making a date for teatime with friends or family and serving up a teatime favorite… cranberry black walnut scones. In addition to their wonderful flavor, this recipe provides many health benefits – enough to keep guilt away. It's also a tasty fall time treat or a great dish to share over the holidays!
Print
Cranberry and Black Walnut Scones
Total Time:

45 minutes

Yield:

1

2

1

x
2 cups

organic bread flour

1/4 teaspoon

baking soda

1 tablespoon

aluminum-free baking powder

1/3 cup

turbinado sugar (minimally processed cane sugar)

2 tablespoons

butter

1/3 cup

dried cranberries

1 tablespoon

vanilla extract

1 cup

of whole organic buttermilk from grass-fed cows

1/3 cup

chopped black walnuts

1 1/2 teaspoons

sugar
Parchment paper
Instructions
Pre-heat oven to 400°F
Cover baking sheets with parchment paper
Combine flour, baking powder, baking soda, and sugar in a medium bowl; cut in butter with a pastry blender until the mixture resembles a coarse meal.
Stir in cranberries.
Add buttermilk and vanilla, stirring with a fork until dry ingredients are moistened.
Spoon 2 heaping tablespoonfuls of dough, 2 inches apart, onto the baking sheets. Sprinkle with walnuts and 1 ½ teaspoons sugar.
Bake at 400F for 15 to 17 minutes or until golden.
Prep Time:

15 minutes

Cook Time:

30 minutes
Health benefits of cranberry walnut scones
Cranberries
The cranberry is one of only a handful of fruits native to the USA. The benefits of cranberry include urinary health and relief from urinary tract infection, respiratory disorders, kidney stones, cancer, and heart disease. It is also beneficial in preventing stomach disorders and diabetes, as well as gum diseases caused by dental plaque.
Buttermilk
Buttermilk is a fermented food. It contains all essential nutrients required by the body, and it improves immunity and the ability of the body to fight off disease. Vitamin B12 in buttermilk helps synthesize fatty and amino acids, in addition to fighting anemia and stress, while promoting nerve cell growth. B12 also aids in converting glucose into energy. The potassium and riboflavin in the buttermilk helps lower blood pressure.
The cosmetic industry has made extensive use of buttermilk in the best beauty products. Buttermilk makes a good facial mask that softens, and the lactic acid in it brightens and exfoliates the skin to create a youthful look, while its astringent nature removes blemishes, freckles and tightens skin.
Black walnut
Black walnut is known as a vermifuge, which means it removes worms and parasites. It is thought that even with our standards of sanitation nearly a third of the population is infected with parasites. Such parasites as ringworm, pinworm and tapeworm have been a problem for humanity for thousands of years.
Black walnut is also an antiseptic and germicidal. It heals skin conditions, fungal infections, and balances sugar levels. Black walnut is thought to oxygenate the blood, and it provides a source of iodine and omega 3 fatty acids. It also is able to destroy toxins.
[dt_divider style="thin" /]
Resources

http://www.food.com/recipe/cranberry-walnut-scones-440914

http://natural-medicinal-herbs.com/herbs/black-walnut.htm

http://www.food.com/recipeprint.do?rid=440914http://www.altmedicine101.com/buttermilk

http://qconline.us/About_Us.html

http://www.thefleurdelys.com/