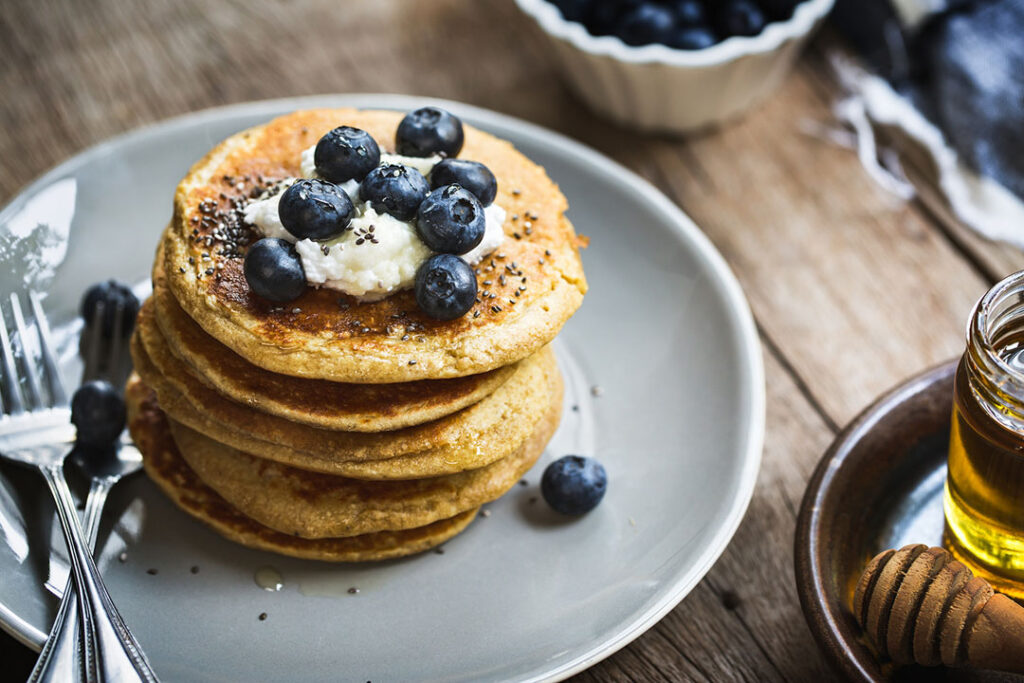 Pancakes are a breakfast favorite no matter what your age. Try this easy 8-ingredient, gluten- and dairy-free recipe that takes a classic favorite and puts a healthy spin on it. Plus, they're easy to pull together or make ahead when you're in a rush to get out the door in the morning! These banana oat pancakes are proof that breakfast can be quick and delicious!
Print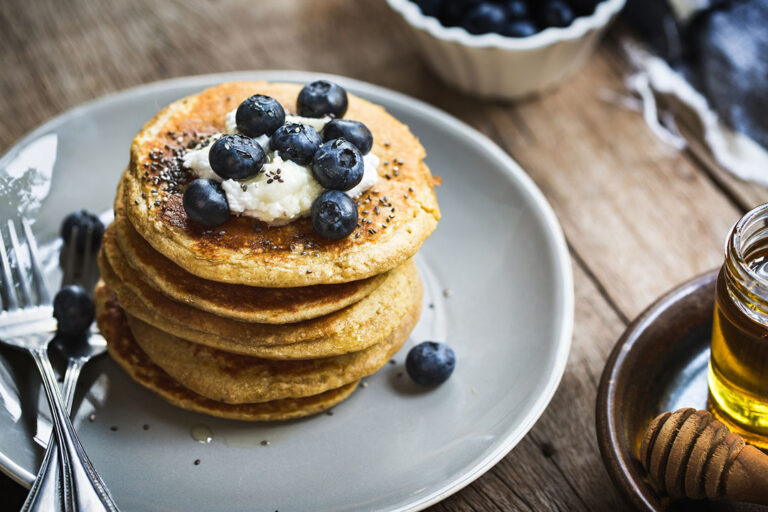 2

bananas

2

eggs

1/2 cup

rolled oats (do not use steel-cut oats or instant oats)

1/2 teaspoon

baking powder

1/4

teaspoon ground cinnamon

pinch of salt
maple syrup (optional)
fresh fruit of choice
Instructions
Combine peeled bananas, eggs, rolled oats, baking powder, cinnamon, and salt in a blender.
Blend the mixture until smooth.
Allow the batter to stand for 10-20 minutes or until it slightly thickens.
Heat a non-stick frying pan over medium heat.
Drop spoonfuls of batter into the heated pan and fry until golden brown on both sides. (Note: Batter may not bubble, watch the edges of the pancake and flip when they look dry).
Top and serve with maple syrup or your fruit of choice.
Notes
Make-Ahead Tips
Leftover pancakes can be stored in the refrigerator for up to 2 days. To prep and freeze, lay the pancakes in a single layer on a parchment-lined baking sheet, then place in the freezer, Once frozen, place pancakes in a sealable bag and store for up to 2 months. Reheat in the toaster or microwave, directly from frozen.
How to Ripen Bananas Faster
If you want to use ripe bananas in your pancakes, don't wait days to try this recipe out. Ripen your bananas faster with this easy 30-minute hack. Preheat over to 300 degrees. Place the desired amount of bananas on a baking sheet (do not peel). Bake for 30 minutes or until the skin is a shiny black. Cool for 30 minutes before using or toss them in the fridge to cool off. The heat causes the sugars in the bananas to come out faster, so you're left with a super-soft, extra-sweet treat!