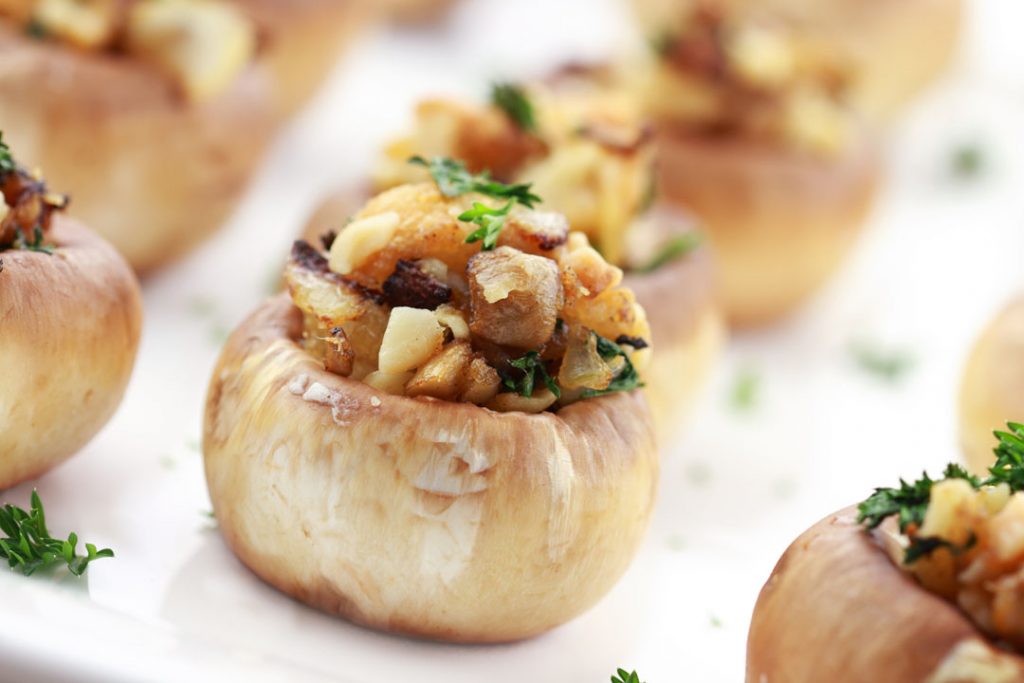 If you don't have a good stuffed mushroom recipe in your bag of go-to treats, here's one you'll want to add. Not only are they mouth-watering delicious, they're also packed with tons of vitamins and nutrients. This is the perfect dinner party appetizer or side dish to share with family and friends.
Ingredients
1 tablespoon olive oil
12 Baby Bella mushrooms
1/2 cup diced sweet onion
2 cloves garlic, minced
1/4 cup finely diced sun-dried tomatoes
2 cups baby spinach
1/3 cup whole wheat panko bread crumbs
4 oz. low-fat or fat-free feta cheese
1/4 cup Parmesan cheese
Directions
Preheat oven to 350 degrees F.
Clean mushrooms by rubbing with a damp cloth (do not rinse).
Remove the mushroom stems (keep for stuffing) and dice.
In a medium skillet, saute onions, mushroom stems, and sun-dried tomatoes in olive oil on medium-low heat, until tender. Approximately 4 minutes.
Add minced garlic and continue to saute stuffing for another minute.
Add spinach and saute until wilted.
Remove mixture from heat, then add feta cheese, breadcrumbs, and 3 Tbsp on Parmesan.
Stuff mushrooms with mixture and place on a cookie sheet. Sprinkle remaining Parmesan over mushrooms and bake for about 15 minutes, or until cheese is melted. Cool before serving.
Serving Tip: You may need to slightly dab the mushrooms before serving as they can release a liquid while cooking.