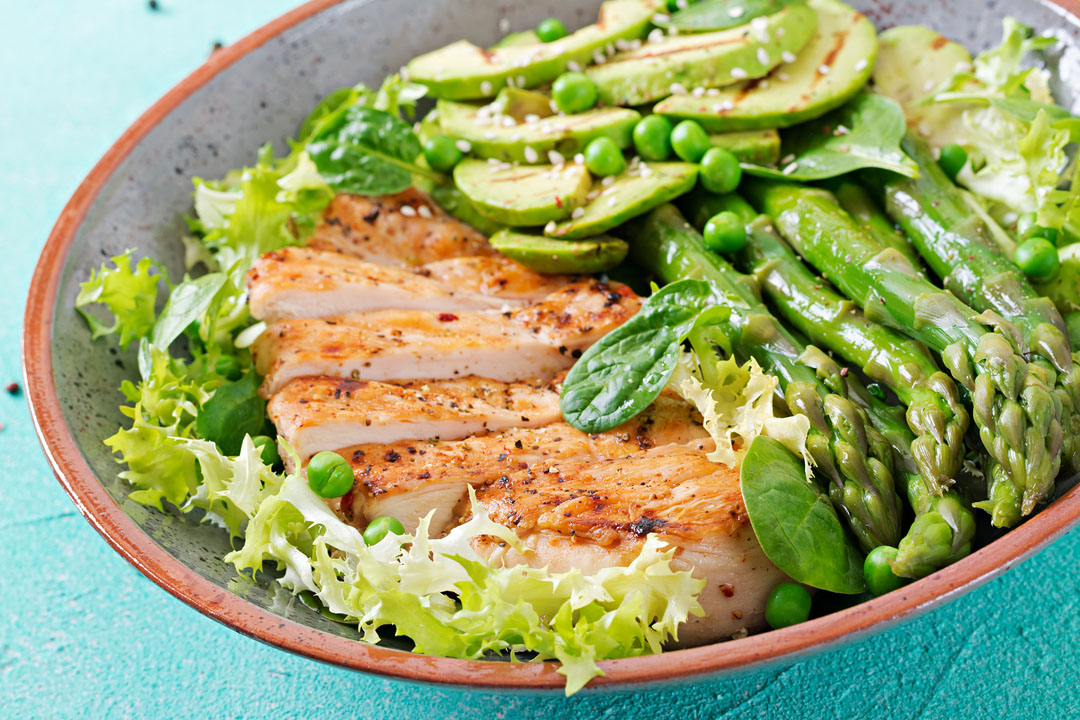 Fresh, salty, creamy, and oh so delicious are the makings of this delectable, healthy grilled chicken salad. Plus, its ingredients are packed with amazing health benefits. Asparagus is a natural diuretic and a great source of nutrients, including fiber, folate and vitamins A, C and K. Avocados are rich in monounsaturated fats, which lowers LDL (bad) cholesterol levels and helps reduce the risk of heart attack and stroke. And the spinach and arugula mix is a great base to get some dark leafy greens into your diet. Add in some peas and bacon (everything is better with a little bacon), and this will be a go-to item for this year's lunch and dinner menus.
Chicken Avocado Salad with Roasted Asparagus
2020-01-12 20:05:07
Serves 4
Chicken
1 Tbsp oil oil
8 oz chicken breast, sliced
Asparagus
1 Tbsp butter
2 c asparagus, chopped
1 tsp lemon pepper seasoning
Salad
4 c arugula or spinach (or a mix of both)
1/2 c cooked peas
1 ripe avocado, sliced
1/4 c bacon, cooked and crumbled (optional)
Fresh basil for topping
Dressing
1/4 c olive oil
1/4 c balsamic vinegar
To grill the chicken
Heat skillet on high heat for 2-3 minutes.
Lower heat and add 1 Tbsp of olive oil, making sure entire pan is coated.
Place chicken breast in pan and cook 5-6 minutes on first side without moving.
Flip the chicken breast over with tongs or a fork and cook on the other side for 5-6 additional minutes.
Remove chicken from pan and allow chicken breast to rest for at least 5 minutes before cutting.
To roast the asparagus
Melt butter in skillet over high heat.
Add asparagus and sprinkle with lemon pepper.
Saute until golden brown (or longer, depending on how you like your asparagus)
To make the salad
Cut the chicken into bite-sized pieces.
Layer arugula and spinach mixture, chicken, and asparagus.
Add peas and avocado slices to the top of the salad.
Drizzle or toss with the olive oil and balsamic vinegar.
Top with fresh basil, salt and pepper.
Chiropractic & Natural Health Centers | AlignLife https://alignlife.com/