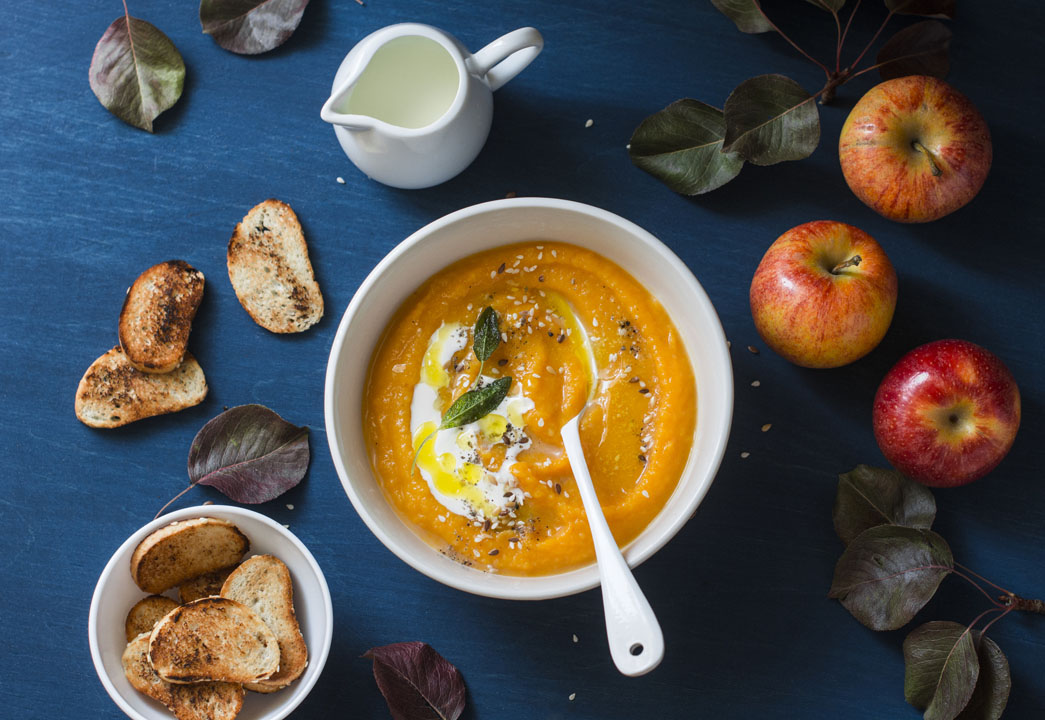 Full of fall flavors, Apple Pumpkin Soup is like mixing two of your favorite pies together! Apples and pumpkin are both packed with nutrients and fiber that keep you feeling fuller longer and build up your immune system, too. That makes this a great, warm and comforting soup.
Print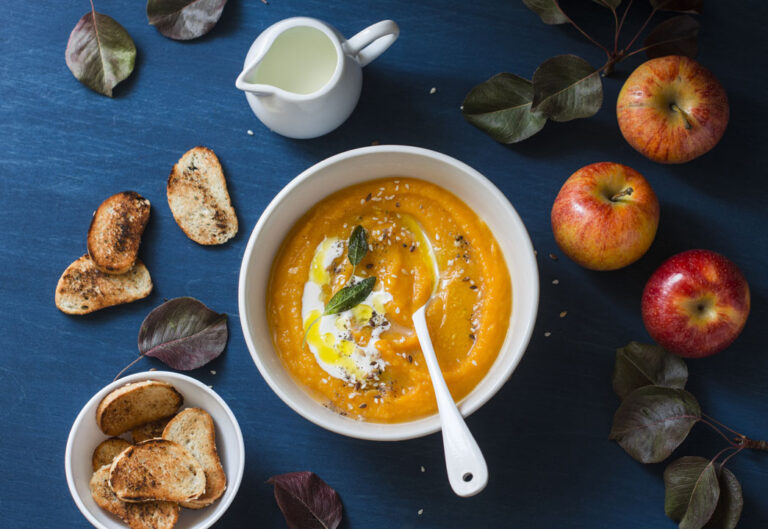 3 cups

pumpkin puree

2

finely chopped Golden Delicious apples

½ cup

finely chopped onion

2 tablespoons

butter

1 tablespoon

all-purpose flour

4 cups

chicken (or vegetable) broth

1/4 cup

packed brown sugar

1/2 teaspoon

ground cinnamon

1/2 teaspoon

ground nutmeg

1/2 teaspoon

ground ginger

1 cup

unsweetened apple juice

1/2 cup

half-and-half cream (optional)

1/4 teaspoon

salt

1/4 teaspoon

pepper
Instructions
Peel and core apples. Cut into slices.
In a large pot, sauté apples and onion in butter over medium heat for 3-5 minutes or until tender.
Mix in flour until blended, then gradually whisk in broth.
Stir in pumpkin puree, brown sugar, cinnamon, nutmeg and ginger, then bring to a boil.
Reduce heat, cover and simmer for 25 minutes.
Cool slightly, then take an immersion blender to blend the soup until smooth. If you do not have an immersion blender, you can transfer the soup to a blender and process in small batches.
Cover and refrigerate for 8 hours or overnight.
Before serving, warm over medium heat, then stir in apple juice, cream (optional) and salt and pepper to taste. Heat through and serve.
Decorative Topping (optional)
Cut 1 red apple into thin slices and toss in lemon juice.
Lightly heat apples with ¼ teaspoon melted butter and ½ teaspoon cinnamon.
Place 3-4 apples on top of soup.
Sprinkle with roasted pumpkin seeds and a dollop of coconut cream.