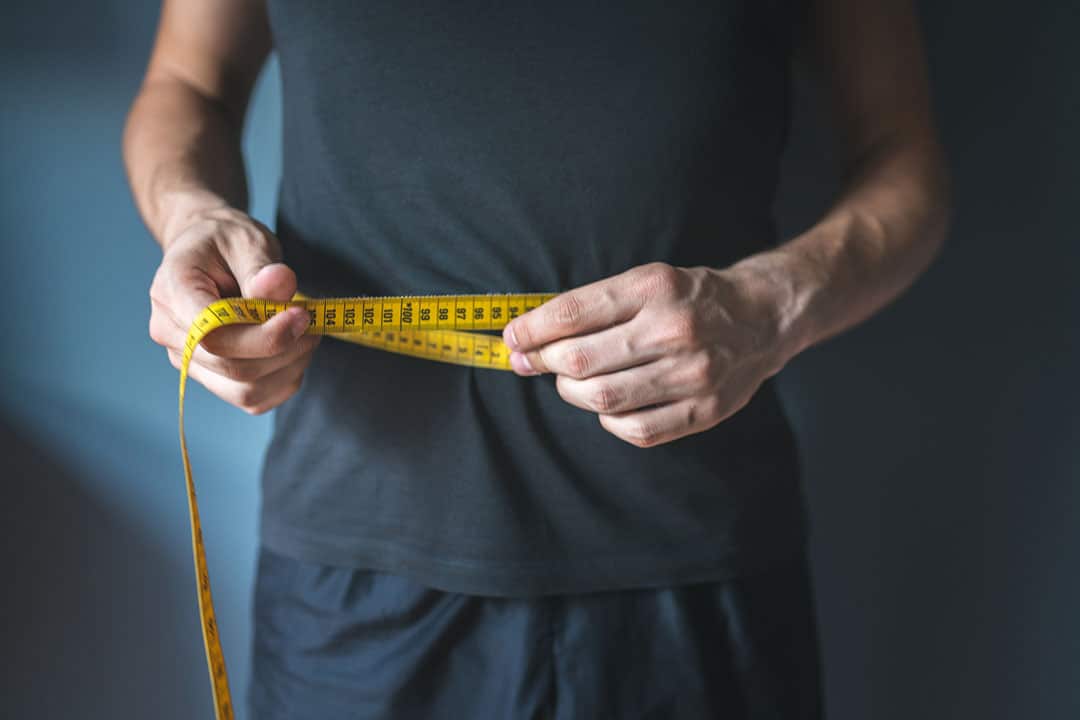 Carrying extra weight around your middle? You aren't the only one. In fact, nearly 60% of American adults fall into the "abdominal obesity" category – and that number is rising. Unfortunately, excess belly fat doesn't just make your jeans tighter. It can cause some serious consequences for your health, such as heart disease, diabetes, and even mood disorders.
You know that if you want to live a healthier life, you need to lose that excess belly fat. Eating right and exercising is a good start. But there's more to losing belly fat than counting calories in and out. Read on to learn our best tips that not only burn belly fat but overhaul your health!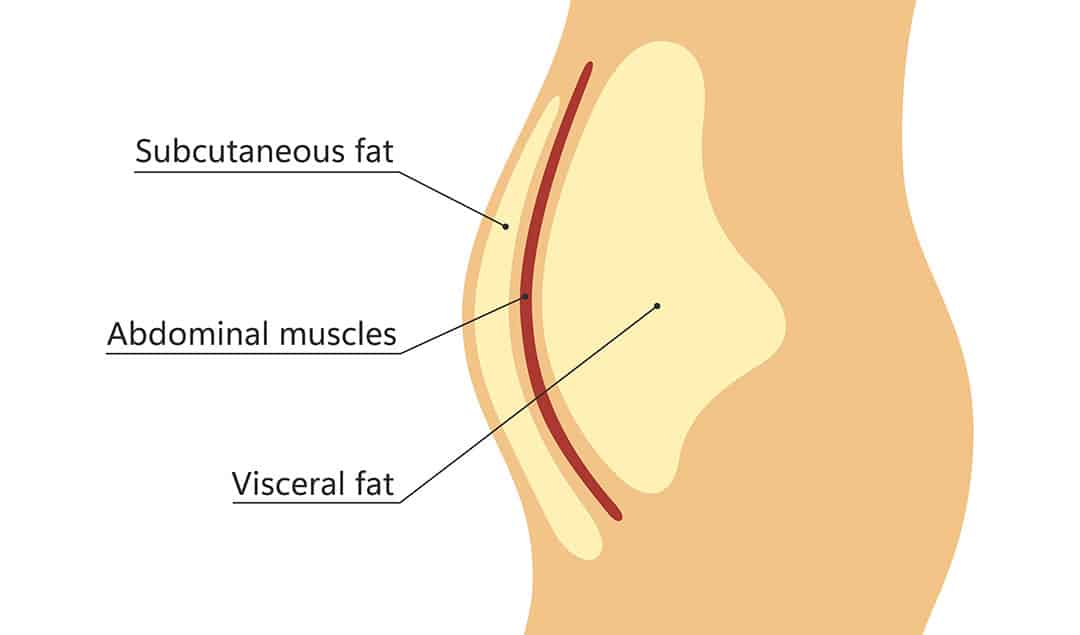 Abdominal fat is composed of two different types of fat: subcutaneous fat (the fat just under the skin) and visceral fat (the fat that surrounds the organs).
Subcutaneous fat is the fat you can pinch and that most people associate with "belly fat." Those with a pear-shaped body (most weight sits on the lower body) tend to have high levels of subcutaneous fat. Visceral fat is more prevalent in those with an apple-shaped body type (most weight sits in the middle).
So, how much belly fat is too much? A waistline of over 40 inches for men or 35 inches for women is considered "abdominal obesity" by most experts and will increase your risk of developing harmful health conditions.
How Excess Belly Fat Affects Your Health
Unfortunately, the more visceral fat you have, the more likely you are to suffer from health complications. That's because visceral fats tend to be more biologically active than other fat cells. Here are a few ways excess belly fat may be harming your health:
Excess belly fat leads to chronic inflammation.
Inflammation is one of the leading root causes of pain and most chronic diseases. Unfortunately, excess weight (especially around the abdomen) significantly increases inflammation throughout the body. Studies reveal that abdominal fat secretes two key compounds that increase inflammation in the body: cytokines and interleukin-6. The more abdominal fat you have, the more likely your risk of systemic inflammation and inflammatory health conditions.
Excess belly fat weakens the immune system.
Along with leading to increased rates of disease, the pro-inflammatory actions of excess belly fat also damage the immune system. Excess fat keeps our immune system in overdrive, constantly firing a low-grade immune response. Over time, the immune system becomes either weakened or over-responsive, leading to autoimmune disorders.
Excess belly fat disrupts insulin levels and blood lipids.
Studies show that excess belly fat is linked to insulin resistance. In this condition, your body doesn't respond to normal levels of insulin in the blood. As a result, glucose levels in the blood rise – as does your risk of diabetes.
Similarly, belly fat leads to an increase in total blood lipids (cholesterol). Scientists believe this is because abdominal fat sits so near the portal vein. This fat releases substances like fatty acids, which are then carried by the portal vein into the liver where it influences the production of blood lipids. In most cases, visceral fat causes increased levels of LDL ("bad" cholesterol) and decreased levels of HDL ("good" cholesterol).
Excess belly fat is linked to nutritional deficiencies.
Vitamin D is an essential vitamin needed for a range of body processes. Having enough vitamin D helps protect against heart disease, diabetes, cancer, bone loss, infections, and autoimmune diseases. Along with leading to increased rates of these conditions, excess belly fat is also linked to lower vitamin D levels – and therefore less protection against these conditions.
The Benefits of Losing Belly Fat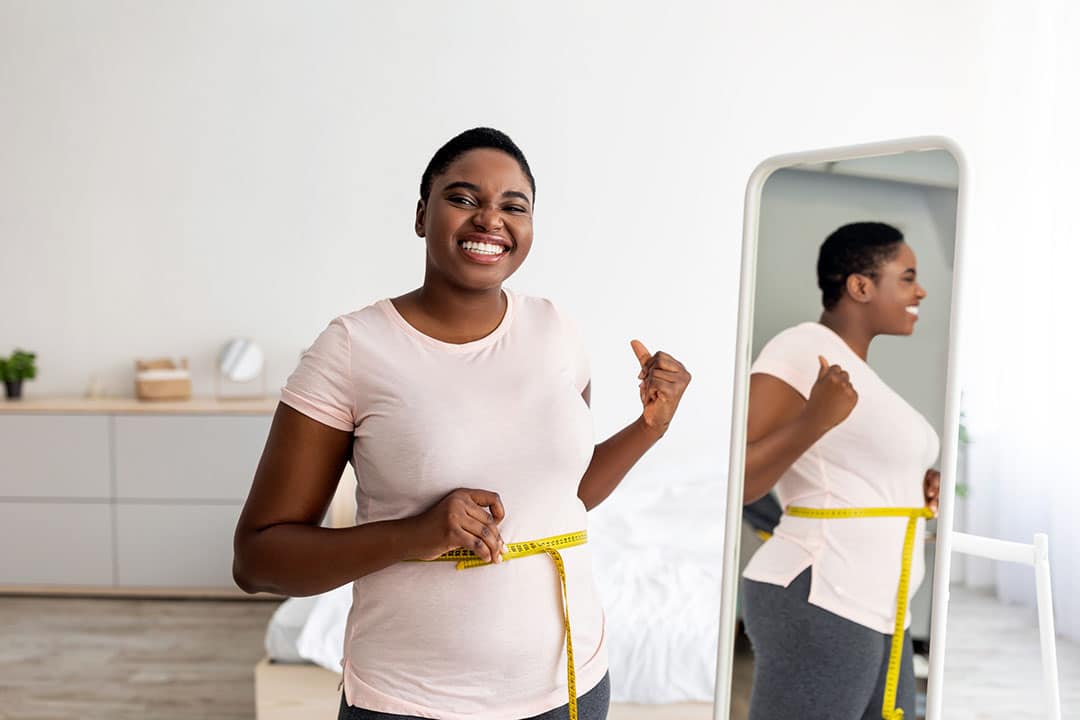 Just as there are health implications of having too much belly fat, there are also some great health benefits when you reduce your belly fat. Of course, feeling slimmer and more confident is one of the most obvious perks. But consider these other significant benefits of losing belly fat:

Improved heart health
Decreasing belly fat is one of the best ways to support your heart health. Reduced belly fat is linked to healthier blood pressure levels and a lower risk of atherosclerosis.

Reduced inflammation
Visceral fat releases hormones and inflammatory chemicals that increase inflammation throughout the body. The less visceral fat you have, the fewer inflammatory compounds will be released by that fat into your bloodstream. This leads to reduced pain as well as a reduced risk of autoimmune and chronic diseases.

Better blood sugar control
You don't have to reach your perfect weight before you notice improvements in your health. Even dropping a small percent of your visceral fat is enough to reduce issues like high blood sugar and insulin resistance, which triggers healing throughout the body.

Faster weight loss
As you reduce your visceral fat, you'll also improve your body's overall ability to burn more visceral and subcutaneous fat and eliminate toxins.

Boost in energy
Losing belly fat feels like a weight has been lifted – physically and mentally! Research shows that a 10% reduction in weight has significant benefits for your energy and mood.
11 Effective Tips to Lose Belly Fat
If you've ever tried to lose weight and trim your belly fat, you may have noticed that belly fat is stubborn. It tends to be easy to put on and difficult to shed, especially when you don't have a solid weight loss plan to follow.
The good news is that losing belly fat and improving your health doesn't have to be complicated. Follow these tips for healthy ways to burn belly fat and lose weight effectively.
Exercise Tips to Lose Belly Fat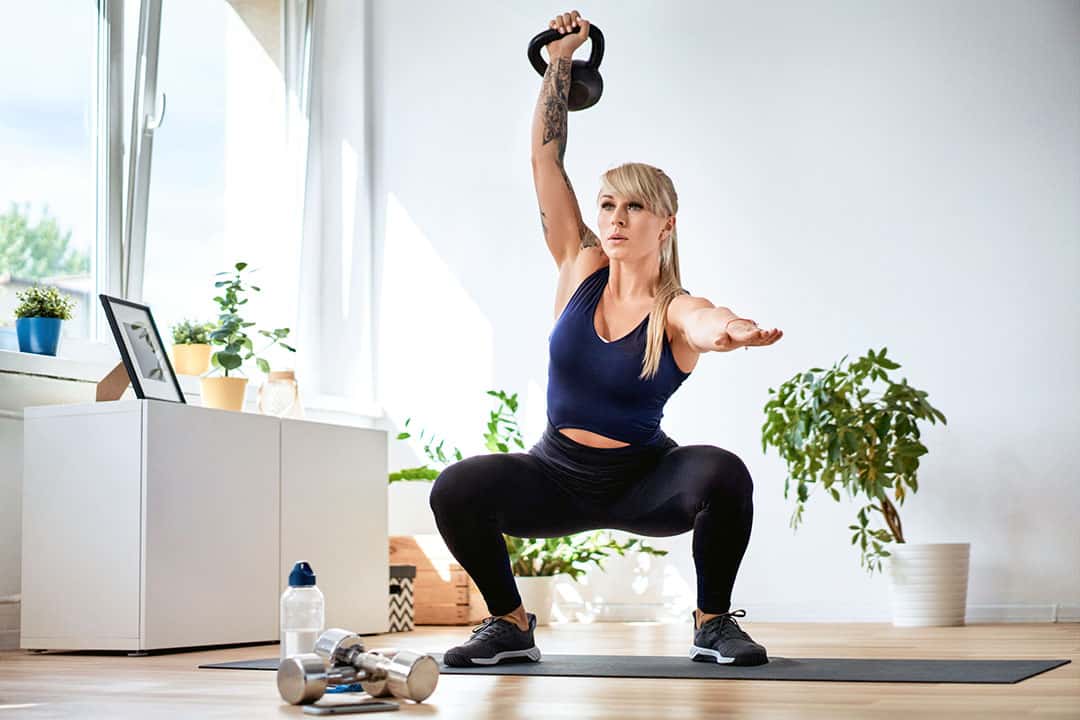 1) Try HIIT (high-intensity interval training) workouts.
HIIT workouts are popular among fitness newbies and enthusiasts alike. Why? They offer a proven method for burning fat (including visceral fat) effectively and efficiently, and often work faster than non-interval moderate-intensity workouts like cycling or running. Studies also show that HIIT workouts lower insulin resistance and improve glucose tolerance.
2) Build muscle mass with strength training.
Cardio is great for burning calories. But did you know that weight training is just as important when you're trying to burn belly fat? When you practice anaerobic strength training, you burn calories while building lean muscle mass. This muscle mass is more metabolic than any other body tissue, meaning it requires more energy to maintain throughout the day. The more muscle mass you have, the more calories (and fat) you will burn – even when you're at rest. Plus, strength training also helps you prevent other health issues such as bone loss and general weakness.
3) Exercise in the morning.
Studies show that exercising while your body is in a fasted state (such as first thing in the morning) can lead to more fat-burning and weight loss. You'll also get your heart rate up early on, which spikes your metabolism for the rest of the day. If exercising in the morning isn't possible for your schedule, try working out at other semi-fasted times, such as before lunch or dinner.
4) Stay consistent with an exercise you love.
You know that if you want to burn belly fat, you have to exercise. But if you dread your daily workout, your fat-burning goals will suffer sooner rather than later. The key to getting rid of that visceral belly fat for good is to stay consistent – and to be consistent, you need to enjoy it! While all exercise is challenging, there is at least one type of activity out there that will feel more like fun than a chore for you. Try different types of exercise to find the ones that make you excited to get moving.
Diet Tips to Lose Belly Fat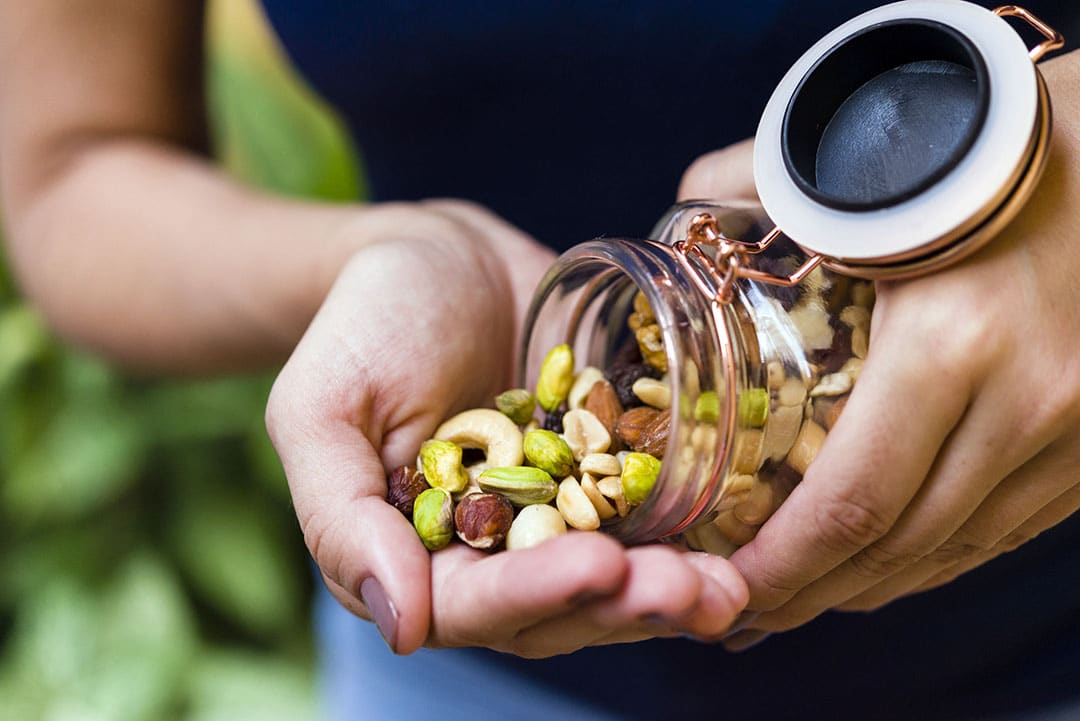 5) Fuel with healthy fats.
If you're thinking a low-fat diet will help you shed belly fat, think again. While fat was once believed to be the enemy of weight loss, research now shows that eating healthy fats in moderation is key for controlling your appetite, fueling your body, and even speeding up your metabolism.
Fat takes longer to digest than carbs and proteins, leaving you feeling full longer. Studies show that snacks high in fat and fiber (like avocado) increase satiety between meals and reduce unnecessary snacking. Fats also provide high-quality energy that you can use to power your workouts and stay focused throughout the day.
And lastly, when you eat mostly carbs, your body tends to burn circulating glucose as fuel. When your diet is mostly fat, however, your body uses stored fat to burn for energy. Stick to healthy fats for snacks, like fatty fish, nuts, seeds, and avocados.
6) Drink more water.
It sounds simple, but drinking more water really can help you lose belly fat! Your body needs water to properly metabolize stored fat. Studies show that increased water intake leads to more fat burning.
Water helps in other ways, too. Healthy hydration helps you feel fuller, reduces appetite, prevents unnecessary snacking, clears waste from the digestive tract, and boosts your metabolism. Plus, exercise is easier and more efficient when you're hydrated.
7) Restore your vitamin D.
Vitamin D is essential for well-functioning immune, cardiovascular, and nervous systems. But, if you're carrying around excess belly fat, it's likely that your vitamin D levels are low. Getting enough vitamin D through the sun or your diet is tricky, especially in the colder months of the year. That's why we recommend supplementing your vitamin D with a high-quality supplement like Aceva's Active D.
Active-D liquid drops provide a daily dose of the vitamin D you need to thrive without having to risk sun exposure or take a pill. Aceva's unique formula also contains vitamin K2, which helps vitamin D absorb properly into your system for the best benefits.
8) Get an extra burn with Aceva's Belly Fat Buster.
Losing deep visceral belly fat with diet and exercise alone takes time. When you're serious about losing belly fat fast, Aceva's Belly Fat Buster package can help. It gives your body the support it needs to reach your goals faster and more efficiently. Included are Aceva's three most powerful supplements to help you increase your daily burn:
Meta Trim encourages your body to burn stored fat as energy, which naturally reduces cravings, boosts your energy, and increases your total daily fat burn.
Ultrabiotic provides the best bacterial balance to your gut so you can absorb nutrients properly and improve your overall digestion.
Sugar Balance supports your body's weight loss and healthy blood sugar balance so you can overcome issues like insulin resistance and manage or prevent diabetes.
Lifestyle Tips to Lose Belly Fat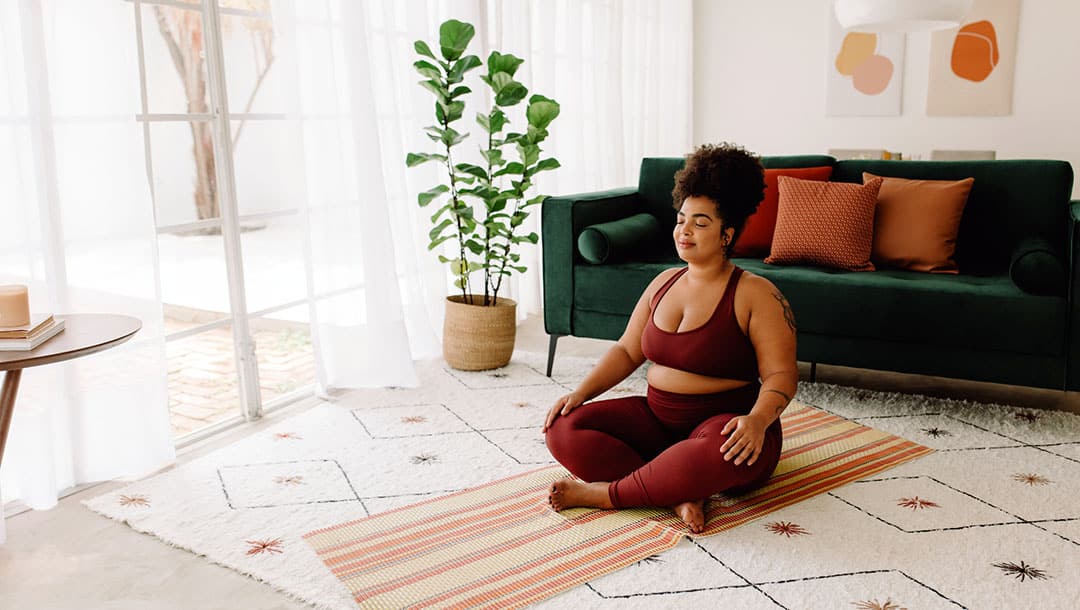 9) Don't skimp on sleep.
Burning the midnight oil won't help you burn more calories. In fact, you're more likely to gain weight and belly fat when you don't get enough sleep.
According to researcher Virend Somers M.D., Ph.D., "Normally, fat is preferentially deposited subcutaneously or under the skin. However, the inadequate sleep appears to redirect fat to the more dangerous visceral compartment. Importantly, although during recovery sleep there was a decrease in calorie intake and weight, visceral fat continued to increase. This suggests that inadequate sleep is a previously unrecognized trigger for visceral fat deposition, and that catch-up sleep, at least in the short term, does not reverse the visceral fat accumulation. In the long term, these findings implicate inadequate sleep as a contributor to the epidemics of obesity, cardiovascular and metabolic disease."
So, if you want to lose belly fat, you need to prioritize your sleep. Aim for 7-9 hours of uninterrupted sleep per night to give your body the rest it needs to burn fat properly and exercise efficiently.
10) Keep stress levels in check.
Along with sabotaging your cardiovascular health, high stress can lead to increased weight gain and – you guessed it – more belly fat.
When we're under chronic stress, the body constantly releases the hormone cortisol. Too much cortisol in the system leads to increased glucose production, which gets stored as fat. Over time, this excess glucose also causes insulin resistance and a vicious cycle begins.
Managing stress is crucial if you want to lose belly fat and enjoy good health. If you don't already have a go-to stress relief activity, try meditation or breathing exercises. They are a simple way to instantly calm your mind and body and fit into any schedule or lifestyle.
11) Get regular chiropractic adjustments.
Did you know the health of your spine can impact your weight? Chiropractic adjustments help ensure your spine is in an optimal position to support good digestion, eliminate extra adipose tissue, and support healthy muscle tone.
Chiropractic care manages and prevents pain so you can get the best possible results from your workouts. Adjustments also provide well-rounded support for a healthy nervous system, ease stress, and promote good quality sleep – all factors that set you up for healthy fat-burning and lasting weight loss.
Jumpstart Your Weight Loss with AlignLife
Losing a few inches around the middle could add years back to your life. But, fighting belly fat isn't always easy. AlignLife is here to make the journey faster, smarter, and smoother.
Along with helping you maintain your best alignment for whole-body health, your local AlignLife chiropractor can also help you plan the best weight loss plan for you. We help you identify the right diet, exercise plan, and supplements that will support your individual weight loss journey. 
Our patients across the country have been able to drop pounds and inches, simply by taking on their customized healthy lifestyle recommendations from our expert practitioners. Even better, they've been able to reclaim their health along with their confidence.