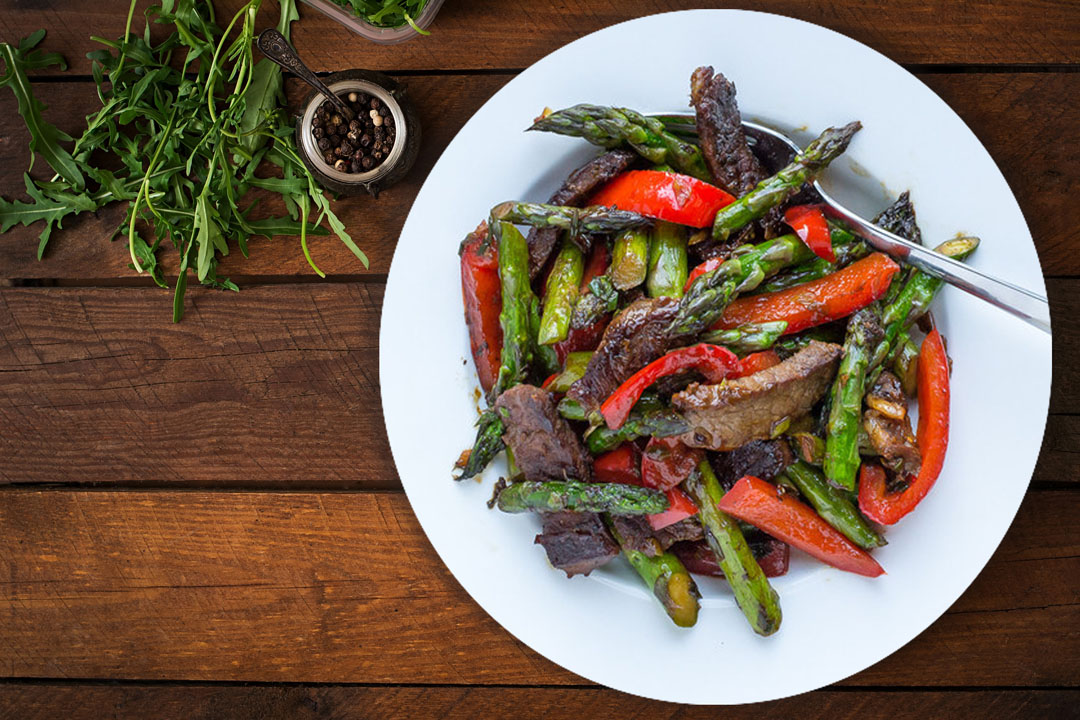 Looking for some recipes that will help you with your weight loss goals in the New Year? Try this MetaLife-approved recipe from Dr. Shonna Babrow-Goodrich, Nutrition Integration Consultant and Health Coach at Aceva.
Print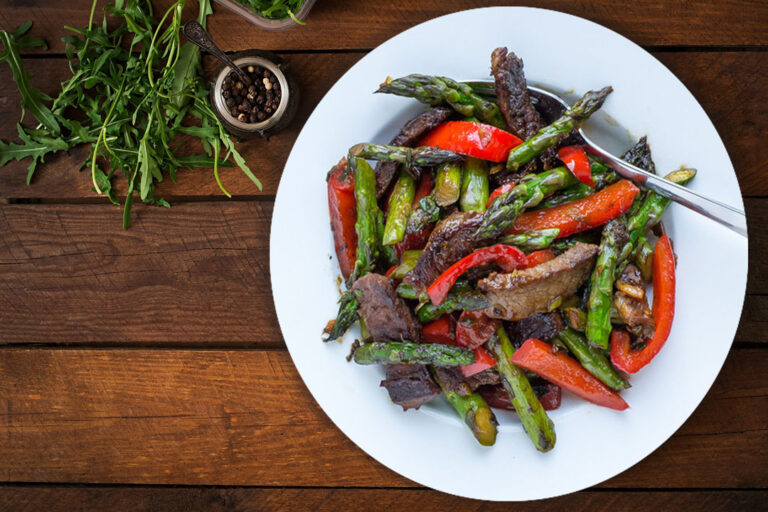 New York Strip and Asparagus Stir Fry
1

small bunch of asparagus

2

cloves garlic

1

(1 inch) piece ginger root

½

small bunch of green onions (scallions)

1

red bell pepper

1/2

lb strip-loin (New York strip) steak

1 tsp

almond flour

1/8

crushed red pepper

2 Tbsp

gluten-free soy-sauce (Tamari) or Braggs liquid aminos

1 tsp

toasted sesame oil

2 Tbsp

virgin coconut oil
Instructions
Make the slurry
In a small bowl, make a slurry by whisking 2 Tbsp cold water with 1 tsp almond flour until smooth.
Add 2 Tbsp gluten-free soy sauce, 1 tsp sesame oil, and 1/8 red pepper.
Whisk together. Set aside.
Prep produce
Wash the fresh produce. Snap (or cut) off woody ends from the asparagus, then cut on an angle into 2-inch pieces; transfer to a large bowl.
Seed and cut the bell pepper into 2-inch strips; add to the bowl with asparagus.
Trim green onion ends and chop on an angle; transfer to a small bowl.
Peel and mince or grate the ginger. Peel and mince the garlic. Transfer both to a small bowl.
Cook the New York Strip steak
Heat a skillet over medium-high heat.
Slice the steak into thin strips.
Add oil to the skillet and swirl to coat the bottom.
Add the steak strips and cook until browned, 1-2 minutes per side. Transfer to a plate.
Stir-fry vegetables
Once the steak has been transferred, add 1 Tbsp oil to the skillet.
Add the asparagus, bell pepper, ginger, and garlic.
Cook, stirring frequently until vegetables are crisp-tender and lightly browned, 2-3 minutes.
Mix and serve
Return beef to the skillet and add green onions and sauce.
Cook until sauce is slightly thickened, 1-2 minutes.
To serve, place stir fry in a bowl and enjoy!
The MetaLife™ System from Aceva is designed for those looking for a personalized approach to healthful, sustainable weight loss. This transformational system will regulate the essential hormones necessary to create the signature MetaLife triad: reduced cravings, increased energy and 24hr fat burning. Unlike diet fads, the MetaLife System utilizes cutting-edge technology to ensure you are burning fat but not losing muscle. This is the key to maintaining weight loss the long haul. To learn more, visit metalifesystem.com
MetaLife Units (Per Serving)
2 Protein Units
1.5 Fat Units
0 Carbohydrate Units
Recipe by: Dr. Shonna Babrow-Goodrich, Aceva