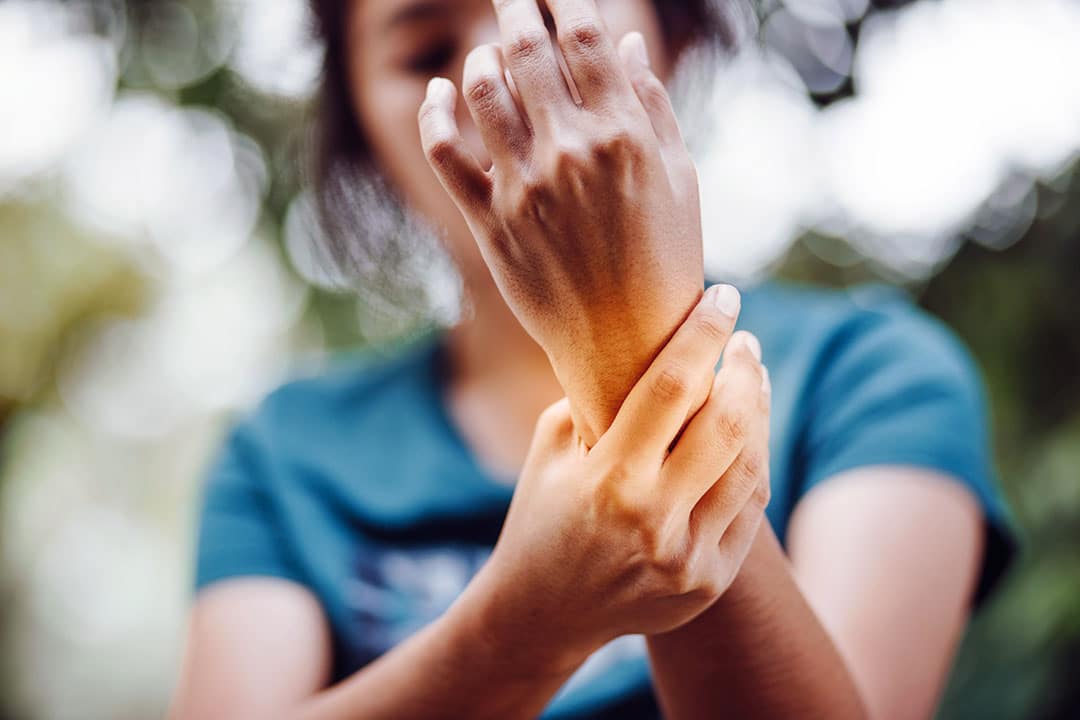 Is aching, tingling, or searing wrist pain keeping you from doing the activities you love (or need) to do? You might be suffering from carpal tunnel syndrome.
Carpal tunnel syndrome is a common pain condition that limits your ability to use your wrist, hands, and fingers. And let's face it, from typing to texting, cooking to crafting, most of our daily activities revolve around our ability to work with our hands.
Many people let carpal tunnel syndrome linger in the background until there's no other option but surgery (or so it seems). The truth is, chiropractic care and other natural remedies can relieve carpal tunnel syndrome pain without going under the knife – and keep it from coming back.
What is Carpal Tunnel Syndrome?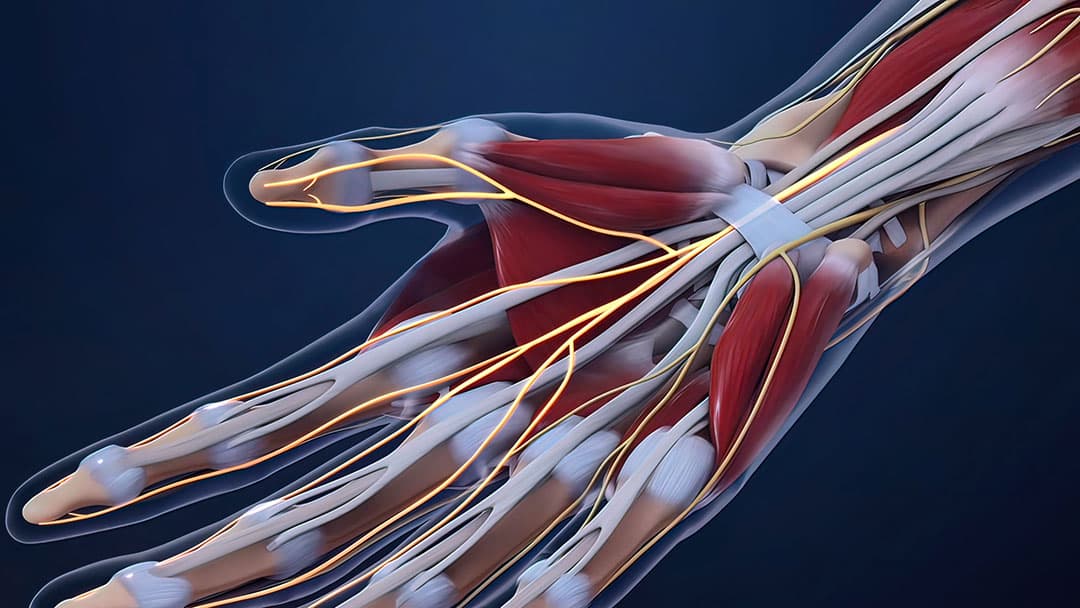 Carpal tunnel syndrome is the feeling of pain, numbness, and/or tingling along your wrist, hands, and finger. This sensation occurs when there is pressure on the median nerve where it runs through the "carpal tunnel" from the wrist into the hand.
Carpal tunnel syndrome often comes on gradually. It may be so mild at first that many people shrug it off until the pain or numbness persists. At first, you may notice a strange sensation in your index, middle, or ring fingers. This could feel like tingling, numbness, or even an electric shock. In some cases, you may be able to feel the sensation travel from your forearm or wrist directly into your fingers. 
While you can feel this pain or numbness at any time, it tends to occur more often when doing things that put pressure on the wrist, such as driving, texting, or lifting. You may also notice you have less grip strength in your hands or fingers or become more prone to dropping things.
Common Carpal Tunnel Symptoms
Ache or pain in the fingers, hand, or arm (often worse at night)
Numbness of the hands
Tingling or "pins and needles" sensation in the hand or fingers 
A weak grip, especially for the thumb
What Causes Carpal Tunnel?
Pressure on the median nerve is the direct cause of carpal tunnel syndrome. Anything that squeezes, presses, or irritates this nerve can lead to pain along the nerve's path through the wrist and into the fingers. So, what puts that pressure on the median nerve?
Anatomical issues or injuries
Injuries or anatomical changes that alter the carpal tunnel can lead to pressure on the nerve and pain. These include wrist or hand fractures, wrist dislocation, arthritic spurs, ganglion cysts, and tumors.
But your wrist isn't the only place where problems can arise. Because the cervical spine impacts the function and sensations of the entire upper extremity, misalignments or structural issues in the neck are often hidden root causes of carpal tunnel pain.
The most common factors that lead to carpal tunnel syndrome tend to be habits related to overuse, like typing. But any repetitive motions that stress the wrist joint can trigger pain, whether at home, work, or play. Texting, knitting, painting, and racket sports are other common causes.
Arthritis is an inflammatory condition that affects the joints. But, that doesn't mean it can't have an effect on the nerves as well. When arthritis isn't treated or managed well, it can cause spurs to form on the carpal bones (the bones that make up the hand), which traps the nerves and leads to numbness and pain.
Rheumatoid arthritis (RA) may trigger carpal tunnel syndrome even more severely. In this condition, increased levels of inflammation cause expansion of the synovial joints, erosion of the joints, and weakened ligaments which then compress the median nerve and cause that characteristic numbness, tingling, and pain.
Other inflammatory conditions
Aside from arthritis, other inflammatory conditions like tendonitis, gout, or diabetes cause increased swelling and pressure on the median nerve.
During pregnancy, the change in hormones causes the body to hold on to extra fluids. This can lead to swelling in the arm which causes carpal tunnel syndrome in up to 62% of pregnant women.
Carpal tunnel syndrome tends to affect us more commonly the older we get. While age itself doesn't necessarily cause carpal tunnel syndrome, older people are more likely to suffer from issues like arthritis, inflammation, and swelling that impact the median nerve. Being older also means more years of repetitive movements and overuse of the wrist, hands, and fingers.
How to Get Relief from Carpal Tunnel (Without Surgery)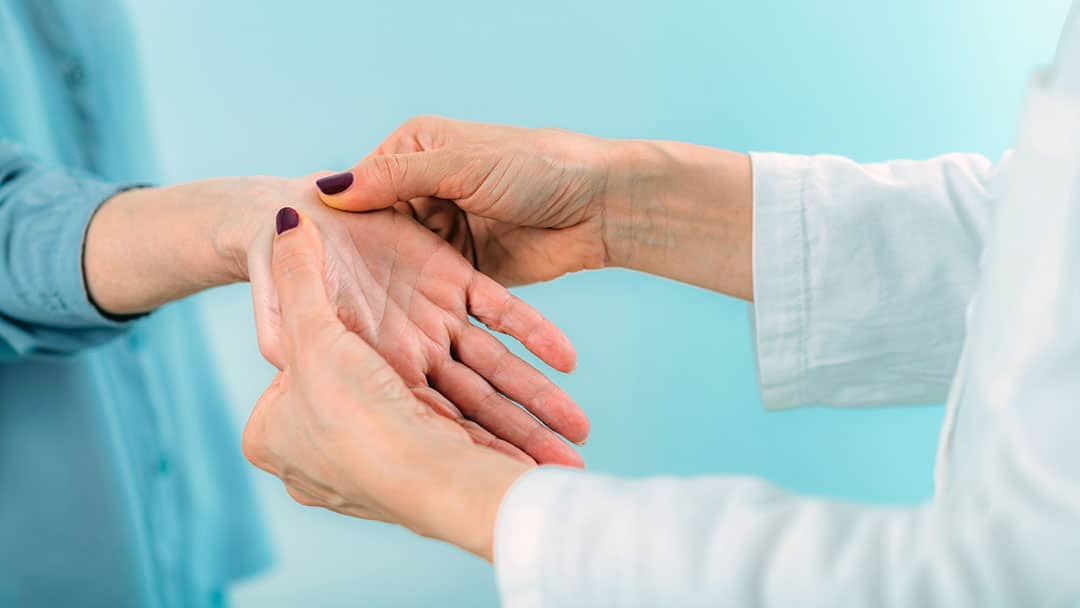 Carpal tunnel syndrome can be extremely uncomfortable and may significantly interfere with your daily life. So, it's no surprise that many people look to surgery for relief. The trouble is, surgery is the most invasive way to get carpal tunnel relief. Before turning to surgery, consider these natural ways to relieve carpal tunnel pain:
For most people, carpal tunnel syndrome is either caused or worsened by overuse. If you work with your hands, take frequent breaks throughout the day to reduce the strain on your wrists.
2) Wear wrist braces or kinesiotape.
Wrist braces can help to support your wrist while you work, or alleviate pressure while you sleep. Kinesiotape works in a similar way and can be more comfortable than a brace. With the correct taping strategy based on your wrist and symptoms, you can encourage proper form and function of the wrist while also relieving pressure on the nerves. 
3) Practice daily hand and wrist stretches.
Stretching helps ease an aching back or sore leg muscles – and it works on carpal tunnel pain, too! Practice carpal tunnel syndrome stretches to open the wrist joint like wrist circles, grip exercises, bending the hands back and forward, and gently pulling and stretching each finger. It's also helpful to stretch the other muscles and joints along the same kinetic chain: your neck, shoulders, and elbows. Your AlignLife chiropractor can help you create a daily stretching routine that works best for you.
4) Get regular hand and wrist massages.
Getting a hand and wrist massage can relieve carpal tunnel pain and increase circulation. It also helps flush extra fluids and inflammation from the area to relieve pressure on the median nerve. Seek out a massage therapist that specializes in lymphatic drainage or sports massage, or try doing a therapeutic self-massage at home. 
5) Eat an anti-inflammatory diet.
No matter what is causing your carpal tunnel syndrome, it's likely that inflammation will trigger more pain and stall your healing. That's why reducing inflammation is key if you want to get lasting relief without surgery. 
Focus on foods that reduce inflammation, such as antioxidant-rich fruits, veggies, and healthy fats. Avoid foods that cause inflammation, like fried food, refined sugar, refined grains, saturated fat, and foods with additives or chemicals. 
6) Manage pain and inflammation with natural supplements.
Supplements can be a game-changer when it comes to managing your pain naturally. Not only do they reduce your pain and need for potentially harmful over-the-counter medications like NSAIDs, but they also support your body's own ability to reduce inflammation and heal the nerves and joints.
Aceva's Pain Pack is the best choice if you're suffering from carpal tunnel syndrome (or want to prevent it). This duo reduces pain-causing inflammation with a powerful combination of turmeric, omega-3 fatty acids, and other herbal ingredients proven to calm discomfort and promote healing.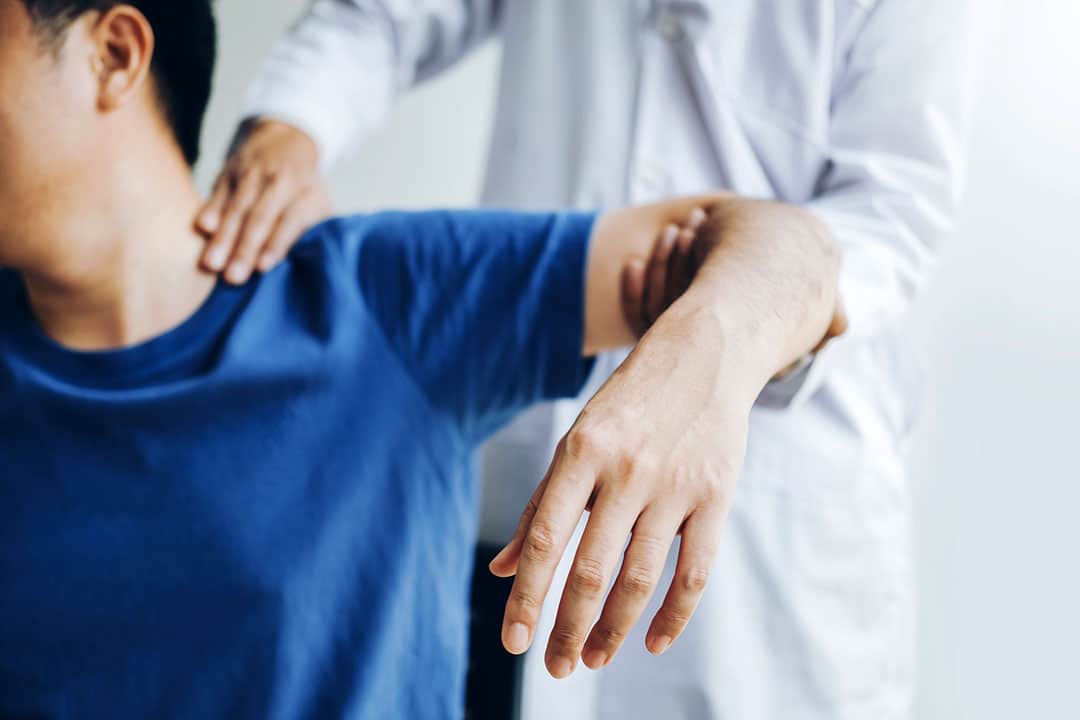 7) See your chiropractor.
Oftentimes, carpal tunnel syndrome is the manifestation of misalignments, disc degeneration, or bone spurs in the cervical spine. Whatever the cause, chiropractic can help. 
Your AlignLife chiropractor will be able to examine your body to find and address the root cause of uncomfortable tingling or pain. From there, adjustments, massage, and therapeutic exercises can be used to relieve nerve compression naturally. This allows your nerves to sit freely and comfortably through the neck, arm, wrist, and fingers and relieve carpal tunnel pain.
Chiropractic Care to Relieve Carpal Tunnel Syndrome Pain
For a few lucky people, carpal tunnel syndrome goes away with rest and anti-inflammatory lifestyle habits. Left untreated, however, it can lead to permanent muscle and nerve damage. Waiting for carpal tunnel syndrome to disappear is simply not worth the risk. 
The good news is that carpal tunnel syndrome is a relatively straightforward condition to reverse when you have the right care. 
Along with a healthy lifestyle, chiropractic care should be the first line of defense when you start to notice carpal tunnel syndrome symptoms. Your AlignLife chiropractor will be able to identify the root causes of your pain or numbness and apply the best techniques and therapies to relieve the pain, restore nerve function, and prevent carpal tunnel syndrome from coming back. Schedule your visit with an AlignLife chiropractor near you today!