It's safe to say that I love pretty much any chicken recipe. But there's something about this mix of fresh and tangy flavors that has my mouth watering the minute the words Grilled Chicken Gyros (pronounced YEE-ros) hit my weekly meal plan. Better yet, my kids also love it… although some deconstruct it on their plate more than others!  
Take a look at how to make this relatively easy, but never boring dish and add it to your summer rotation!  It's the perfect meal for a summer BBQ or for nights when you need something quick and delicious to throw on the grill. 
Print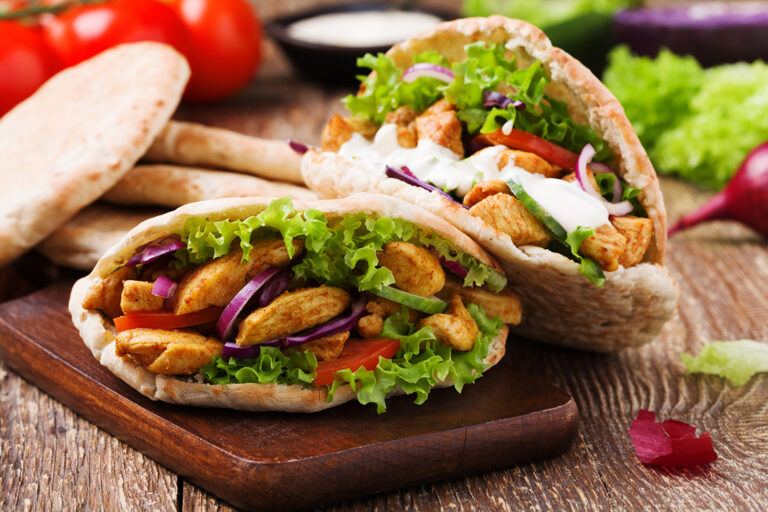 Grilled Chicken Gyros
Total Time:

1 hour 10 minutes
Chicken Skewers
4 boneless chicken breasts 
4 Tbsp olive oil
2 Tbsp red wine vinegar
1 Tbsp lemon juice (freshly squeezed is best)
1 clove of garlic, minced
2 tsp dried oregano
1 tsp salt 
½ tsp freshly ground pepper
Tzatziki sauce
1 cucumber, finely grated and well-drained
1 1/2 cups plain full-fat Greek yogurt (use coconut milk yogurt for a dairy-free version)
2 garlic cloves, minced
2 Tbsp olive oil
1 Tbsp red wine vinegar
½ tsp salt
2 tsp dill
Wrap and Toppings
7 whole-wheat pitas
1 fresh cucumber, sliced 
1 small red onion, sliced
1 large tomato
Feta cheese, crumbled (optional)
Kalamata olives, sliced (optional)
Instructions
Chicken Skewers
Place wooden skewers into a bowl of water to soak for at least an hour.

Cut chicken breasts into small chunks and place them in a large bowl.

Mix marinade ingredients (olive oil, red wine vinegar, lemon juice, garlic, oregano, salt, and pepper) in a small bowl. 

Pour marinade over chicken and mix well.

Cover with plastic wrap and put in the fridge to marinate for at least an hour

Once marinaded, thread chicken pieces onto skewers. 

Preheat your grill or griddle pan to high heat.

Place chicken on the grill and cook for about 8 to 10 minutes, turning occasionally, until it's nicely browned and the chicken is fully cooked. 
Tzatziki sauce
Grate the cucumber and drain in a fine-mesh sieve overnight in the fridge. If you don't have time to let it drain overnight, you can "milk" it! Simply cut the ends off, then squeeze the cucumber from the top down to release the excess liquid out the end.  

Combine the yogurt, garlic, oil, vinegar, and salt in a large bowl. Mix until smooth, cover, and refrigerate overnight.

Add the grated cucumber and dill to the yogurt mixture and stir until blended. 
Wrap
Spread tzatziki sauce over a warm pita. Top with 3-4 oz of chicken, tomatoes, cucumbers, red onion, olives, and feta cheese. 

Fold pita in half and enjoy!
Prep Time:

1 hour

Cook Time:

10 minutes

Category:

Dinner
Four Ways to Eat Chicken Gyros
The great thing about this recipe is that you can tailor it to your diet pretty easily. Skip the pita to make it gluten-free. Or, swap Greek yogurt out for coconut milk yogurt if you're trying to avoid dairy. Here are some of our favorite ways to eat it.
Throw it on a pita. This is one of the most popular and the base for the recipe above. You really can't go wrong with the combo.
Make it into kabobs. Not eating bread? Transfer the kabobs from the grill to your plate and make fresh cucumber salad out of the toppings to have on the side. Don't forget to drizzle or add a side of tzatziki sauce to your plate to dip!
Toss it on a salad. Like eating greens with your meal? You can turn this whole dish into a tasty salad. Start with a bed of spinach, add your chicken to the top, then top with tomato, cucumber, red onion, olives, and feta for a flavor-packed meal. Use the tzatziki sauce as your dressing or add in some red wine vinegar dressing for a little extra flavor.
Serve it over brown rice. These flavors are also great over a warm bed of rice. Mix the chicken, tomato, cucumber, red onion, olives, and feta together then drizzle tzatziki sauce over the top.
Fun Facts about Chicken Gyros
Here's an interesting food history fact that you may not know. Many food historians think both the word "gyro" (pronounced YEE-ro) and the "sandwich" as we know it in the U.S. originated in New York during the 1970s. A traditional gyro is also made from lamb, not chicken. That doesn't mean these flavors can't be found in Greece, however. If you're trying to order something like this recipe in Greece, you might have better luck asking for Chicken Souvlaki, which means skewered meat!