We love recipes that you can easily twist and change to make your own. It's safe to say this egg frittata recipe falls firmly in this category and is oh-so-delicious!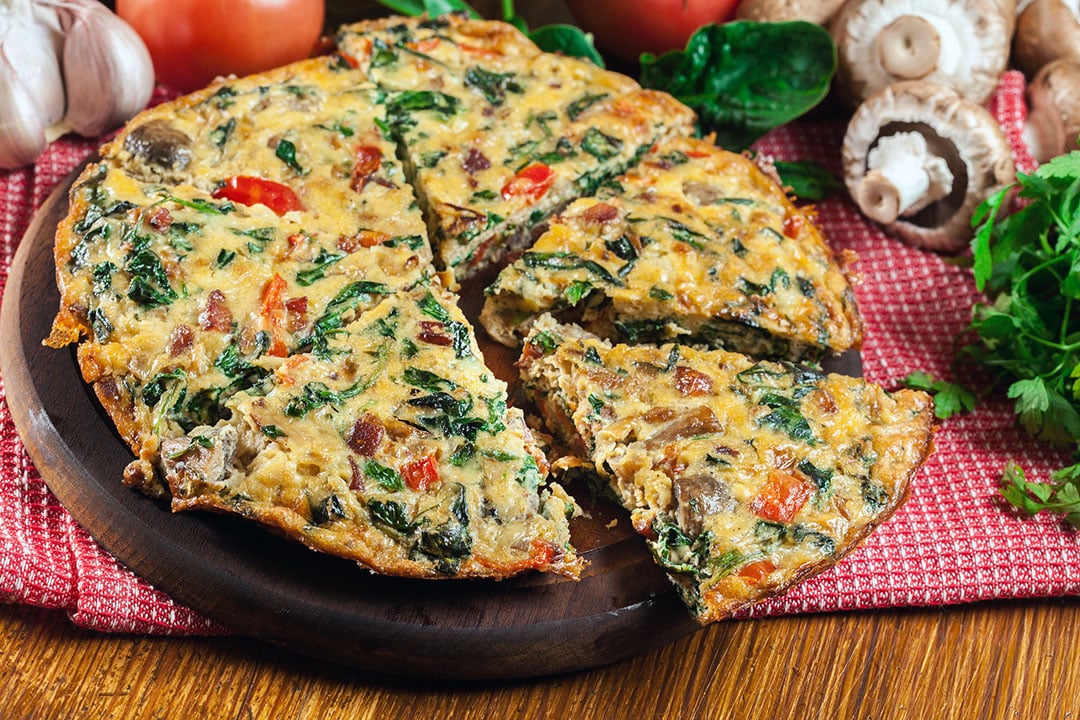 Packed with protein for a hearty breakfast, lunch, snack or dinner (no one puts eggs in a corner), you can eat this egg frittata warm, cold, or even at room temperature. We think warm is best, but again, it's all up to your preference!  
An egg frittata is also a great way to use up those end-of-the week veggies, so dig in your fridge, pull out your favorite combos (or follow the combo we have below), and let's get cooking!
First, let's dive into what a frittata is. A frittata is an egg-based Italian dish similar to an omelet or crustless quiche. Typically, they are loaded with some of your favorite ingredients for added flavor like meats, cheese, or vegetables. If you're following Paleo or an anti-inflammatory diet, skip the dairy and cheese like in this frittata recipe below, or use a non-dairy milk as an alternative to add a fluffier texture.
What's the difference between a frittata, an omelet, and a quiche?
It all comes down to how you whisk and cook the eggs, really. To make an omelet, you whisk the eggs just until blended before cooking. When you make a frittata, you keep whisking the eggs until they reach a custard-like consistency. Also, omelets are typically a thin layer of egg made for one, while a frittata is more hearty and meant to be shared. A quiche is similar in size to a frittata, but it is traditionally made with a crust that is similar to a pie crust. A frittata doesn't have a crust. 
How do you make a frittata?
An egg frittata is actually pretty simple to make, but ratios do matter to get the texture right. Experiment with it to find a ratio you love then memorize it! Here are a few more tips to help you in your journey of making a frittata. 
Make sure you use the right type of pan.
Frittatas start on the stovetop and finish in the oven. So grab an oven-safe, 10 or 12-inch skillet that works in both. A well-seasoned cast iron skillet is best if you have one on hand.
Cook your veggies before adding them to your egg mixture.
A quick sautee of your veggies can really enhance the flavors of your frittata. Toss a little extra-virgin olive oil or avocado oil in a pan and saute away. If you're using firmer vegetables like sweet potatoes, this gives them a chance to soften up more. Or, if you're using softer vegetables with higher water content (like mushrooms and spinach), this gives them a chance to release excess moisture. 
Don't overcook your eggs on the stovetop.
Keep your heat set to low or medium-low and cook just until the edges of your frittata have set before moving your frittata to the oven to finish cooking. This will only take a few minutes, so keep a watchful eye, or you risk the bottom burning! 
Don't overcook your frittata in the oven.
Overcooking a frittata in the oven can make it dry and rubbery. Cook the frittata just until the center is no longer jiggly and the edges are golden brown. If you're not sure, poke a sharp knife in the center. If raw eggs run into the cut, keep it in the oven for a few more minutes. Once done, pull it out of the oven and let it cool for five minutes before slicing. 
Print
6

eggs (8 for a 12-inch skillet)

¼ cup

unsweetened non-dairy milk

½ cup

mushrooms (sliced)

½ cup

red pepper (chopped)

2 cups

baby spinach

⅛ cup

onion

¼ teaspoon

sea salt

2

cloves garlic, minced
Freshly ground black pepper
Avocado or extra-virgin olive oil
Instructions
Heat the oven. Preheat the oven to 400°F.
Make egg mixture. Whisk the eggs, non-dairy milk, and 1/2 teaspoon salt together in a small bowl. Set aside.
Saute vegetables. Drizzle your oven-safe frying pan with avocado oil or olive oil. Saute veggies at medium heat until soft. For this recipe, we're using sliced mushrooms, minced garlic, chopped red pepper, and chopped onion.
Cook spinach. Add baby spinach to veggies and cook, stirring for 30 seconds to 1 minute until spinach wilts.
Pour egg mixture over vegetables. Once eggs are poured over the vegetables, tilt the pan slightly to make sure the eggs are evenly spread out.
Cook the frittata on the stove. Cook at medium heat on the stovetop for a minute or two until you see the eggs at the edges of the pan beginning to set.
Move the frittata skillet to the oven to finish cooking. Bake at 400°F until the eggs are set, which typically takes 8 to 10 minutes. To check, cut a small slit in the center of the frittata. If raw eggs run into the cut, bake for another few minutes.
Crisp the top. For a browned, crispy top, run the frittata under the broiler for a minute or two at the end of cooking.
Cool and serve. Cool in the pan for 5 minutes, then slice into wedges and serve.
FREQUENTLY ASKED QUESTIONS
What else can I put in my frittata?
Feel free to add any chopped veggies! Bell peppers, broccoli, and chopped asparagus are all great options. You can also chop up and add additional proteins. You can completely customize it to your liking and taste!
Do I have to use dairy in my frittata?
No. This recipe calls for non-dairy milk to keep it Paleo and anti-inflammatory friendly. But you can actually skip the milk entirely if you'd like! Milk or non-dairy forms of milk (almond milk, coconut milk, cashew milk, oat milk) simply help you get that creamy frittata texture right. You also can use any form of dairy, from sour cream to yogurt to cottage cheese! Just follow the rule for every dozen eggs, you'll need about a half cup of dairy.  
Could I make frittata muffins?
Yes! Just spray some oil into your muffin tin, place your choice of toppings in each space, pour the egg mixture over them, and bake in the oven for 15 to 20 minutes at 350°F. You can also try these Denver Omelet Muffins that are delicious!
How do I store a leftover frittata?
Storing a leftover frittata is easy, and it makes for great make-ahead meals throughout the week! Just pop your leftover frittata into an airtight container and place it in the fridge. It will stay fresh for up to 3 days, so all you'll need to do is grab a slice, warm it up (or eat it cold), and enjoy!!