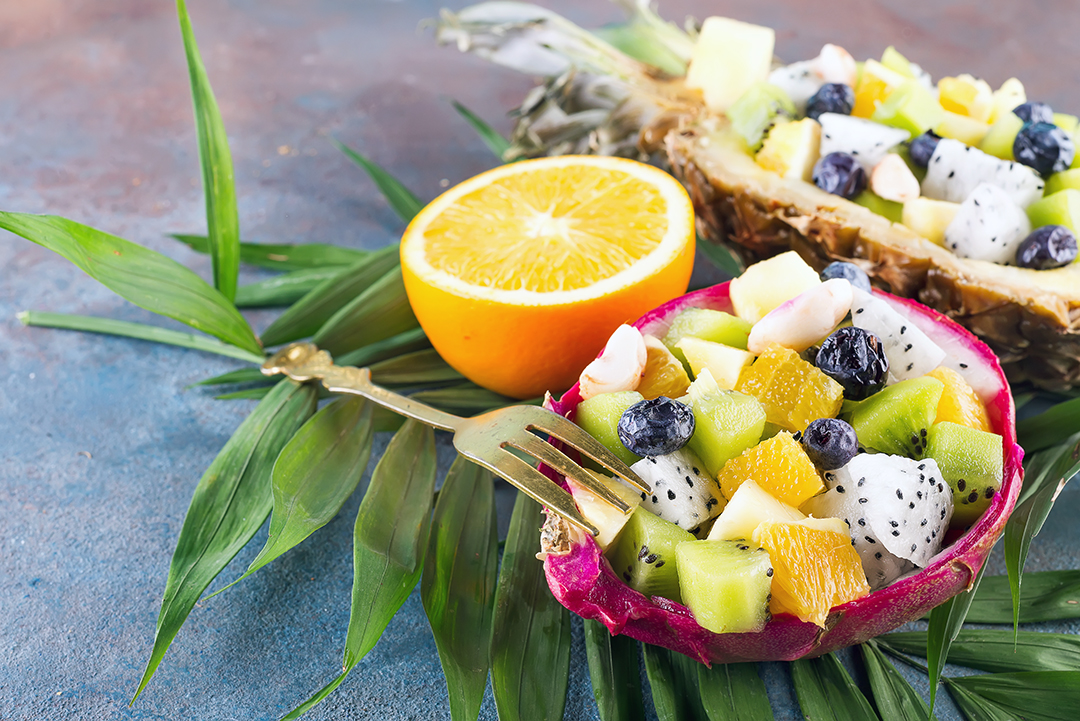 Ever heard of Dragon Fruit? A recent trip to an International Farmer's Market in DeKalb County, GA yielded a great find. Sitting next to the cherries, kiwis and other seasonal fruits was a shocking pink bulbous newcomer with a surprise: the interior fruit was white and speckled with black kiwi-like seeds! Turns out, it's also great in salad, making this a must-try recipe for any lunch or dinner you have coming up this spring and summer.
Print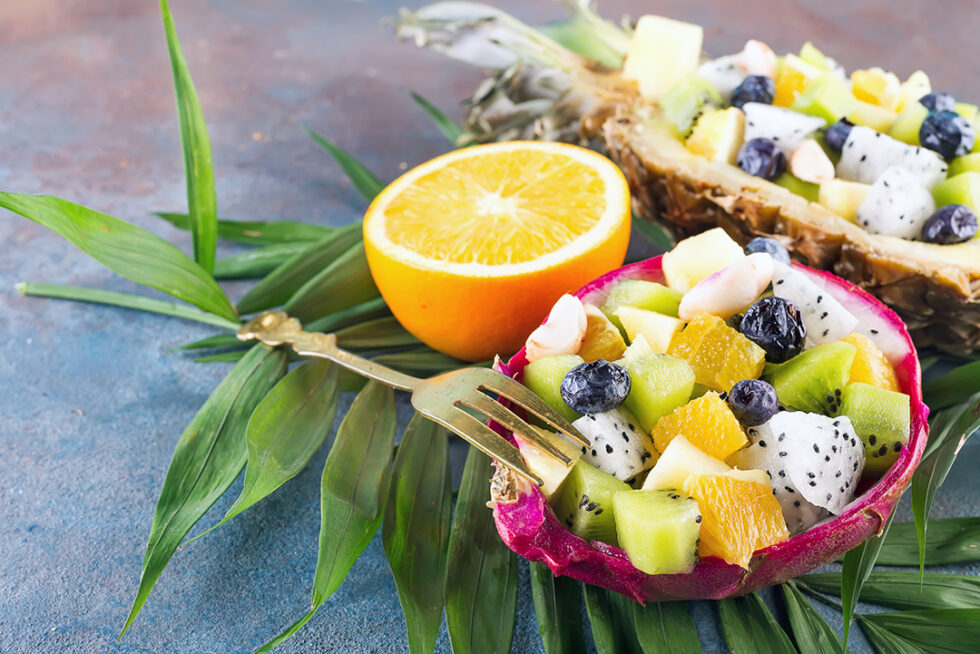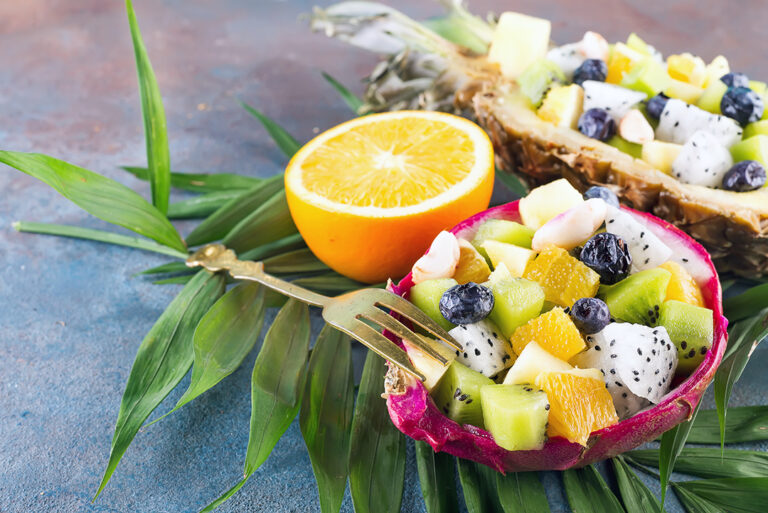 1

dragon fruit, cubed

1/2 pint

blueberries

1

lb package strawberries, quartered

4

kiwi, cubed

4

oranges, sliced

1

can coconut milk

1/4 cup

agave nectar

1/8 tsp

sea salt
Optional fruit add-ins: raspberries, bananas, mango, and more! Have fun with all your favorite fruit flavors!
Instructions
Cut fruit and mix in a bowl, sprinkling on delicate blueberries last to prevent crushing.
Mix coconut milk, agave, and salt well with a whisk.
Pour over fruit and serve!
What health benefits does dragon fruit offer?
It's packed with vitamins and minerals! Just check out this nutrition breakdown for a one-cup serving!

Calories: 136
Protein: 3 grams
Fat: 0 grams
Carbohydrates: 29 grams
Fiber: 7 grams
Iron: 8% of the RDI
Magnesium: 18% of the RDI
Vitamin C: 9% of the RDI
Vitamin E: 4% of the RDI

It's rich in antioxidants which helps your body protect itself from chronic diseases and premature aging.
It's high in fiber (and naturally fat-free), making it a good snack between meals that helps you feel fuller longer.
It contains prebiotics and helps you digest food better. These are foods that help feed the healthy bacteria in your gut. Dragon fruit has been shown to specifically encourage the growth of probiotics lactobacilli and bifidobacteria.
It can help strengthen your immune system.
It can help boost your iron levels.
How do I select the perfect dragon fruit?
It is easy to select a ripe dragon fruit. It should yield to pressure like a ripe kiwi or avocado. To prepare dragon fruit, cut it in half like an avocado without a pit and scoop the white flesh from the pink skin (all pink should be removed as it is inedible).
What does dragon fruit taste like?
The flavor of dragon fruit is not as tart as kiwi and the fruit has a slightly crisper texture, perfect for a fruit salad.
How much will dragon fruit cost me?
One dragon fruit is good-sized. You can expect to pay at least $2.5-$3.00 for each.
Where does dragon fruit originally come from?
Dragon fruit is grown in South America, Southeast Asia, and Israel and is a member of the cactus family.