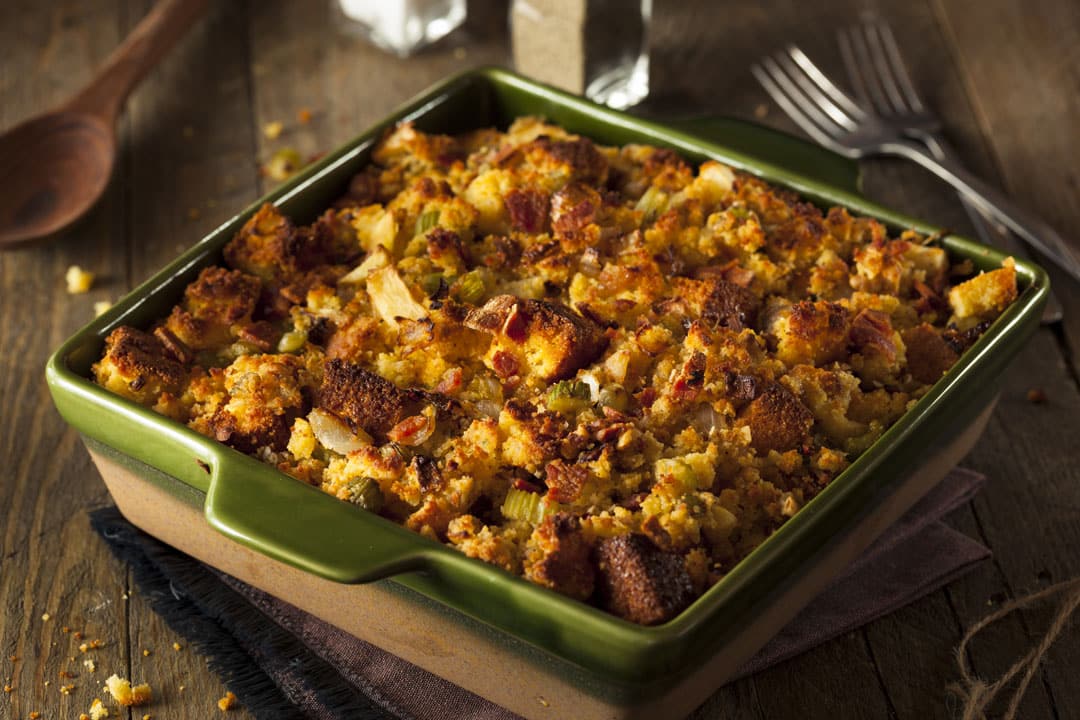 Here is a new twist on a holiday favorite that you simply have to try! It calls for adding tasty and healthy ingredients such as apples and pecans to traditional cornbread stuffing, and results in a taste that will have dinner guests asking for seconds. If you like a bit of poultry flavor in your stuffing like we do, choose the optional poultry seasoning. And you can make the recipe gluten-free if you opt for gluten-free dry bread stuffing mix (widely available online at Amazon and other outlets).
Print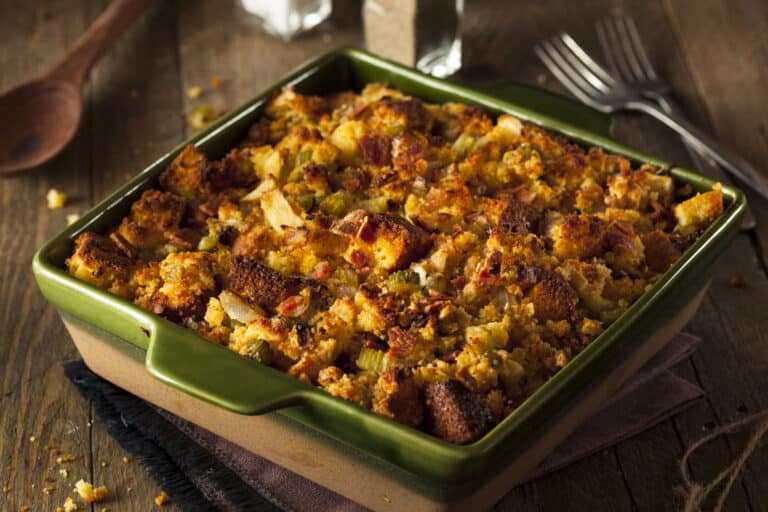 Apple Pecan Cornbread Stuffing
1/2

(9×9 inch) pan cornbread, cooled and crumbled

2 cups

herb-seasoned dry bread stuffing mix (gluten-free options available)

1 tablespoon

chopped fresh parsley

1/4 teaspoon

Himalayan or sea salt

1/4 teaspoon

ground ginger

3 tablespoons

butter

1/2 cup

chopped celery

1/2 cup

chopped onion

1 cup

no sugar added apple juice

1 cup

chopped apples

1/2 cup

eggs beaten – about 2 large eggs (preferably cage-free organic)

1/2 cup

chopped pecans

1/4 teaspoon

poultry flavoring (optional)
As always, choose organic content and fresh content as much as possible for the healthiest recipe. Also, wash all fruits and vegetables before cutting or adding to the recipe.
Instructions
Preheat oven to 350 degrees F (175 degrees C). Butter one 2-quart casserole dish.
In a large bowl, combine the cornbread, stuffing mix, parsley, salt, and ginger.
In a heavy saucepan, melt the butter and saute the celery and onion for 8 to 10 minutes or until tender. Add this to the cornbread mixture and mix well. Stir in the chopped apple, chopped pecans, apple juice, and beaten eggs.
Toss lightly.
Spoon dressing into the prepared casserole dish
Bake for 30 to 35 minutes. Serves 10, can be doubled.
Original recipe inspiration: SparkRecipes