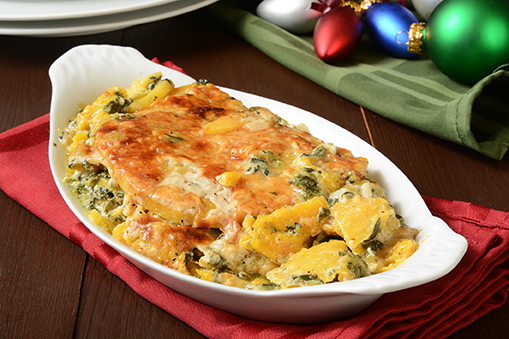 Whether it's for the holidays, Sunday dinner, or for a dinner party, almond butternut squash au gratin is a delightful side dish that can't be beaten. Made with healthy ingredients, this tasty casserole lets those you feed leave the table in good spirits and with no guilt. It is easy to transport, too!
Print
Almond Butternut Squash Au Gratin
One

2 1/2

lb organic butternut squash

2 cups

chopped broccoli (optional)

1/3 cup

organic butter

1/4 cup

unbleached flour

1 1/2 cups

vegetable broth (look for the ones marked MSG Free)

1/4 tsp

paprika

1/4 tsp

turmeric

1/4 tsp

mustard powder

1/2 cup

nutritional yeast

1/2 cup

ground almonds or almond meal

2 tsp

lemon juice

1/2 cup

organic milk
Instructions
Preheat oven to 400 degrees F.
Grind almonds in a food processor.
Mix paprika, turmeric, and mustard powder into vegetable broth.
Melt butter over medium heat. Whisk in flour slowly until smooth and bubbly. Slowly add broth and spice mixture, whisking all the while. Whisk in nutritional yeast and continue whisking until the mixture is thick and bubbly (about 2 minutes). If it's not getting thick and bubbly, turn up the heat. Stir in lemon juice and about half the ground almonds. Turn heat off.
Slice squash in half vertically, peel, and seed. Slice into 1/4 inch slices.
Place slices in a pot, cover with water, and bring water to boil. Cook for 2 minutes. Drain in a colander.
Place squash and broccoli in a 10″ diameter casserole dish, gratin dish, or baking pan. Pour milk over the slices and stir enough to make sure the slices are all saturated. Pour the sauce on top and stir into the top layer of squash. Sprinkle remaining almonds on top. Bake in the oven for 30 minutes or until bubbly and slightly browned.
How to peel and cut butternut squash
Lay the squash on its side and cut about an inch off the top and bottom using a sharp knife.
Using a peeler, remove the skin from the outside of the squash until you reach the orange flesh.
Cut squash in half and scoop out the seeds and membrane with a spoon.
Slice squash into long slices as described in the above recipe.
Health benefits of butternut squash
Butternut squash is very versatile as it can be roasted or baked (most common) or eaten raw. Beyond that, however, it's also low-calorie and packed with nutrients! It's also high in antioxidants which can help you fight inflammation and chronic disease. And it's a good choice for those trying to lose weight because it's also high in fiber!
Here's the nutritional breakdown for one cup of cooked butternut squash:
Calories: 82
Carbs: 22 grams
Protein: 2 grams
Fiber: 7 grams
Vitamin A: 457% of the Reference Daily Intake (RDI)
Vitamin C: 52% of the RDI
Vitamin E: 13% of the RDI
Thiamine (B1): 10% of the RDI
Niacin (B3): 10% of the RDI
Pyridoxine (B6): 13% of the RDI
Folate (B9): 10% of the RDI
Magnesium: 15% of the RDI
Potassium: 17% of the RDI
Manganese: 18% of the RDI