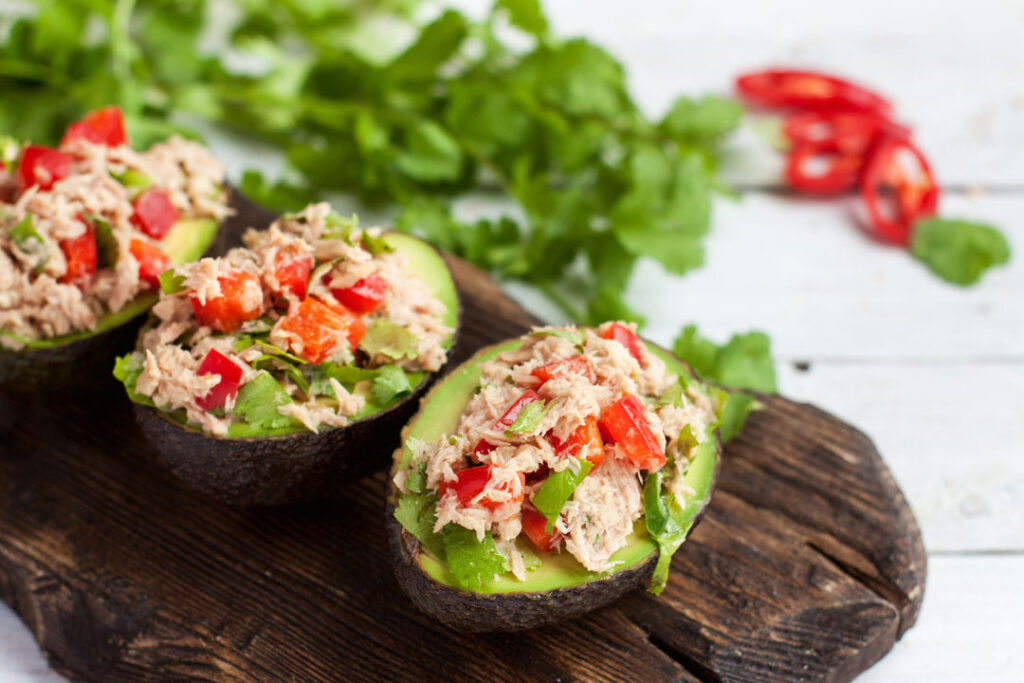 When it comes to a healthy meal, this one checks off a lot of boxes: low carb, dairy-free, gluten-free, high in protein… and it's a great source of healthy fats. Better yet, it's a meal that will leave you feeling full longer so that means you're less likely to grab for those sugary, keep-you-going snacks. Here's what you need for this quick-grab lunch or dinner. 
Ingredients
1 avocado
1 4.5 oz can tuna (drained)
¼ cup diced red bell pepper
¼ cup diced tomatoes
⅛ cup red onion
1 Tbsp minced jalapeno (optional)
¼ cup cilantro (roughly chopped)
1 Tbsp lime juice
Garlic salt and pepper to taste
Directions
Cut avocado in half and remove the pit.

Scoop out a small section of the avocado from the pitted area to make a "bowl" for the tuna salad.

Place scooped avocado in a medium mixing bowl and mash. 

Add in the tuna, red pepper, tomatoes, red onion, jalapenos, and cilantro. Pour lime juice over mixture. Stir until everything is well-blended. 

Scoop the tuna salad back into avocado bowls. Season with salt and pepper. 

Refrigerate leftover tuna salad and enjoy again tomorrow.
Now it's time to dive in! To eat the tuna stuffed avocados, scoop a bit of the tuna salad with a chunk of avocado and enjoy.