Welcome to AlignLife Your West Union Chiropractor
Welcome to AlignLife Your West Union Chiropractor
Hey Ya'll, Dr. Janet here and I want to take a moment to invite you to come see us here at the office. If you have been finding yourself thinking "getting old is terrible" or "oops can't do that", maybe you have even decided that you would like to be proactive with your over all health care and aren't sure where to start. Well, I have answer, here at my West Union chiropractic clinic, it is my pleasure to educate and serve the public. It is my goal to provide comprehensive care in a professional, friendly, and inviting environment. Conveniently located on Scenic Plaza Drive, between Ingles and ACE Hardware, for your health and wellness needs.
Not only is my team here to serve you on your health and wellness journey, we are also here to help you with injuries. Whether they are sports injuries, car accident injuries, work related injuries (including workers compensation), maybe you even slipped at home we are here for you to get you on the road to recovery.
The team here at the clinic has been voted "Best of the Best" Chiropractic office in Oconee County multiple times and this is a direct reflection of our passion to serve our community. The team has been blessed to contribute to several local non-profits: Collins Children's Home, Making My Mark, Foothills Crisis Pregnancy Center, and College Street Baptist Church Food Bank. AlignLife of West Union has a primary mission of serving Oconee County and helping everyone live their life to its maximum potential.
Meet Our Doctor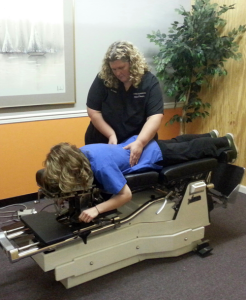 Dr.Janet Cobb
Dr. Janet Cobb received her undergraduate degree from Clemson University, and graduated cum laude from Sherman Chiropractic College. She strives to provide exceptional chiropractic, nutritional, and rehabilitative services for her patients. Her goal is to work with patients and set attainable health goals. She sees a variety of patients with many different health issues. Dr. Cobb says, "What I enjoy most is watching my patients progress, as they get out of pain, continue the activities they love, and enjoy their lives."
Two Simple Steps To Better Health
Map to Our Office
Office Hours
9:00 am-12:00 pm 2:00 pm-6:00 pm
8:00 am-12:30 pm 2:00 pm-6:00 pm
Schedule Your Complimentary Consultation