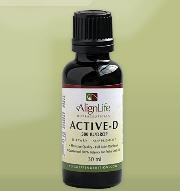 British women are being urged to take a daily Vitamin D supplement during pregnancy in an attempt to reduce deficiency related illness in newborns. Writing in the British Journal of Nutrition, the Institute of Child Health suggests that all women of reproductive age should take a Vitamin D supplement; a recommendation which could soon be extended to the whole population.
How Serious is Vitamin D Deficiency?
Vitamin D deficiency is common in the UK, where lack of exposure to sunlight combined with poor diet can mean people don't get the recommended 10 micrograms of Vitamin D each day. Previous studies have shown that 25% of pregnant or breastfeeding women are deficient in Vitamin D, especially during the winter and spring months.
Co-author of the study, Dr. Hypponen, believes "The incidence of Vitamin D deficiency in pregnant women in Britain is unacceptably high, especially during winter and spring. This is compounded by a lack of exposure to sunlight and the limitations of an average diet to meet the optimal need. In the most severe cases, maternal Vitamin D deficiency can be life threatening to a newborn."
Severe maternal Vitamin D deficiency can lead to:
Infantile Hypocalcemia which is also known as William's syndrome and affects newborn development
Rickets which weakens a newborn's bones
Essential Pregnancy Nutrition
Pregnancy is a time when you have to pay extra attention to diet and nutritional needs. You body is supporting a growing baby, and it is essential that you have sufficient vitamins and minerals for the baby to take everything it needs and leave enough for you.
Although a healthy balanced diet can provide a lot of the nutrients you and your baby need, a vitamin supplement is usually recommended to fill in the gaps, and there are a variety of supplements specifically designed for pregnant and breastfeeding mothers.
As well as essential Vitamin D, pregnancy supplements should include:
Folic acid. This can prevent neural tube defects in your baby that lead to conditions such as spina bifida. Pregnant women are advised to take folic acid when trying for a baby and for at least the first twelve weeks of pregnancy. Foods that contain folic acid include green leafy vegetables, fortified breakfast cereals, and brown rice.
Omega 3. This is necessary for the healthy growth of your baby's brain and spinal cord. Good sources of omega 3 fatty acids are oily fish such as, salmon and sardines, mackerel, eggs, dark green vegetables such as spinach and broccoli, and seeds and nuts such as pumpkin seeds and walnuts. Flaxseed oil is also a good sources of omega 3 fats.
Iron. It's very common for pregnant women to become deficient in iron and if you are short of iron you're likely to get very tired during pregnancy and may suffer from anemia. Eating lean meat, green leafy vegetables, dried fruit, and peanuts are all good for boosting iron levels.
Vitamin C. Vitamin C is essential to allow you absorb iron. Citrus fruits, tomatoes, broccoli, potatoes and blackcurrants are good sources of Vitamin C. Drinking freshly squeezed orange juice with an iron rich meal is a good way to boost iron levels and ensure absorption.
Calcium. Your baby needs a high level of calcium to make bones and teeth. Dairy products such as milk and cheese, and fish such as sardines that have edible bones are all rich in calcium. Breakfast cereals, dried fruit, almonds, and leafy green vegetables are other good sources of calcium.
By using a proven and complete nutritional program, you can be sure that you get all of the above nutrients plus many more vitamins and minerals to promote a successful pregnancy and a strong healthy baby. Be sure your prenatal nutritional program includes
A comprehensive, full range vitamin and mineral supplement to be sure you have all the nutrients you need and can use them synergistically.
Optimal amounts of specialized nutrients to ensure your baby is born with strong bones, and that your bones remain strong throughout your pregnancy.
Plenty of IQ boosting omega 3 fatty acids to promote the healthy growth of your baby's brain.
And an iron supplement with supporting co-factors to reduce the risk of pregnancy anemia and to make sure you have all the energy you need to take care of your newborn.
________________________________________________________________________________________

Comments From Dr. Esposito
I find it to be as important to maximize your nutrient intake after pregnancy as it is during pregnancy. Unfortunately during pregnancy woman are given prescription prenatal vitamins that are formulated with inferior vitamin formulations containing potentially carcinogenic compounds such as partially hydrogenated oils and neurotoxins such as aspartame.
The problem gets worse after the baby is born because 150% of the attention goes to the newborn and the mom who donated her physical and mental resources, including nutrients, energy and time, is left by the waist side. After birth, mom will need to breast feed the newborn and cater to it's every need 24 hours a day.
Unfortunately, mom usually stops taking vitamins and begins to experience adrenal fatigue and consequently mild or moderate depression. The nutrient deficiencies in addition to the adrenal stress causes mom to have a reduced thyroid function creating weight gain, altered mood and fatigue.
Most moms go down the road of anti-depressants with a cocktail of caffeine and sugar multiple times a day until she eventually crashes and burns. A woman needs a comprehensive prenatal with the correct nutrient formulations during and after the pregnancy to enable her to provide all the resources to her child during pregnancy and then all the resources she needs to recover after the pregnancy.