Reduce Your Rent
Increase Office Amenities
Share space with AlignLife, a national healthcare franchise, who has extra office space for small businesses.
Add your sign at the front of the building and show your clients a large professional office with all the resources you need. Be part of a passionate, healthy group of individuals working in common space. Conveniently located in the center of the city – 4812 N. Sheridan Road, Peoria, IL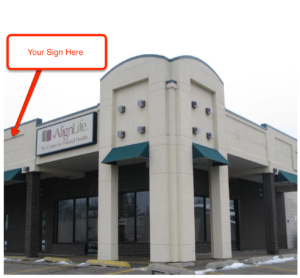 Incredible resources that are available to share:
Large conference/lecture room with seating for a minimum of 20 people
Small conference room for meetings with 2-4 people
Breakroom complete with fridge, sink, stove, and cabinets to store your supplies
Color laser printer, copier, scanner
Videography room – film your videos using the corporate equipment. (lights, camera, background, teleprompter)
Reception room area to greet clients
(Optional) Share reception staff to answer your calls
Onsite yoga classes three days a week!
Onsite chiropractic care once per week!
Discount nutritional products from a company in the complex!

Large Room Available 16′ x 25′ Shared Conference Room 12′ x 10′
Shared Breakroom 11′ x 16′ Shared Printer, Scanner, Copier
Shared Video Production Room Shared Large Workshop Room
Improve the image of your business.
Cut your costs. Increase your profits.

Offices Spaces Available – Take one room and gain access to resources or take all the available space!
(3) 11×16 rooms available (approximate dimensions)
(1) 25×16 large room available
Ideal Companies To Utilize Space
Financial planners
Health Coaches
Nutritionists
Sports Psychologists
Massage Therapists
Psychologists
Copywriters
Graphic Designers
Web Designers
Videographers