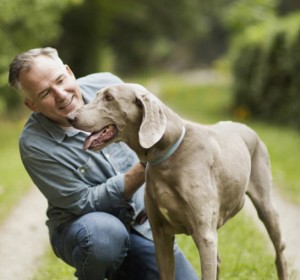 (Health Secrets) Acupressure for dogs? Most people think about acupressure in terms of the benefits it can have for people. The surprise is that acupressure can provide great benefits for pets too, particularly dogs. It is the nature of dogs to love to be touched, petted and massaged, and they respond very well to this type of therapy. Used alone or in conjunction with alternative remedies, acupressure for dogs can result in significant improvement in your pet's health.
Acupressure is an ancient healing art that has been practiced for by the Chinese for over 5,000 years. Based on the same principles of acupuncture, acupressure is the application of pressure on certain points of the body. When this pressure is used in a gentle and non-invasive way, it can balance and release the flow of blocked energy, enhancing health and mental stability.
Acupressure for dogs helps to improve the quality of life in elderly dogs suffering from arthritis or hip dysplasia, as well as every day aches and pains. Acupressure for dogs can also calm a new puppy and help ease the transition period when the puppy is brought into a new home.
Although acupressure is commonly used to relieve pain and discomfort, this ancient art has many more benefits which include:
* Strengthening the immune system
* Strengthening, muscles, tendons, joints, and bones
* Releasing natural cortisone, which alleviates inflammation and swelling
* Releasing endorphins instrumental in calming and relieving pain
* Sharpening mental focus
* Increasing circulation
* Removing toxins
* Alleviating anxiety
* Helping with behavioral issues
* Improving digestion
Applying acupressure to your pet is actually a very simple technique. The most important thing to remember is that it must be done in a loving, calming, and trusting atmosphere. Acupressure is not a difficult process. It can be applied in the position that your dog likes best: standing, sitting, or lying down.
How to apply acupressure for dogs
When starting the session, begin slowly by petting and massaging your dog in his favorite spots. When you are ready and the dog is in a relaxed state, you can maneuver to the pressure points that you need to focus on.
The next step is to determine what pressure points relating to your pet's condition you wish to address. The chart found at the following link provides an illustration of the various acupressure points on dogs as well as an explanation of what these points relate to:
http://www.luckydoghealth.com/dogacupressurechart.htm
Once you have located the point, apply steady gentle pressure with your thumb or index finger. As you do this, visualize an even flow of energy going through that point into the dog's body. The purpose of this visualization technique is to help you focus and not make any sudden movements that may distract the dog.
With a steady and gentle hand, increase the pressure and release it after five to fifteen seconds, always paying close attention to your dog's body language. If your dog feels uncomfortable, release the pressure. However, please note that the maximum amount of time to hold the pressure is fifteen seconds. If you come across a tender spot, simply massage the tender area and as the dog relaxes, then slowly apply pressure to that point.
The key is to make these sessions an enjoyable activity for your dog and you. Many pets look forward to this activity while experiencing improvement in health. You may find that acupressure will not only positively impact your dog's life, but it will also enhance the bond and loving relationship that you already have with your cherished companion.
For more information:
http://www.youtube.com/watch?v=0Yx_tny3N38
http://health.indianetzone.com/acupressure/1/animal_acupressure.htm
http://www.luckydoghealth.com/dogacupressure.htm
Published with permission from AlignLife.  Original article link is here.