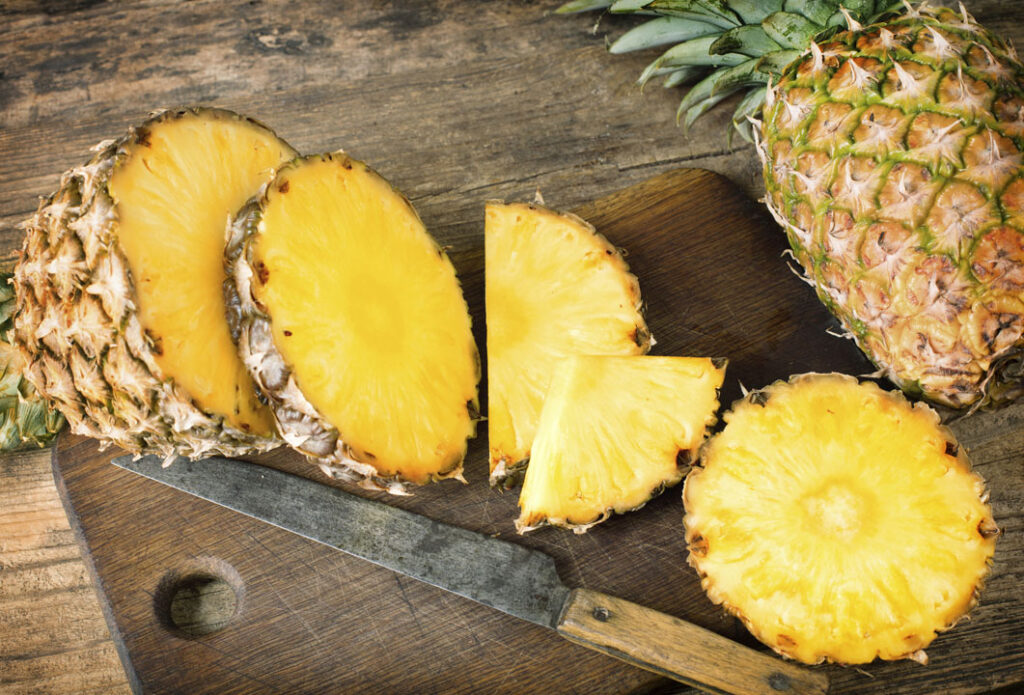 Going out for dinner? Forget the wine, and bring a pineapple instead. Nothing tastes better than freshly juiced pineapple. Look at its geometric-patterned skin and spikey green leaves. In the Colonial U. S., families used the pineapple as a centerpiece that became the symbol of welcome and hospitality. Today pineapple is a symbol of good health and longevity, and a powerful aid for better digestion.
Pineapple is no ordinary fruit
In general, it is not a good idea to eat fruits with meat because they digest at different rates and this causes fermentation in the gut. However, fresh pineapple contains an enzyme known as bromelain. This enzyme is a fantastic digestive aid for the proteins of meat, and papaya is another fruit with similar actions. Paring pineapple or papaya with meats can turn a meal into a memorable event thanks to the ability of their enzymes to promote better digestion.
Pineapple contains significant amounts of:
B-complex
Thiamin
Riboflavin
Vitamin B-6
Folate
Pantothenic acid
Magnesium
Manganese
Phosphorus
Potassium
It also contains antioxidants and polyphenols, such as beta-carotene. One cup of pineapple has 70 to 85 calories. It is rich in fiber and low in fat and cholesterol.
In addition to giving you better digestion, there are many other health benefits of pineapple:
Improves fertility
Quells inflammation
Strengthens the cardiovascular system
Keeps kidney stones away
Strengthens bones
Keeps gums healthy
Lowers risk of macular degeneration
Helps block intestinal parasites
Pineapple is recommended for anyone fighting off the viruses that cause colds. Bromelain is effective in suppressing coughs and loosening mucus.
You can even forget the chemical facial peel and use pineapple juice instead. Leave on the skin for two minutes then wash off.
Choosing a pineapple
Choose a fresh pineapple with a firm, plump body, without bruising or soft spots, and with green leaves at the crown. If the outer shell is green, this does not mean the pineapple is unripe. Pineapples should be picked very close to ripeness, and they can continue to ripen a day or two after they are brought home. When you can pull out the leaves easily, they are ready for eating.
Canned or packaged pineapple should be packed only in it's own juice, not heavy sugar syrup. Whole or cut pineapple should be stored in the refrigerator for three to four days at most.
Pineapple Chicken Tenders – RECIPE!
Original recipe makes 10 appetizer servings – adapted from allrecipes.com
Ingredients
1 cup pineapple juice
1/2 cup packed brown sugar
1/3 cup Tamari, or soy sauce
2 pounds organic chicken breast tenderloins or strips
skewers
High-quality soy sauce and Tamari are byproducts of fermented soybeans. However, Tamari contains little to no wheat (always double-check if avoiding gluten)
Directions
In a small saucepan over medium heat, mix pineapple juice, brown sugar, and soy sauce. Remove from heat just before the mixture comes to a boil.
Place chicken tenders in a medium bowl. Cover with the pineapple marinade, and refrigerate for at least 30 minutes.
Preheat grill for medium heat. Thread chicken lengthwise onto wooden skewers.
Lightly oil the grill grate.
Grill chicken tenders 5 minutes per side, or until juices run clear. They cook quickly, so watch them closely.
Other good uses of pineapple for food lovers
Pineapple Upside-Down Cake
Grilled Pineapple
Acorn Squash and Pineapple
Pico De Gallo
Pineapple Casserole
Polynesian Chicken
Pineapple Sorbet
Pineapple Jam
Pineapple Fudge
Sweet and Sour Vegetables
Hawaiian Pizza
Kabobs
Pineapple Popsicles
Pineapple Cheese Ball
Tropical Fruit Salad
Pineapple Marshmallow Salad
Squid With Garlic and Pineapple
Pork and Pineapples
Honey Roasted Pineapple
Cocktails!
The History of Pineapple
Ananas, the original name for pineapple came from the Tupi, native people of the Brazilian coast. It meant excellent fruit. Natives of southern Brazil and Paraguay spread the pineapple throughout South America. Eventually, it reached the Caribbean, Central America and Mexico. The Mayan and the Aztec people cultivated pineapples. In 1493, Columbus found pineapple on the leeward island of Guadeloupe.
For more information:
http://www.medicalnewstoday.com/articles/276903.php
http://www.webmd.com/diet/features/8-healthy-facts-about-pineapple
http://www.wisebread.com/20-delicious-ways-to-use-pineapple
http://www.nutrition-and-you.com/pineapple.html
About the Author
Crescence Allen, Ph.D. in Psychology from California Southern University. She is a certified hypnotist and has researched stress management/coping skills and the mind/body/spirit connection. She has a certificate in Herbal Studies from the Australasian College of Herbal Studies and is attuned a Tibetian/Usui, Reiki Practitioner. Dr. Allen is in private practice.