The day of a big presentation. The night before a final exam. Right in the middle of a toddler tantrum. Headaches often come at the most inconvenient times in life and can be absolutely debilitating. Anyone who suffers from chronic migraines or tension headaches knows all too well how this imposter can halt any productivity for days and just plain knock you down. So the next time a headache hits you—before you reach for the medicine cabinet—a 2020 study published in Neurology shows that you may want to try popping some yoga poses instead. 
Yoga can help reduce the intensity and frequency of headaches
While advertisements for NSAIDS and other top-pain relieving pain products boast quick relief in their marketing, this clinical study shows that only about half of patients who suffer headaches have luck finding relief with medication alone. That means many people are searching for an alternative to finally put an end to their migraines and headaches. 
Adding a regular yoga practice into your arsenal of treatment could help reduce both the intensity and frequency of headaches, the study suggests. 
The three-month study randomly assigned 160 adults (ages 18–50) who experience episodic migraine with or without aura (a migraine with sensory disturbances) to either a combination of medical treatment and yoga practice or medical therapy only. The yoga participants practiced three supervised sessions a week for four weeks at a medical research center in New Delhi, India, followed by five sessions per week at home for the duration of the study.
The results concluded that the yoga group experienced more relief from migraines in conjunction with their medication than the medical therapy group alone.
Migraines vs. tension headaches

If you suffer from a migraine the pain is unquestionable, but let's take a quick look at the difference between a migraine and tension headache. According to the National Institute of Neurological Disorders and Stroke, the pain of a migraine headache is often described as an intense pulsing or throbbing pain in one area of the head and is accompanied by a host of symptoms including nausea and/or vomiting and sensitivity to both light and sound. A tension headache, on the other hand, is generally a more mild pain in your head that's more diffuse, described as a tight band around your head, and doesn't last nearly as long as a migraine. 
How yoga helps relieve headaches
While doctors can't pinpoint specifically what causes headaches, we do know that the causes typically include things such as anxiety, exhaustion, muscle tension, and sensory overload. The most consistent trigger shown to be occurring with the condition is stress, which is likely why doctors turned to yoga for help.
Read: What's Your Headache Telling You?
A quick search on the internet will show you that yoga is much more than performing physical postures, yet it is the physical practice of it that helps to reduce stress and tension in the body. This is achieved through asana (postures) and pranayama (regulation of breath).
In his book, The Path of the Yoga Sutras, author Nicolai Bauchman states that "The aim of asana (postures) is to reduce any hyperactivity in the nervous system." Often it is believed that the physical and breath practice prepares the body for stillness, which is often where a person suffering from a headache will find relief and peace.
5 yoga poses to help relieve tension headaches
At the center of every good yoga practice is the breath. Begin your yoga practice with a breath practice (pranayama) to begin settling your mind. Box Breathing is an easy and accessible way to begin this practice. 
Breath Practice (Box Breathing)

Close your eyes. Breathe in through your nose, slowly counting to 4. Feel the air filling your lungs. Hold your breath here and slowly count to 4 again. Try not to clamp your airways shut. Simply avoid inhaling or exhaling for 4 counts. Slowly exhale to the count of 4. Hold the exhale for another 4 counts. Repeat steps 1-4 for 4 minutes or until you feel calm and centered. 
Once you are feeling centered in your breath, begin exploring these five basic postures that are designed to gently stretch and open the areas in your body (such as your neck, shoulders or back), while circulating blood to your head. The poses suggested here are to be practiced in a restorative (supported) nature to provide extra comfort and relaxation. The idea is to incorporate these into your life to reduce stress and reduce the frequency of your headaches.
1. Neck Stretches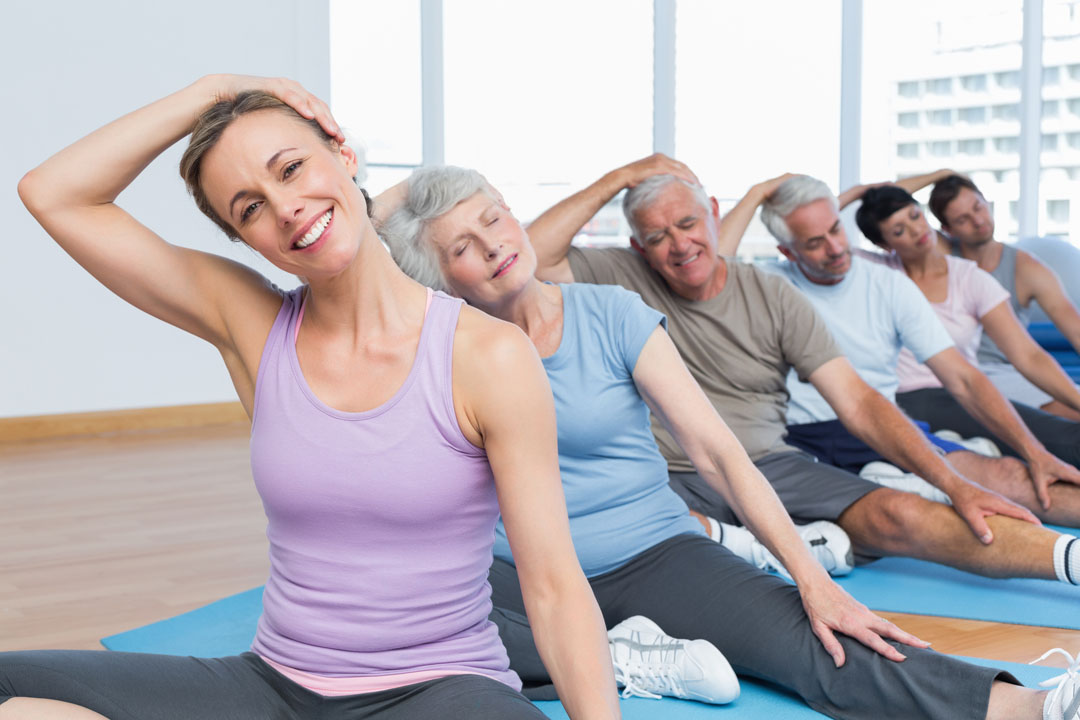 Since the neck is often the culprit of tension headaches, it's important to stretch it out with a basic yoga exercise. All you need to do is: 
Sit in a comfortable position, ensuring that your spine is straight and your neck lengthened. 

Place your left hand on the right side of your head and gently tilt your head to the left. 

Hold for a few breaths and then slowly switch sides. 

Repeat on both sides a few times to reduce the intensity of the headache.
2. Garbhasana (Child's Pose)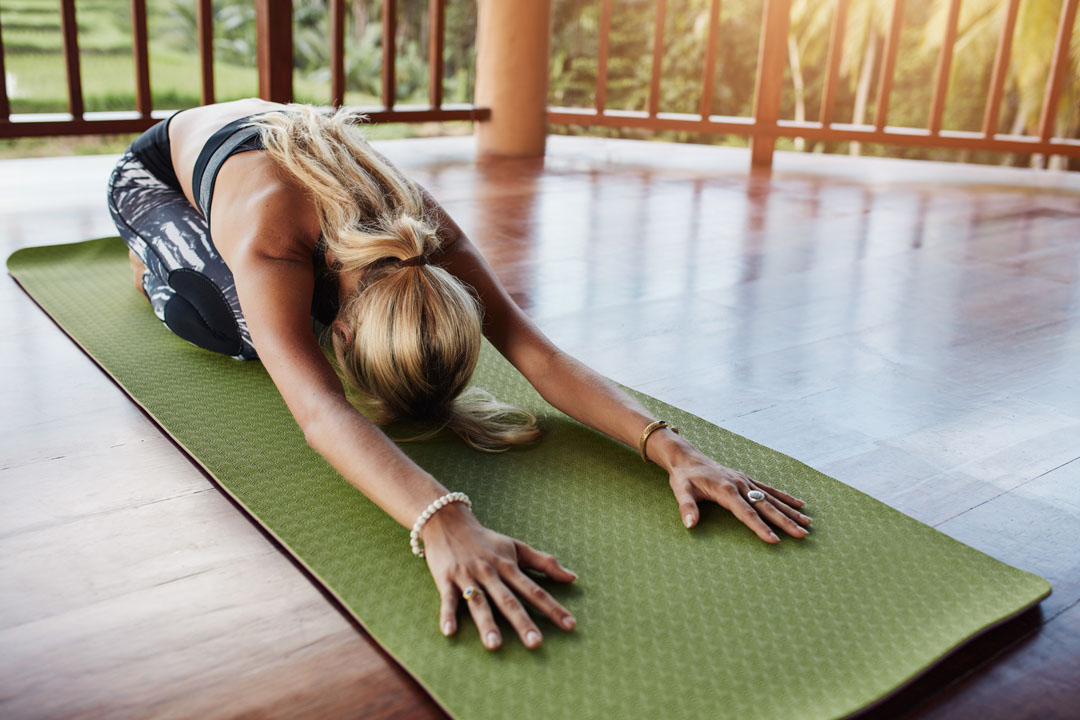 This pose calms the nervous system and is a great stress buster. Try this pose to reduce your next headache.
Begin on all fours in a tabletop position.
Lower your hips toward your heels, resting your chest onto your thighs and stretch your forearms out in front of you to rest on the earth.
If you have a mat, try gently massaging your forehead on your mat to relieve pressure in your head.
VARIATION: Take knees wide and place a bolster or pillow vertically between the thighs. Rest the chest along the length of the bolster with the head turned to one side or forehead down.
3. Adho Mukha Svasana (Downward Dog)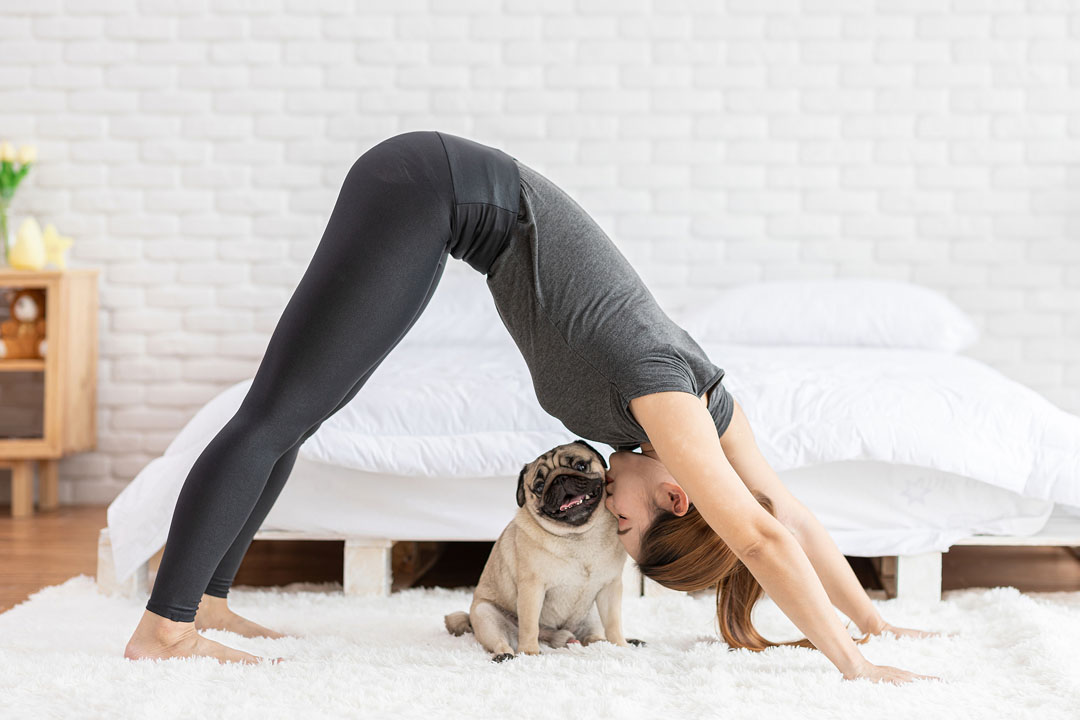 Also known as the Downward Facing Dog Pose, this is one of yoga's most widely recognized poses. This beginner-friendly asana helps get rid of fatigue, back pain, and stiffness from sitting all day by stretching the hamstrings, chest, and lengthening the spine. It helps provide additional blood flow to the head (which can often be just the thing to relieve your headache) and leaves you feeling energized.
Begin on all fours, with your wrists in line with your shoulders and toes tucked.

On your exhale, lift your hips up and back. Feel free to peddle out the feet to get settled or keep your knees slightly bent if you have tight hamstrings.
Engage your arms, while trying to keep your shoulders away from your ears.
Take five slow steady breaths, lower your knees and when you're ready, begin again.
4. Uttanasana (Standing Forward Bend)
A forward bend calms the mind. It also boosts blood supply to the brain and decreases anxiety. 
Standing nice and tall, take a big inhale. 

On the exhale breath, hinge at the hips and fold forward.

Knees can remain bent and chest resting on the tops of thighs if your hamstrings are feeling tight. 
Variation: For a more restorative pose, support the crown of your head with a block, bolster, or hands on the chair.
5. Savasana (Corpse Pose)
Savasana, or corpse pose, is the ultimate resting pose. Play around with finding a position that truly helps you settle. The essence of Savasana is to relax with attention. That means you're going to remain conscious and alert while still being at ease.
Lie on your back.

Extend your legs out long, hip-width apart.

Allow your arms and hands to rest at a comfortable distance from your torso. 

Once you settle, close your eyes and spend 5 minutes here taking long and slow breaths.

To return to a seated position, slowly roll to your right and hold the fetal position for 3 breaths before rising up. 
Variation: To make it more comfortable, try any of the following: Place a bolster or pillows under your knees, a blanket under your head, or a cloth over your eyes.
Where can you practice yoga?
While you can practice yoga on your own at home, it is always recommended to seek the guidance of a skilled teacher. Here are some great options for where to look for yoga classes near you:
Yoga Studios

Fitness Centers

Recreational Centers

Online Classes (some you can even do for free from home)
What you need to get started with yoga
The wonderful thing about yoga is that it requires very little equipment to get started. If you have access to a yoga mat, blocks, or a bolster, that is a wonderful start. If those props aren't available to you, just grab a spot on the floor, a stack of books, a couple of pillows, and a quiet spot in your house.
Bottom line on yoga for headache relief
Before starting any new exercises, however, it's always best to check with your local AlignLife chiropractor or health provider to make sure you're incorporating the exercises that will work best for you. Thankfully, yoga poses are exercises most doctors will approve as a great, low-impact way to build core strength, stretch and straighten your spine, as well as help you find relief from those unwanted aches, pains, and headaches.
Resources
Effect of yoga as add-on therapy in migraine: A randomized clinical trial. View ORCID ProfileAnand Kumar, Rohit Bhatia, Gautam Sharma, Dhanlika Dhanlika, Sreenivas Vishnubhatla, Rajesh Kumar Singh, Deepa Dash, Manjari Tripathi, M.V. Padma Srivastava. Neurology. May 2020. 
How to Practice Sama Vritti Pranayama (Box Breathing). Lindsay Tucker. Yoga Journal. July 2020. 
Understanding Migraine with Aura. American Migraine Foundation. July 2020.