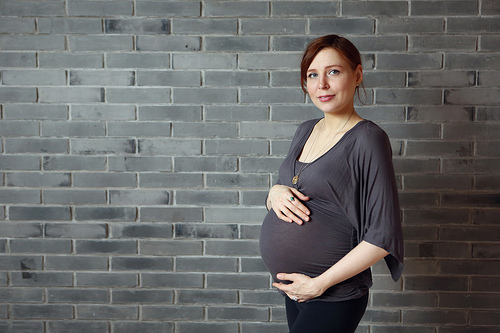 (Health Secrets) Nutrition during pregnancy is critical, as it is the fuel supply for the mother and the growing baby. If the mother is only eating McDonald's or other junk food, then junk is all she has to make the growing baby's body out of. The lack of real nutrition sets that baby up for failure before it is even born!
If the building blocks of the baby are poor nutrient choices, the make up of that child is going to be weak and more prone to disease and infections. On the other hand, if the mother consumes good wholesome food choices, the growing baby has the opportunity to be built from a complete range of vitamins, minerals, and proteins. This is what is needed to build a strong baby that can resist disease and infections. This is why today more so than ever, prenatal vitamins are so important.
Food eaten from a box or a drive-through has very little nutritional value, but it does have a large amount of chemicals and preservatives. When you ingest chemicals and preservatives, you are serving them up to your developing fetus.
During this time in your life, awareness of what you are putting into your body is key to the outcome for you and your child. Try to prepare as much of the food you eat as you can. Make sure you are keeping the good fats up so your baby's brain develops to its full potential. These are the fats found in fish and fish oils. The DHA and the EPA in the oil of fatty fish like wild caught salmon or tuna are great for the growing baby. DHA is crucial in neurological development and EPA keeps inflammation down.
Why would a baby in the womb have inflammation? Everything the mother has going through her, the baby does too. If the mother is in a bad relationship, stressed out at work, etc… her body will be releasing cortisol, the stress hormone which causes inflammation. Cortisol levels in the mother have a direct correlation to cortisol in the fetus.
Cortisol can lead to decreased neurological and brain development, dysfunctional digestive system, and a dysfunctional immune system. One way to lower body stress is to make sure that good wholesome foods are eaten, rather than packaged and processed foods. When packaged and processed foods get into the mother's body, it does not know what to do with it as the nutritional value is minimal and the chemical content is great.
This starts a cycle of physical stress in her body, as it needs crucial nutrients to build the baby but she does not have them. This physical stress then increases cortisol. The mother's body starts to direct nutrition away from her, and direct it to the baby as the baby's needs become paramount. This adds even more stress to the mother which skyrockets her cortisol even more. At this point the downward cycle has been established.
How to break the downward cycle
Protein
Needs to be increased throughout the pregnancy. First trimester an increase of 70-100 grams a day. The second trimester needs another boost in protein and the third trimester is no different.
Protein is the building block of every cell in the body, so protein intake needs to be substantial.
Fatty Acids
Prostaglandins are formed from fatty acids. Without fatty acids prostaglandins cannot be formed and blood pressure and nerve signals can be affected.
Prostaglandins produce varying hormone-like effects, including the promotion of uterine contractions needed for birth.
Fatty acids promote growth as well as brain development, and are essential to healthy skin. Cod is another great source of fatty acids.
Eating For Two
During pregnancy many women believe they are eating for two. This is not the case. For the most part the mother to be only needs to increase caloric intake by 300 calories per day in the first trimester and increase each trimester. She should shoot for a 30 pound pregnancy. That should be the total weight gain in a perfect world.
The majority of these extra calories should be added by increasing protein and good fats, since most females tend to try to stay away from these two elements.
With morning sickness and lack of sleep it can be hard for an expectant mother to eat enough calories. This is alright and to be expected. Most of the time morning sickness will leave around the 3rd month.
Important Vitamins
The first is iron. When iron supplementation is recommended it should come from gentle Fe. Gentle iron helps to control the constipation that comes with iron supplementation. Vitamin C taken with iron can help with absorption. Good sources for iron are: eggs, leafy green veggies, fruits, and raisins.
The baby is going to be forming bones and teeth, so the obvious is for the mother to make sure she is getting adequate calcium and magnesium. With Vitamin D, calcium can be absorbed much better. Good sources for Vitamin D as well as calcium and magnesium are leafy green veggies, and the dairy twosome:       milk and cheese.
Adrenal fatigue is definitely a factor throughout pregnancy. The need is to adequately supplement the adrenals with rebuilding nutrients from a good adrenal support supplement.
Of course we all know about folate to prevent neural tube defects. This can also be found in dark green leafy vegetables.
Photo by David Leo Veksler