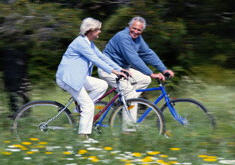 (Health Secrets) You really can lessen or stop arthritis pain.  Most people who have used glucosamine knows it is highly effective for joint pain relief and restoring ease of movement for many who suffer from arthritis pain.  Research backs this up.  Results from the latest major clinical trials have shown that glucosamine works better than drugs for providing relief of arthritis pain.  When glucosamine is combined with condroitin, cartilage and collagen can be rebuilt.
After five years of recruiting participants, testing them and analyzing the results, scientists conducting the Glucosamine/Chondroitin Arthritis Intervention Trial (GAIT) have reported that "combination glucosamine and chondroitin sulfate is effective in treating moderate to severe knee pain due to osteoarthritis."
The GAIT
Under the direction of the National Institutes of Health, 13 universities in the U.S. performed a randomized, double-blind, placebo controlled study on more than 1,500 people diagnosed with osteoarthritis. Each participant was given a daily dose of either glucosamine hydrocloride or chondroitin sulfate, a combination of the two, 200 mg of the painkilling drug Celebrex, or a placebo for 24 weeks.
The scientists found that the combination of glucosamine and chondriotin significantly reduced pain compared to Celebrex (celecoxib).
This finding confirms what many people already know about the combination of glucosamine and condroitin. Together these substances produce better results than if used separately. And these results are achieved without side effects or damage to stomach, intestinal tract or liver.
The GUIDE trial
As the GAIT results were being released in the U.S., results of a study involving 13 hospitals in Europe were hitting the news. Scientists conducting the Glucosamine Unum-in-Die (once a day) Efficacy Trial (GUIDE) found that glucosamine was the preferred treatment in knee arthritis. This was a randomized, placebo and reference controlled, double-blind study.
The GUIDE compared a 1,500 mg  daily dose of glucosamine sulfate and a large 3,000 mg dose of acetaminophen (found in Tylenol, Excedrin and others) to a placebo in 318 patients across the 13 hospitals participating in the study. After 24 weeks of monitoring, it was clear that glucosamine showed superior effectiveness for pain and movement compared to acetaminoophen.
What these results mean
Drugs such as Celebrex, NSAIDs and acetaminophen can relieve pain temporarily but do nothing to reduce long term inflammation or promote joint repair and healing. They come with a list of side effects that includes bleeding ulcers, intestinal permeability and liver damage. Long term use can result in serious disease.
Glucosamine is a glucose-based substance produced naturally in healthy joints where it is used to repair and maintain cartilage. Condroitin is a naturally occurring substance in the body responsible for elasticity of cartilage. As the body ages, levels of these substances drop and need to be replaced.
As the results of these studies show, glucosamine in two different forms (hydrocloride and sulfate) and chondroitin sulfate have been proven to work in combination to alleviate joint pain as well as or better than painkilling drugs.
More research results
The GAIT and GUIDE have plenty of other research to back up their findings. Here are summaries of several other studies:
A study at Charles University in Prague looked at the effect of glucosamine sulfate on the progression of arthritis over a 3 year period. Participants were divided into two groups. One received 1500 mg a day of glucosamine sulfate, while the other group received a placebo. In the placebo group, joint space continued to narrow, but in the group receiving glucosamine, the joint narrowing stopped. The glucosamine group also experienced a greater reduction in pain.
A literature review of studies done to evaluate the effectiveness of glucosamine from the Cochrane Database of Systematic reviews reported that glucosamine is a safe and effective treatment for arthritis. Glucosamine was at least as effective, if not more so, than the use of NSAIDs in treating arthritis, and was found to be well tolerated.
Scientists at Case Western Reserve University School of Medicine examined 13 studies in a meta analysis. All the studies examined showed a large positive effect for the use of glucosamine and chondroitin in the treatment of arthritis. Glucosamine sulfate and chondroitin sulfate were found in all trials to be more effective than ibuprofen.
At Bernard University in France, rabbits were surgically altered to give them osteoarthritis. They were split into two groups, with one group receiving 120 mg per day of glucosamine sulfate in water, and the other receiving non-treated control water. The rabbits receiving glucosamine treated water had significantly smaller lesions compared to the rabbits who were given the control water.
Scientists at Queens University in Canada examined studies based on random assignment of participants to a control group or a group receiving glucosamine sulfate. They found that glucosamine sulfate was consistently proven better than the placebo, and better than or equal to the use of ibuprofen. Glucosamine was found safe and effective.
For more information:
http://nccam.nih.gov/research/results/gait/qa.htm
https://acr.confex.com/acr/2006/webprogram/Paper4235.html
http://www.sciencedaily.com/releases/2011/09/110930123057.htm
Published with permission from Alignlife.  Original article link is here.