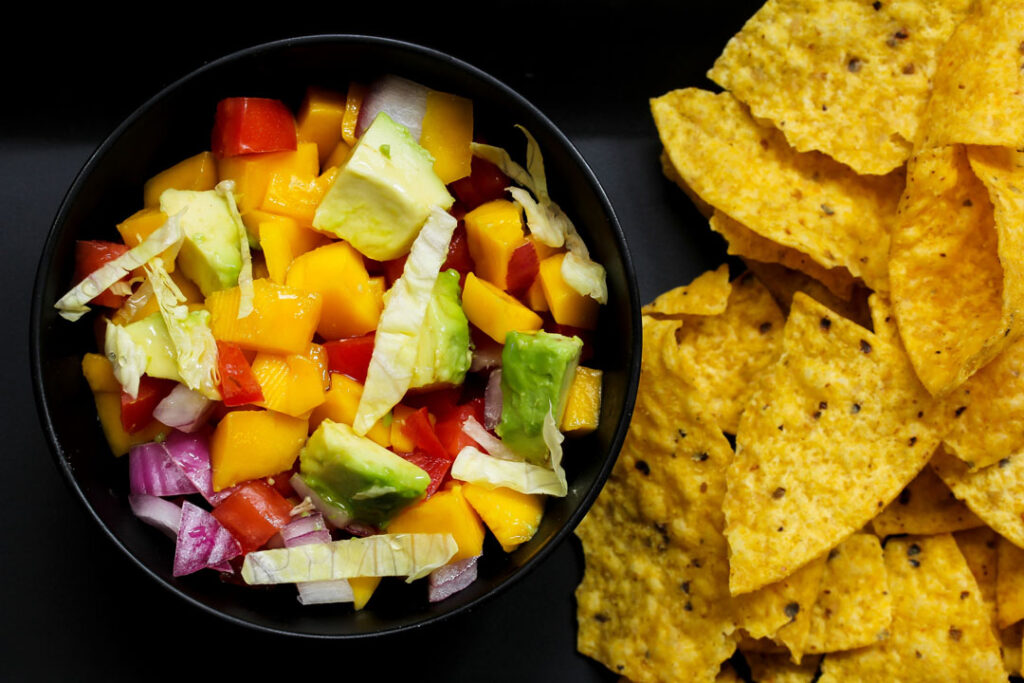 Fresh fruits and vegetables make the perfect centerpiece to any summer BBQ or party. Whip up this refreshing dip in just minutes, then sit back and listen as your friends rave over the delicious flavors.
Don't forget the health benefits! Mango is loaded with fiber and is a great source of beta carotene (what makes Vitamin A). Avocado is high in healthy fats and contains over 20 vitamins and minerals, including – but not limited to – Vitamin K, folate, Vitamin C, Potassium, Vitamin B5, Vitamin B6, and Vitamin E. And, tomatoes contain about 40% of your daily vitamin C requirement, and are abundant in vitamin A, potassium, iron and Vitamin K.
Ingredients
1 mango, peeled and diced

1 avocado, diced

1 Roma tomato, diced

1/2 cup peeled, diced cucumber

1 tablespoon finely chopped jalapeno

1/3 cup diced red onion

1 tablespoon lime juice

1/3 cup roughly chopped cilantro leaves

Salt and pepper
Directions
In a medium serving bowl, mix together mango, avocado, tomato, cucumber, jalapeno, red onion, lime juice and cilantro. Season with salt and pepper, to taste.

Serve with tortilla chips, pita chips, or over a simple grilled meat like pork or chicken.