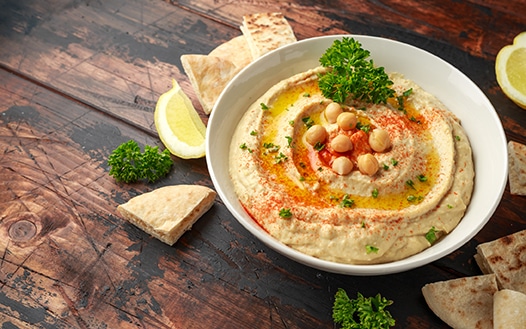 Looking for a healthy appetizer to share at your next party or delicious weekday snack? Give homemade hummus a try! A popular Middle Eastern dip, hummus is packed with vitamins and minerals. Research has even linked hummus and its ingredients to a variety of health benefits! This includes: helping fight inflammation, improving blood sugar control, better digestive health, lower heart disease risk and weight loss. Added bonus… it's incredibly easy to make. Whip out your blender and in less than 10 minutes, it's ready to eat!
[tasty-recipe id="46527″]
Why Hummus is Great for Your Overall Health
It's rich in ingredients that help fight inflammation.
Hummus is high in fiber, promoting digestive health and good gut bacteria by producing butyrate — a type of fatty acid that helps nourish cells in the gut.
Hummus has a low glycemic index, which may help control blood sugar levels.
Chickpeas and olive oil — two key ingredients in hummus – may reduce risk factors, and thus overall risk, for heart disease.
Need more nutrition tips?
Ask your local AlignLife Chiropractor about how we can help you enhance your nutrition to meet your health goals!