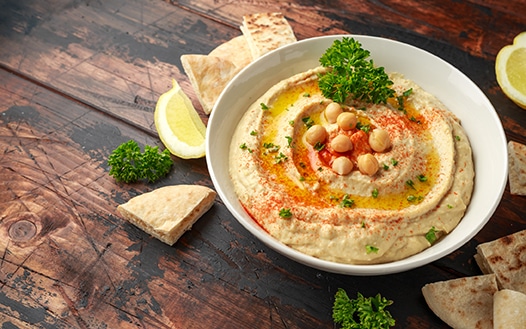 Looking for a healthy appetizer to share at your next party or eat as a delicious midday snack? Give homemade hummus a try! A popular Middle Eastern dip, hummus is packed with vitamins and minerals.
Research has linked hummus and its ingredients to a variety of health benefits! This includes:
What is hummus made from?
Hummus has earned a reputation as a clean, healthy food… and there is a good reason for that! This homemade hummus recipe features only four main ingredients – all of which are whole superfoods in their own right. It includes chickpeas, sesame paste (tahini), garlic, and olive oil. But the star of the show really is the chickpeas (or garbanzo beans). We prefer making hummus from fresh chickpeas (cooked and softened, of course), but you can use canned garbanzo beans as well if you are running short on time.
How to make hummus from dried chickpeas
Hummus is incredibly easy to make. If you're using canned beans, you can whip out your blender and in less than 10 minutes, it's ready to eat! But if you have a little time on your hands, learning how to cook and prep dried chickpeas (garbanzo beans) can save you some money in the long run (especially if you've been eating store-bought hummus!) and pack some added flavor into what is sure to be one of your favorite snacks. There are a few ways you can prep and cook chickpeas for hummus.
Some of the top ways to cook dried chickpeas include:
Soak and simmer on the stovetop (1.5 – 2 hours cook time)
Soften them in a Slow Cooker (4 – 8 hours, depending on heat)
Cook them in a pressure cooker (about 1 hour)
Since we're making hummus and want our chickpeas to be extra soft, a slow cooker is a great, hands-off way to get the end result you're looking for. If you're wanting to use your chickpeas in another dish, you may want them to be firmer. In that case, another cooking method may be preferable so you can control how soft they get.
How to remove the skin from chickpeas
To get that perfect hummus texture, you want the beans to be soft and break apart easily. You also may want to remove the skins from your chickpeas before blending. This will help create the smooth texture found in store-bought or restaurant-quality hummus. That being said, even though you don't have to soak chickpeas before dumping them into your slow cooker, you may want to do this step to help remove the skins. It also doesn't take long to add this extra step in and the result is a much creamier hummus so it's worth the time.
How to cook garbanzo beans (chickpeas) in a slow cooker
To make chickpeas in your slow cooker, all you need to do is add 1 pound of dried chickpeas and 7 cups of water to your slow cooker. Cook on high for 3 to 4 hours or on low for 6 to 8 hours. You can also cook them overnight as long as you don't go too far beyond 8 hours.
[tasty-recipe id="46527″]
How is hummus great for your health?
It's rich in ingredients that help fight inflammation.
Hummus is high in fiber, promoting digestive health and good gut bacteria by producing butyrate — a type of fatty acid that helps nourish cells in the gut.
Hummus has a low glycemic index, which may help control blood sugar levels.
Chickpeas and olive oil — two key ingredients in hummus – may reduce risk factors, and thus overall risk, for heart disease.
Need more nutrition tips and healthy recipes?
Ask your local AlignLife Chiropractor about how we can help you enhance your nutrition to meet your health goals! Or browse our recipes online!