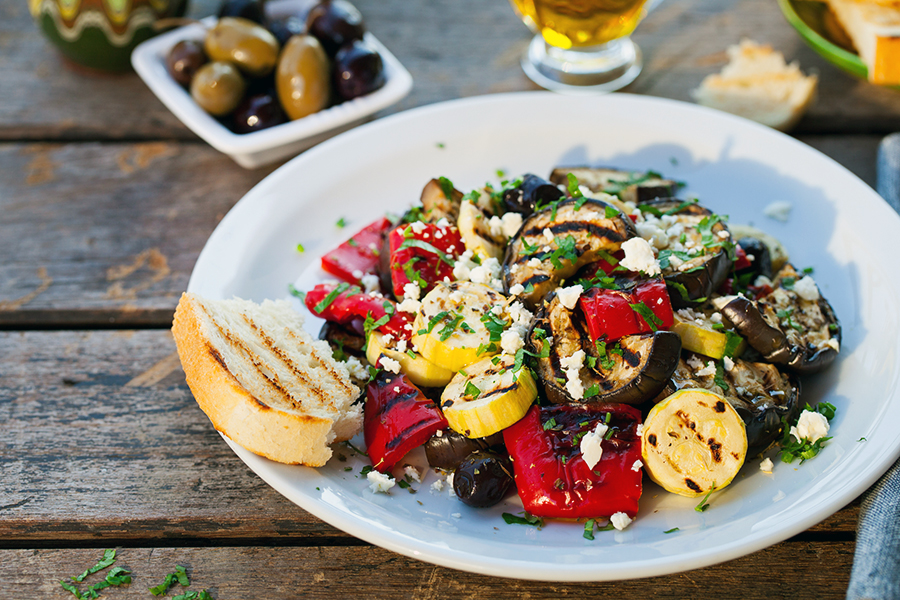 Adding more fruits and vegetables to your weekly meal plan doesn't have to be boring. In fact, it's quite the opposite. Making fruits and vegetables the star (if not 100% focus) of your meal means more colors, more flavors, and tons of immune- and energy-boosting ingredients. This grilled eggplant veggie bowl mix is a great vegetarian dish that features eggplant (yes, we know it's a fruit) as the base but can really be adapted to include all the vegetables you love. Just play around with it to find the right mix for you.
Why Grilled Eggplant is a Main-Dish Rockstar
Why eggplant? Well, for starters, it's packed with nutrients and is low in calories. That places it in the rare nutrient-dense categories of foods. To put it into numbers, one cup of eggplant only has 20 calories, but it's packed with:
Fiber: 3 grams
Protein: 1 gram
Manganese: 10% of the RDI
Folate: 5% of the RDI
Potassium: 5% of the RDI
Vitamin K: 4% of the RDI
Vitamin C: 3% of the RDI

A Few More Health Benefits of Eggplant
Being nutrient-dense isn't the only thing eggplant has going for it. Eggplant is also:
[tasty-recipe id="47292″]
Added Bonus on Eggplant
Eggplant is on the Clean Fifteen list, ranking as one of the top fifteen fruits and vegetables tested to contain the least amount of pesticide residue. That means you can keep it budget-friendly or grab the non-organic option at the store if you prefer. Read more on this topic here!
*Recipe inspired by and adapted from allrecipe.com Eggplant Mixed Grill