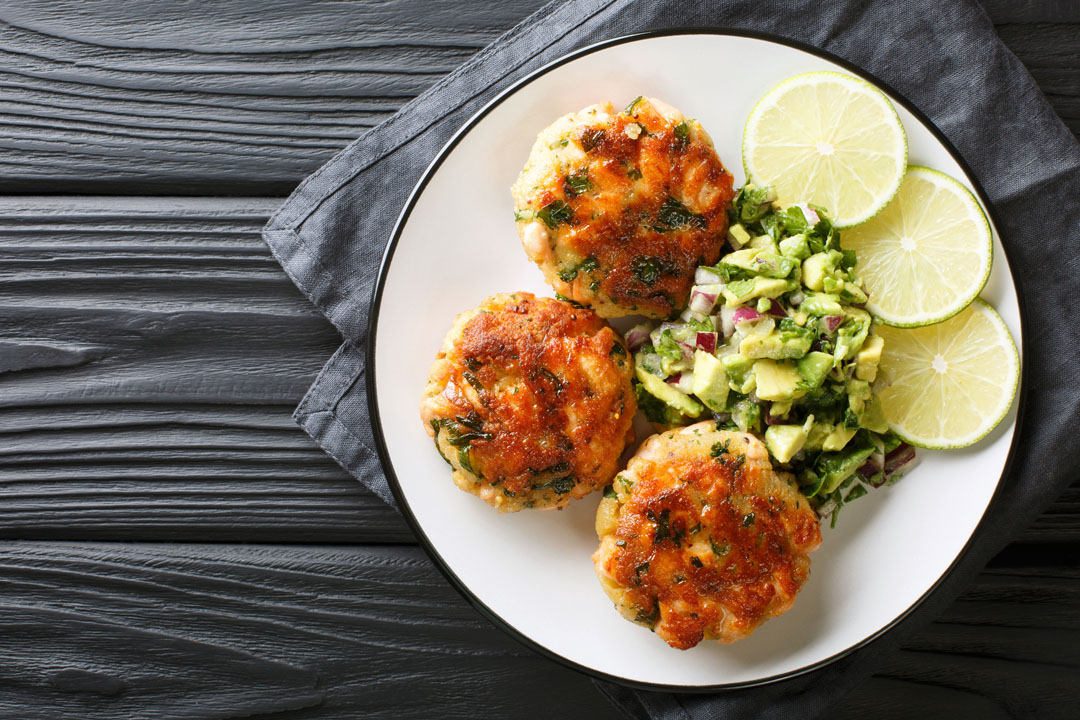 Salmon cakes are quick and easy to make and a great way to add nutrient-dense foods to your healthy meal plan options. This superfood recipe checks two boxes in the health-eats arena as salmon has many health benefits. Plus it's delicious and freezer-friendly!
Health benefits of salmonn
Salmon is packed with heart-healthy Omega 3 fatty acids, selenium (the feel-good hormone), tryptophan ( boosts your sleep quality and mood), Vitamin D, and quality proteins and nutrients. Essentially, it's a powerhouse that helps with brain, nerve and eye development.
Salmon also helps reduce unwanted inflammation in the body – which is the source of everyday aches and pains for many. Add in the fact that these salmon patties sneak in some extra veggies, that makes these under-30-minute cakes an even better option for those quick, go-to meals on busy nights.
Salmon Cake Ingredients
5 oz salmon (canned or fresh)

1/2 tsp garlic (minced)

1/3 cup sweet potato, squash, or pumpkin (pureed, mashed, or mixed together)

3 to 4 tbsp flour (use coconut flour for a gluten-free version)

1/4 tsp paprika

1/4 tsp fine kosher or sea salt

1/4 tsp black pepper

2 eggs

1 tbsp oil or butter
Salmon Cake Directions
Mash salmon in a large bowl.

Add ⅓ cup of sweet potato, squash, or pumpkin puree (or create a mix of your favorite blend) to salmon and mix together.

Add flour to the mixture. (Note: You may need to adjust the amount of flour you use depending on the quality of salmon).

Mix in garlic, herbs and seasoning.

Add in eggs.

Mix until the batter is smooth enough to form into 8 small balls.

Press patties until they are about an inch thin and place them on a parchment-lined tray.

Add butter to skillet and heat on medium high.

Once heated, place patties in skillet and cook for 3-4 minutes on each side or until salmon is cooked through.

Serve with plenty of fresh lemon and more fresh herbs!
Freezer-friendly Tips for Make Ahead Nights
Form the salmon mixture into patties like you do in the recipe above.
Place formed salmon cakes on a lined baking sheet.
Freeze patties for 1 hour.
Remove the salmon patties from the freezer, wrap individually in plastic wrap, and store in an airtight container for up to 3 months.