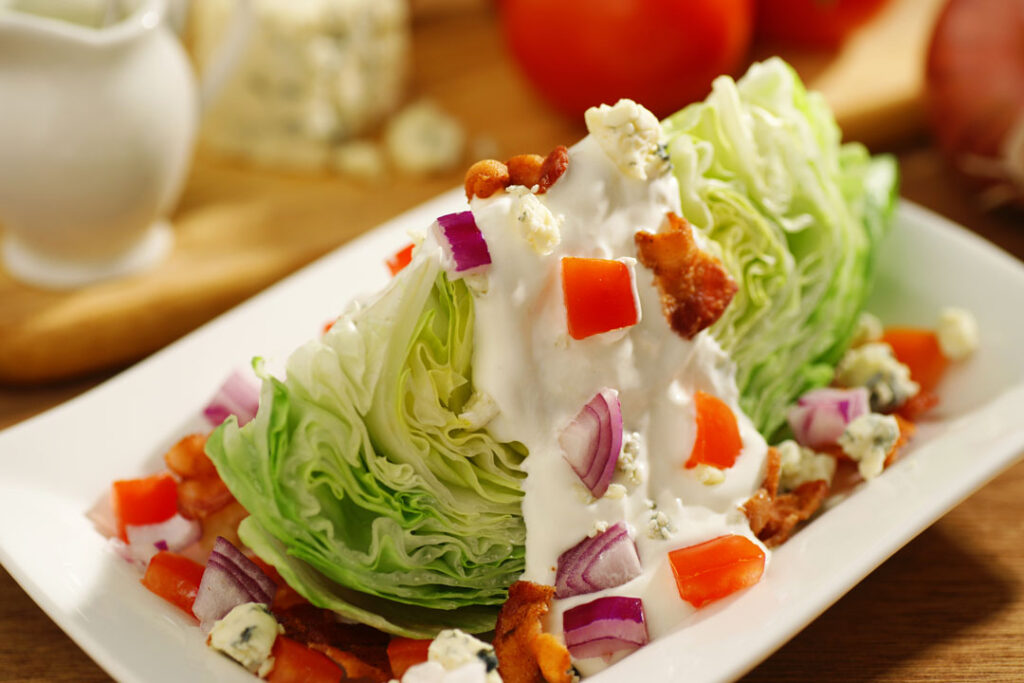 Looking for a fresh, satisfying lunch idea or a quick-and-easy dish to share at your next summertime bash? The classic wedge salad needs to be your go-to dish.  A quarter head of iceberg lettuce, creamy blue cheese dressing, plus crispy bacon, onion and tomatoes… how could you wish for any more! Simple, satisfying and summer perfect.
Ingredients
1 head of iceberg lettuce
1 tomato, diced
1 small red onion, diced
4 ounces bacon, cut into 1/2-inch pieces
Blue Cheese Dressing
Directions
Cut lettuce into four wedges.
Dice onion and tomato into small pieces (Tip: to keep tomatoes from being too watery, place them in a strainer tossed with a little salt and let them drain while you pull the rest of your ingredients together.)
Cook bacon over medium heat until crispy, about 5 minutes. Place on a paper-towel-lined plate to drain grease.
Arrange iceberg wedges on plates and pour blue cheese dressing over each.
Sprinkle with onion, tomato, and bacon crumbles.